Click on Map Icons to View More Info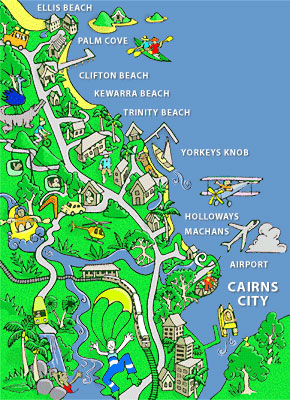 Top 10 Articles
4WD Safaris
Activities for Rainy Days
Amateurs Garden Party
Aqua Aerobics
Atherton Tablelands
Barron Falls
Barron River
Be Cass-o-wary!
Beach Volleyball
Bedarra Island
Cairns Region Guide
Click Images to view gallery for this subject
Bramston Beach
Updated: 05-May-2014
Bramston Beach is a remote and peaceful beachside community 80 km south of Cairns. Located 17 km off the Bruce highway through fields of swaying sugarcane, banana plantations and rainforest Bramston Beach is easily accessed by road. This is the first accessible beach South of Cairns city.

Bramston provides the ideal location for family getaways, and is also popular with older travellers wanting to avoid the hustle and bustle of Cairns.

There is a picnic area and a caravan park and campground. There is an excellent cafe with great burgers and fresh fish and chips. There is no public transport service in the area.

The unspoilt beach is long and you can swim all year round because of the stinger net. There is also a lifeguard on duty during holiday periods.

The area around Bramston is a nature lovers paradise, the ideal haven for fishing, boating, swimming and relaxing. Local wildlife includes Cassowaries, wallabies and many tropical birds. Bramston Beach is the perfect seaside destination to base yourself for visiting Mount Bartle Frere, Queensland's highest mountain, the Babinda Boulders, Paronella Park, Josephine Falls and Eunbenangee Swamp National Park.

The nearest town is Mirriwinni on the Bruce Highway.

Surrounded by frangipani, tropical orchids and a wide variety of colourful plants.

For the experienced, fit, and well prepared bushwalker, Queensland's highest mountain, Mt Bartle Frere, is nearby and a climb to the summit is an adventure best tackled over two days. Be prepared for some very steep terrain and rock scrambling in places.

Alternatively it is possible to hike to 'Broken Nose' in one day for the energetic and fit. This is not as challenging as hiking to the summit. This track begins on the same track as the hike to the summit of Mt Bartle Frere.

For those who seek a more soft adventure, plunge into the icy waters of Josephine Falls. This is a magical looking three tiered waterfall with a large wide rock face that visitors slide down when the conditions are right. The walk in is paved and is a gentle walk through very pretty rainforest. There are stairs down to the waterfall and the facilities are well maintained.

Babinda Boulders is also a very pretty swimming hole. Here you can dangle your feet in the cascades around smoothed Boulders. Sit on a warm rock in the middle of clear rainforest water in pristine surroundings.

Eubenangee Swamp National Park is also nearby. If you enjoy birdwatching this is a fabulous place to spot Jabiru, Spoonbills, Egrets, flocks of Finches and many rainforest birds, flitting in amongst the melaleucas.
Edit This Page
Edit Page Content
Post Comment