Home >
Cairns Tourism History
Click on Map Icons to View More Info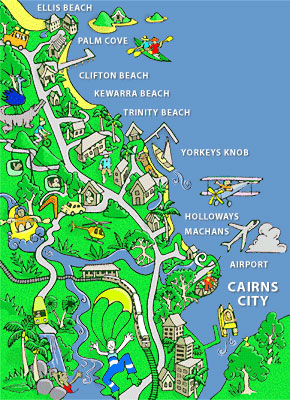 Top 10 Articles
4WD Safaris
Activities for Rainy Days
Amateurs Garden Party
Aqua Aerobics
Atherton Tablelands
Barron Falls
Barron River
Be Cass-o-wary!
Beach Volleyball
Bedarra Island
Cairns Region Guide
Click Images to view gallery for this subject
Cairns Tourism History
Updated: 02-May-2018
History of Tourism in Cairns
By The Cairns Historical Scociety

By the end of the 1870's Cairns was a busy port with the first wharves in Cairns being owned by Burns Philp, Wilson Hart and some local merchants. A connecting network of steamer services extended from Albany to North Queensland on an inter-colonial basis and in 1879 the entrance to the Barron River was marked allowing small craft to use it.
In 1890 occasional pleasure cruises to Green Island began and in 1906 The Cairns Post said that "in time to come it will prove to be the popular marine resort of the whole region".
By 1895 there was a system of ships travelling from Melbourne to Sydney, Brisbane, Mackay, Townsville and Cairns on a weekly basis; and a weekly tour sailing to Cooktown via Sydney, Brisbane, Maryborough, Bundaberg, Gladstone, Rockhampton, Mackay, Bowen, Townsville, Dungeness, Cardwell, Mourilyan, Geraldton (now called Innisfail), Cairns and Port Douglas. In 1900 there were four ships that advertised routes that included Sydney, Brisbane, Bundaberg, Rockhampton, Mackay, Townsville and Cairns and ten which advertised Maryborough, Bundaberg, Gladstone, Rockhampton, Mackay, Townsville, Lucinda Point, Cairns, Port Douglas and Cooktown.
In 1907 a tourist guide to North Queensland told tourists "the tourist will not find himself an object of interest here. Admiring visitors are too plentiful to excite curiosity and he may go about the business of sightseeing absolutely unembarrassed". As can be seen from the number of steamships arriving in Cairns and a tourist guide to show visitors where to go, tourism in Cairns had well and truly started, even in the early 1900's. To cater for these tourists, in 1908 a new ship was introduced to ply the tourist trade off Cairns and Port Douglas, sailing between reefs and island channels for many years .
It was reported in the 1915 "The Pocket Queensland" that Cairns was one of the best know tourist resorts in Australia and that every year saw an increasing number of tourists from the southern States. Three lines of coastal steamers regularly travelled between Cairns and all southern ports besides numerous smaller steamers trading with the ports between Cairns and Townsville. During the 1920's tourist boats would arrive every Friday and disgorge their 2000 passengers during the tourist season. These tourists were split into groups with one group being taken to see Green Island and Kuranda while the other group would go to Yungaburra. Tourism emphasized natural beauty such as the rainforest jungle, underground streams and waterfalls and the views from the Range Road (Gillies Highway).
In 1924 Hayles Magnetic Island Pty Ltd decided to expand their Townsville operation to Cairns, with Charles Hayles in charge. He began a launch service from Cairns to Cooktown, weekly and from Cairns to Turtle Bay every Sunday and every second Sunday to Green Island. The inaugral service to Green Island occurred 25 November 1924 per M V Malanda. The service to Turtle Bay was closed when the use of Turtle Bay became restricted as it formed a part of the Yarrabah Aboriginal Reserve. The service to Green Island increased to three days per week.
In the 1930's the Hayles family took passengers from cruise ships and showed them the coral reef using special floating glass boxes attached to small boats, a method which had never been used before anywhere in the world. Hayles also ran charter cruises in the area which included trips to Upola Cay and Oyster Cay to view the sea birds as well as reef walking and fishing. Blake Hayles became new manager of Cairns Branch in 1948 when his father Charles retired. Blake designed a new version of the glass-bottom boat, featuring glass in the bottom of the boat, which replaced the old method of floating glass boxes. In order to address the issue of overcrowding on Green Island in 1983 Hayles began cruises to Michaelmas Cay and Hastings Reef. They also pioneered the use of the semi-submersible for coral viewing.
Another trip that was available in Cairns during this period was the Manly; a motor launch which took visitors on a calm water cruise that included a trip around Admiralty Island. It was considered a good opportunity to view the "favourite haunts and breeding ground of North Queensland crocodiles with the possibility of viewing one". Other attractions on this trip included the boat party landing to view a tree-climbing fish, the mud-skipper of the mangrove swamps.
The 1938-39 edition of the Queensland Government Tourist Brochure called 'Holiday Haunts' offered regular weekly steamer services operating between Melbourne and Cairns and vice versa with prices ranging from £4/12/6 for a trip from Brisbane to Cairns one way in 2nd Class to £47/10/- for a return trip from Fremantle to Cairns in 1st Class. The brochure also advertised day trips such as visiting Lake Eacham and a day tour by launch to Green Island to inspect the Coral Gardens.
After the War the tourists again began traveling to Cairns and in 1954 another world first, this time an underwater observatory was built on Green Island.
Cairns was a popular destination with game fishing enthusiasts since the landing of the first 1000 pound black marlin in 1966 and in 1971 the Harbour Board built mooring facilities for charter and power boats operating out of the port. To encourage this industry in 1971 a new terminal was built by Hayles Magnetic Island Pty Ltd which included all amenities necessary for the benefit of tourists. By the end of the 1970's tourists had many choices. They could cruise Trinity Inlet or the Mulgrave and Russell Rivers or select from several island and reef cruises with coral viewing, snorkeling, diving and fishing.
The Great Barrier Reef Marine Park in the 1980's carried an estimated 150 000 visitors a day which by 1994-95 had increase to about 1.5 million visitors a day with growth estimated to be 10% per annum. Currently using the GBRMP are vessel-based day trip cruise companies encompassing small yachts and powerboats carrying less than 12 people at at time; ships which are bigger than 35 meters with up to 450 passengers at a time; extended vessel-based tourist operations with ships undertaking extended trips through the reef with overnight stays usually in a number of different places and structure-based tourist operations using such structures as pontoons.
Currently Cairns and the Whitsundays, which comprise less than 4% of the GBR Marine Park, attract 95% of the tourist visitors to the reef. Tourism, in the future, will continue to be an important part of the Great Barrier Reef usage.
Edit This Page
Edit Page Content
Post Comment