Home >
Yoga, Zumba & free fun
Click on Map Icons to View More Info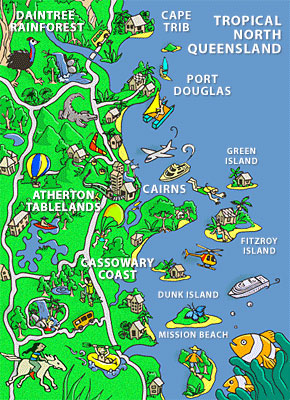 Top 10 Articles
4WD Safaris
Activities for Rainy Days
Amateurs Garden Party
Aqua Aerobics
Atherton Tablelands
Barron Falls
Barron River
Be Cass-o-wary!
Beach Volleyball
Bedarra Island
Cairns Region Guide
Click Images to view gallery for this subject
Yoga, Zumba & free fun
Updated: 27-Jul-2015
MUMBALATES
New Mum and baby fitness.

This is a perfect workout for every new mum. Mumbalates is fun, energising, playful and best of all you can do it with your baby!

The 45 minute class includes baby play, pelvic floor and abdominal exercises, energising stretches and full body strength training.

Every week at 9.30am to 10.30am on Wednesday at the Cairns Esplanade Fogarty Park.

All classes are subject to change and cancellation due to rain.

SAHAJA YOGA MEDITATION
At 7.30am on Saturdays there are free Sahaja Yoga classes at the Cairns Swimming Lagoon.

Enjoy the unique experience of Sahaja Yoga Meditation, relax and allow the power of the Kundalini energy to rise inside and be in a state of thoughtless awareness. Once the Kundalini is awakened inside it nourishes the seven chakras inside you and helps us have towards inner peace and improved physical, mental and spiritual wellbeing.
Thus, through mediation you will evolve beyond the increasing stress and strains of life to a state of real enjoyment

All classes are subject to change and cancellation due to rain. All classes meet on the Lagoon lawn.

AQUA ZUMBA
Splash your way into shape with an invigorating low-impact aquatic exercise. Known as the Zumba® "pool party," the Aqua Zumba program gives new meaning to the idea of a refreshing workout. Integrating the Zumba philosophy with traditional aquatic fitness disciplines, Aqua Zumba® blends it all together into workout that's cardio-conditioning, body-toning, and most of all, exhilarating beyond belief.

Friday 5.30pm meet at the Lagoon
BOXFIT FUN
First and foremost a fitness class, Boxfit incorporates punches, kicks and knees to get you fit and strong - fast. Based around boxing and kickboxing, you will learn how to hit and kick safely and effectively, burn fat and let your cardio fitness reach new heights.
Class times:
Monday 5.30pm meet at Fogarty Park
CIRCUIT & CROSS TRAINING
This class features resistance and interval training to encourage weight loss and strength development in a fun and safe environment.
Class times:
Saturdays 8am meet on the Lagoon lawn
TAI CHI
Tai Chi reduces stress responses and the incidence of anxiety, depression, fatigue and general mood disturbance. Tai Chi improves balance and coordination, postural control while stretching, toning and relaxing the body.
Class times:
Wednesday 6.30am meet at the Main Plaza
parkrun
parkrun 5km run - it's you against the clock, every Saturday at 7:00am.
If you can, register before your first run www.parkrun.com.au/cairns and bring a printed copy of your barcode, If you forget it, that's ok but you won't get a recorded time.
We all run for our own enjoyment. Please come along and join in whatever your pace!
Class times:
Saturday 7:00am meet at the Northern Funship
Edit This Page
Edit Page Content
Post Comment