Click on Map Icons to View More Info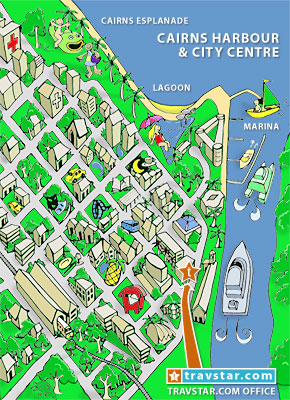 Top 10 Articles
4WD Safaris
Activities for Rainy Days
Amateurs Garden Party
Aqua Aerobics
Atherton Tablelands
Barron Falls
Barron River
Be Cass-o-wary!
Beach Volleyball
Bedarra Island
Cairns Region Guide
Click Images to view gallery for this subject

OUR DAY OUT ON SKYRAIL

EDUCATIONAL EXPERIENCE

JOURNEY THROUGH THE CLOUDS!

FEEDING A CUTE KANGAROO

ARMY DUCK ADVENTURES

OUR RAINFORESTATION GUIDE
Skyrail for Kids
Updated: 21-Jun-2016
Need to get the kids outdoors and active? Then hop onto the Skyrail Cableway...
This trip is an easy option for families as it provides a flexible day out, its educational and offers excellent value.
We arrived at the Skyrail on a day that was a bit cloudy, a bit rainy and a bit sunny, perfect weather!
The kids were very excited as we boarded the cablecar and took off towards Kuranda. Journeying over the rainforest canopy, there is so much to see when you really focus in on the ground below. We spotted creeks, birds, fan palms and many other amazing rainforest plants as we travelled through diverse sections of the rainforest.
At Red Peak Station it was time to stretch our legs and have a wander along the rainforest boardwalk. We were given a rainforest fact file to complete, so we started our search to hunt down some of the answers to questions such as... "to live in the rainforest, plants must fight for the ... light"
The next stage of the journey between Red Peak and Barron Falls Station it started to rain which really made it an adventure, journeying through the clouds! The rain was perfect and really brought the rainforest alive. We spent some time inside the Interpretation Centre, the kids loved the interactive computers without realising that they were actually learning a few things about nature!
Into Kuranda we had a stroll up the main street before boarding our transfer coach to Rainforestation. The wildlife park provided the opportunity to pat very friendly kangaroos and view the crocodiles. It was then off to the Army Duck which the boys were very excited about. Our guide gave us informative journey of the rainforest, and being in an army duck it added to the adventure!
After a quick stop at the Venom Museum in Kuranda to admire the snakes and stick insects, we then hopped back on-board the Skyrail for our return journey.
A fun and easy day out was had by all!
The diamond view upgrade is now available and highly recommended for kids. They love looking directly down through the glass floor of the gondola!!
Edit This Page
Edit Page Content
Post Comment