Home >
Cook Family Bama Way Experience
Click on Map Icons to View More Info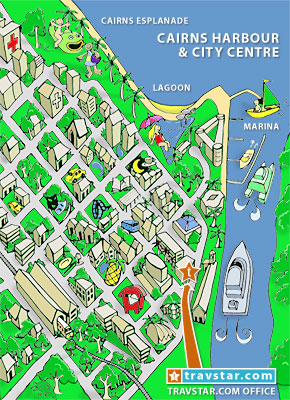 Top 10 Articles
4WD Safaris
Activities for Rainy Days
Amateurs Garden Party
Aqua Aerobics
Atherton Tablelands
Barron Falls
Barron River
Be Cass-o-wary!
Beach Volleyball
Bedarra Island
Cairns Region Guide
Click Images to view gallery for this subject
Cook Family Bama Way Experience
Updated: 11-Feb-2010
The Cooks QLD Adventure

Day 17 - Today we went for a tour of the town and was even more impressed with the general feel of Cooktown.
We looked at the site where Captain Cook beached the Endeavour for repairs and other interesting historical sites. We also went for a walk through the botanical gardens and arranged a guided tour of some local aboriginal rock art with an aboriginal elder, Willie Gordon.
To meet him for the start of the tour, we drove out through the Hopevale aboriginal settlement and watched some of the Cowboys rugby league team having a clinic with the local aboriginal kids.

We met Willie and followed him through the forest in our 4wd's (about 3 other cars). It was obvious that here was a very friendly and warm person who was keen to share his culture with anyone who is interested.
It was equally clear that he wanted to focus on the kids and so most of his discussion and question was directed at the children. His explanation of the art was fascinating as he tried to explain the aboriginal philosophy/belief system rather than simply showing pictures.
His message was simple but strong and certainly resonated with all of us. The role of the family unit is crucial, man should live in harmony with nature and you need to aim for a calm life with less focus on material things.
He believes many of the problems for both "black and white is the breakdown of family"(Willie said he can refer to black and white with no concern for political correctness).
The time we spent with Willie was very precious and we appreciated the way he related to our children in a way that should have a lasting effect. The still speak fondly of Wille weeks later.

Edit This Page
Edit Page Content
Post Comment