Home >
North Queensland Cyclones
Click on Map Icons to View More Info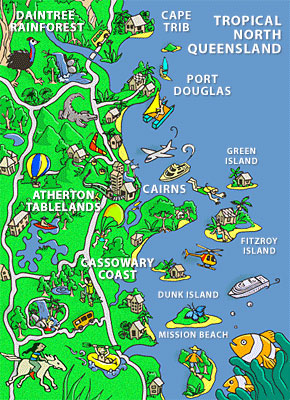 Top 10 Articles
4WD Safaris
Activities for Rainy Days
Amateurs Garden Party
Aqua Aerobics
Atherton Tablelands
Barron Falls
Barron River
Be Cass-o-wary!
Beach Volleyball
Bedarra Island
Cairns Region Guide
Click Images to view gallery for this subject
North Queensland Cyclones
Travellers Tale!
Submitted By: Kim Marsden - Australia
Updated: 09-Oct-2012
Cairns
has a Tropical climate, with generally hot and humid Summers and milder dryer Winters. The average annual rainfall is 1992
mm on an average 154 days. The majority of Cairn's rainfall occurs during summer between January and March.
The monsoon trough is close to Cairns from December to March bringing with it warm to hot, humid conditions and the possibility of thunderstorms and tropical cyclones. Thunderstorms regularly develop over the ranges inland from Cairns, but seldom move off the ranges across the City.

On the 3rd of February 2011 Cyclone Yasi crossed the coast near Mission Beach, 138 km South of Cairns. This was a maximum Category 5 cyclone when it was crossing the coast. Cyclone Yasi was a strong and large system and maintained damaging winds and heavy rain as it travelled west to Mount Isa. Tully and Cardwell suffered major damage to structures and vegetation with the eye of the cyclone passing over Dunk Island and Tully. The resort islands of Dunk and Bedarra were closed after the event and are yet to be re-opened. Cairns was on the edge of the destructive winds and experienced Gale Force Winds. Mission Beach and Tully are about a 2 hour drive south of Cairns.

In 2012 Cairns has not experienced a cyclone. The outlook for 12/13 tropical cyclone season is released in October 2012. We always consult www.bom.gov.au when we are in the cyclone season. If you would like to read more complete data on Tropical Cyclones make sure to visit this site. It is the Australian Government Bureau of Meteorology.

On the 12th of January 2009 Tropical Cyclone Charlotte in the Gulf of Carpentaria combined with a King tide caused flooding rains throughout the city of Cairns. On Tueday the 13th of January the weather is fine with a bright blue sky and the water has drained away from the city.

Prior to this the last tropical cyclone experienced in North Queensland was Cyclone Monica in April 2006 which caused extensive rain damage. Cyclone Monica arrived about a month after Cyclone Larry in 2006.

Cyclone Larry crossed the coast at Innisfail in on the 23rd of March 2006. Innisfail is a one and a half hour drive south of Cairns. Cyclone Larry reached a category 5 just before landfall and caused extensive damage to local crops. The worst town affected by Larry was Silkwood with 99% of the houses damaged. Cairns was lucky with minimal damage and relatively low rainfall. The day after Cyclone Larry was lovely dry, clear weather.

Prior to this we experienced Cyclone Ingrid in early March 2005. Cyclone Ingrid affected Lockhart River and Cooktown but had a low impact on Cairns.
Cyclone Steve arrived in late February 2000. Steve was a Category 2 when it crossed the coast then weakened and departed our area to re-intensify in the Gulf of Carpentaria. Cyclone Steve is notable for its longevity and traversal on Northern and Western Australia but never reached severe intensity. It hung around for a long time but did not create a problem for Cairns after the 27th of February 2000.

The months from May to October are dominated by the sub-tropical ridge, with Cairns under the influence of the south east trade stream. These moist onshore winds often produce diurnal showers, peaking overnight and morning and weakening during the afternoon..
The tropics has fairly uniform temperatures throughout the year. Typical daytime min/max temperature ranges in Cairns are 23C/31C in mid-Summer and 18C/26C in mid-Winter.
The prevailing winds are East to South-easterly with strongest winds (cyclones excluded) usually occurring during April and August. During the summer months, North to North-easterly sea breezes dominate the winds along the coast.
The cyclone season is normally confined to between December and April but exceptions do occur. The most active year to date from official records was 1977, when Cairns was influenced by four tropical cyclones.
Edit This Page
Edit Page Content
Post Comment