Home >
Walsh's Pyramid Hike
Click on Map Icons to View More Info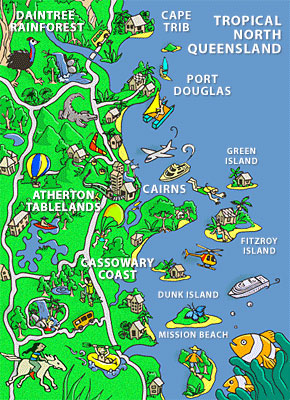 Top 10 Articles
4WD Safaris
Activities for Rainy Days
Amateurs Garden Party
Aqua Aerobics
Atherton Tablelands
Barron Falls
Barron River
Be Cass-o-wary!
Beach Volleyball
Bedarra Island
Cairns Region Guide
Click Images to view gallery for this subject
Walsh's Pyramid Hike
Travellers Tale!
Submitted By: Harmonics - Australia
Updated: 14-Feb-2012
A bootcamp Chief travelling Cairns
One beautiful Sunday morning I made a crazy decision to hike Walsh's Pyramid – the worlds largest naturally pyramid- shaped mountain. To make my trip more interesting (I love endurance training!) I rode my push bike from Cairns to the mountain's base (58 km round trip~ yes I felt it the next day).
My feet first pushed the pedals at 8:30 am, I had "planned" on a much earlier departure time but I just couldn't get up on Sunday morning :-). After 1 hour 30 minutes and 29 km of struggling on a not-so-comfy saddle I arrived at the Pyramid. Seeking signage of where to begin the uphill hike I had a noticeable bow-legged hike; gee it's just great being an active person. Before beginning the hike I did a session of stretching - very important for wellbeing and to enjoy any hike to its full.
Walsh's Pyramid is located at Norman Park and stands to a height of 922 m ~ pretty steep. From what I noticed at this time of year, the vegetation is dry forest and I saw wildlife everywhere ~ I even saw a monitor lizard climbing a tree! High in the sparse canopy I could here strange insect songs, which my housemate says may have been cicadas. Bird watchers and bushwalkers would thoroughly enjoy the hike at Walsh's Pyramid.
The 6 km hike up and down the Pyramid was really steep, with a rough dirt-rocks-roots track that was very exposed to the sunshine. You would need to plan for at least a 3 hour hike~ so be sure that you pack water, sunscreen to reapply, some complex carbohydrate snacks and be wearing your hat, sunglasses and sleeved shirt. Oh, and some socks on your feet with enclosed shoes- this time of year there may be ticks around and the layer provide extra protection if you unexpectedly tread on a snake that is sunning itself (they are likely to move when they feel your vibrations).
After I scraped myself up to the top I saw an amazing landscape view encompassing Gordonvale and Cairns. The top of the mountain was bigger than I expected, and there were two rocky platforms picnicking - nice. I took some pictures and a video using my mobile; here are the better ones:
Generally, be careful on the hike, some parts are vey steep and require that you take hold of rocks or trees to maintain balance.
It is essential to carry a lot of water with you (especially in hot weather). However, drinking too much at one time can be dangerous to your health, so moderation is again the key; sip often and be sure to be hydrated before you start.
I had heavy backpack with;
4 liters of water, 2 muesli bars (protein crunch)
2 bananas (potassium for nerves and helps with water absorption)
A First Aid Kit and my mobile phone (common sense given the isolated location, I also let my housemate know where I was going and what time I expected to return)
Sunscreen, and some other unnecessary stuff (hey! I am a Boot Camp Chief – I need to ramp things up!)
On my return to the car park place I did my cool-down stretches, let my housemate know I was on my way (safety first :-) and pedaled on my way – elated!
The hike at Walsh's Pyramid is suitable for "fit" people; runners would enjoy the endurance challenge.
The hike is not suitable for children or the elderly given the distance and roughness of the track. Nor unfortunately is the hike accessible for those in wheelchairs or with other walking aids. You should also know there are just 4 flatter sections during your ascent and everything else is steep and rough + two bonus sections where is bit of climbing necessary, but not hard.
The Walsh's Pyramid hike is definitely recommended for travelers who want to get off the beaten track and put some added adventure into their Cairns holiday stay; and for locals wanting to experience more of their natural surrounds.
Harmonics: Real Lifestyle Change (my home-based business) has a Walsh's Pyramid Endurance Program – give us call if you're feeling adventurous! Jarek Sevcik is a Boot Camp Chief, personal trainer and masseuse. He enjoys sharing his knowledge with others and mentoring those seeking real lifestyle change. Jarek can be contacted on 0432 012 171, harmonics@zenbe.com or just come visit the blog: www.harmonicsmtm.wordpress.com

Edit This Page
Edit Page Content
Post Comment