Click on Map Icons to View More Info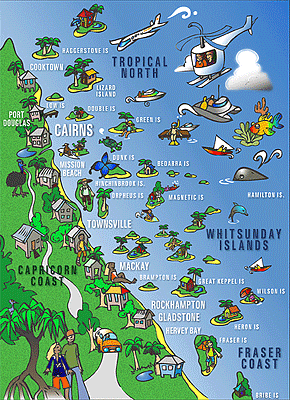 Top 10 Articles
4WD Safaris
Activities for Rainy Days
Amateurs Garden Party
Aqua Aerobics
Atherton Tablelands
Barron Falls
Barron River
Be Cass-o-wary!
Beach Volleyball
Bedarra Island
Cairns Region Guide
Click Images to view gallery for this subject
Lizard Island
Travellers Tale!
Submitted By: Mimi Tam - Australia
Updated: 21-Feb-2018
For those interested in camping on Lizard Island: Information current Feb 2018

The private charter flight to and from Lizard Island is run by Lizard Island and operated by East Air.
The cost is $380/person.
The number to dial is 1800 837 064.
Daily flights depart from the East Air terminal in Cairns at 11am and 2pm to Lizard Island. Use this as a guide, if possible, when booking your flights to and from Cairns.
Daily flights depart Lizard Island at 12:25pm and 3:25pm to the East Air terminal in Cairns. Use this as a guide, if possible, when booking your flights to and from Cairns.
Each guest may take a maximum of 25 kilograms of luggage, including hand luggage
Any extra luggage you may have can be securely stored at East Air.
Here is a link to National Parks camping permits information
https://www.npsr.qld.gov.au/parks/lizard-island/camping.html#camping_on_lizard_island
Here is a link to the Queensland National Parks Booking Service. It looks like there is only one camp spot available on the 28th June but after that it seems all 5 spots are available.
https://qpws.usedirect.com/QPWS/Default.aspx
For those interested in staying at Lizard Island Resort as a guest: What a lovely idea!!! Below is a traveller tale from one of our happy customers.

After much anticipation and excitement, we finally arrived at Lizard Island for our week-long honeymoon. After a stunning one-hour flight over turquoise atolls and reefs aboard a 15-seater plane, we eventually approached the rather large and mountainous Lizard Island. We flew low over a gorgeous sparkling azure lagoon bound by white sandy shores and landed smoothly on the tarmac.
On arrival, we were immediately greeted by smiling staff and an air-conditioned shuttle bus which transferred us directly to the Lizard Island resort. Welcome cocktails and hor d'oeuvres were served as we were checked in. A quick tour of the resort made us familiar with the locations of the Azure Day Spa, Osprey's Restaurant, the pool and guest lounge as well as the Beach Club which is the activities centre for those that wish to do more than just eat, drink, relax and be completely pampered.
Our guide showed us to our gorgeous Sunset Point Villa. The villa overlooked Sunset Beach, obviously the most stunning location on the island to watch the sun go down. The villa was simply divine. Furnished with every amenity and luxury one could wish for, somebody had obviously put a lot of thought into guest comfort. No detail had been overlooked. From the bottle of champagne on ice, and the soothing signature Voyages CD playing in the background, to the jar of freshly baked chocolate cookies straight from the oven, this resort is designed with "utter indulgence" in mind. I immediately felt the stresses of everyday life melt away and felt as if I had been instantly teleported to Paradise. The hammock and daybed on the balcony of our villa was where we wiled away our first afternoon on Lizard Island, watching the sunset with a glass of sparkling in hand.
As the sky grew dark, we made our way down to Osprey's Restaurant, overlooking Anchor Bay and its vast sweep of crystal blue water. The menu was sensational. We each chose from a selection of three special entrees, mains and desserts. The chef conceives a new menu daily depending on the produce that has been flown in on the day. Even breakfast and lunch menus change daily. Even more impressive was the wine selection. It was very extensive and included only the best and most exclusive of currently available wines and liquors. Service at the restaurant and bar was impeccable. After dinner, Beach Club staff organised for us to take a dinghy out the next day for a romantic picnic at one of the 24 secluded beaches around Lizard Island.
We wanted to make the most out of stay at Lizard Island and to take part in as many activities as possible. Mind you, it was also very tempting to just read a novel, have spa treatments and sip cocktails all day by the beach or in our hammock. On our second day, we took a dinghy out with a sumptious picnic to a private little beach and lagoon around the corner from the resort's beaches. The water was an unbelievable shade of turquoise. The sand was the finest powdery white. It was so beautiful it felt surreal. We jumped in with our snorkels on and found we were surrounded by giant metre-long clams and hundreds of brightly patterned fish amidst a myriad of different coral species. It was breath-taking...sheer bliss. Our picnic hamper even included a chilled bottle of Moet and Chandon.
We also took a day trip out to the surrounding outer Barrier Reef including to the world-renowned Cod Hole. It is indescribably beautiful - the way you would envision the Great Barrier Reef on David Attenborough documentaries: the colours, the incredible shapes, the myriad of different ocean life forms. The sheer number and diversity of reef life is unparalleled at Lizard Island. We saw thousands of different fish.
Edit This Page
Edit Page Content
Post Comment