Home >
Hartleys Creek Crocodile Park
Click on Map Icons to View More Info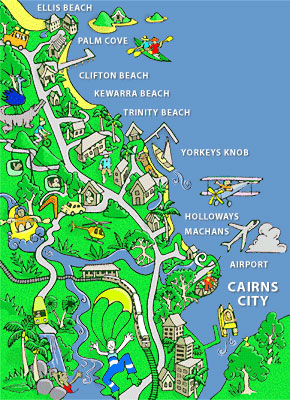 Top 10 Articles
4WD Safaris
Activities for Rainy Days
Amateurs Garden Party
Aqua Aerobics
Atherton Tablelands
Barron Falls
Barron River
Be Cass-o-wary!
Beach Volleyball
Bedarra Island
Cairns Region Guide
Click Images to view gallery for this subject
Hartleys Creek Crocodile Park
Travellers Tale!
Submitted By: Jodie Delvin - Australia
Updated: 16-Feb-2010
I have just recently visited Hartley's Crocodile Park, and had a wonderful day.
I arrived just in time for the first wetlands cruise for the day that departs at 9:00 am. This is apparently the best cruise of the day, and the wildlife that inhabit this man-made lagoon are awake and lively, and the crocodiles are stirring for the first feed of the day. Wanda the guide and skipper for the day, pointed out a lot of native birds to the area such as the pair of shiny fly catchers, and dusky moorhens with their cute chicks, as well as enticed two white-breasted sea eagles to fly down for free chicken heads for breakfast!
The crocodiles were indeed active, as they thrusted themselves out of the water to grab the food. It was amazing to see their bodies wobble as they lifted themselves out of the water. This they can do in the wild in extreme cases with a bird passing by.
After the cruise, I wandered down to the Cassowary Gardens where I got to hand feed two cassowaries! They seemed very friendly (and hungry!), and their striking colours are so pretty, it makes you wonder that these flightless birds can actually be dangerous!
Hartley's Crocodile Park has many different enclosures that have been built to provide an interactive display of native wildlife in their natural habitats and ecosystems. The timber boardwalks are easy to follow and at every corner you will be amazed by what you see next.
I sat in the arena and watched the crocodile feeding, snake show and the famous and long awaited crocodile attack show, where the brave Drew made Bart the large crocodile do the death roll and head shake, as well as gave us handy hints on how to avoid a crocodile attack whilst camping.
There is a café onsite where they serve a whole range of meals, and I had a delicious chicken caesar salad. There is a large decking area where you can sit and simply relax and enjoy your lunch or refreshments whilst enjoying the views of the wetlands, and maybe spot one of the native birds or see a croc or too swimming past.
There is also an opportunity to get a photo taken with you holding a crocodile or a python, or if this is not your idea of a souvenir, then there is a gift shop where there is lots of crocodile memorabilia, Cairns souvenirs, as well as reference books of native birds, wildlife and of course crocodiles!
Hartley's Crocodile is full of wildlife shows and activities to suit all, even the non nature lovers can find something entertaining. I simply enjoyed wandering around the park at my own leisure admiring the natural surroundings and taking opportunity of the many photo opportunities naturally available.
I recommend Hartley's crocodile park to anyone and everyone, and the best part about it is that if you feel you just didn't see everything you wanted, you can get you pass stamped for a free return for the next three days. Now that is value for money!
Edit This Page
Edit Page Content
Post Comment