Click on Map Icons to View More Info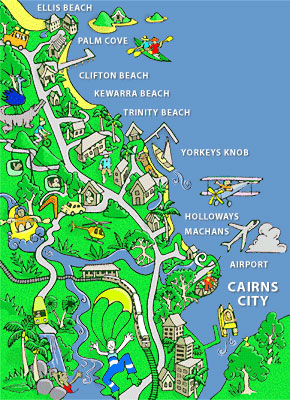 Top 10 Articles
4WD Safaris
Activities for Rainy Days
Amateurs Garden Party
Aqua Aerobics
Atherton Tablelands
Barron Falls
Barron River
Be Cass-o-wary!
Beach Volleyball
Bedarra Island
Cairns Region Guide
Click Images to view gallery for this subject
Bedarra Island
Updated: 14-Feb-2012
Bedarra Island was home to an exclusive resort and a privately owned section has luxury holiday homes and caretakers living on the island.

Bedarra Island was damaged in Cyclone Yasi when it hit the Queensland coast in early 2011. The resort is currently closed but has been purchased by new owners who do intend to re-open it once it is re-built.

Bedarra Island is part of the Family group of islands. In 1770 Captain Cook was the first European to sail past the island as he made his way up the eastern coast of Australia. His achievement in weaving his way through the unchartered waters of the Great Barrier Reef is, by any measure, one of the marvels of navigation.
On 8 June, 1770 Cook sailed the Endeavour into a group of islands which he named the Family Group. This islands comprised Coonanglebah (which Cook renamed 'Dunk' after Lord Montague Dunk, the Earl of Sandwich and First Lord of the Admiralty) 'The Father', Bedarra 'The Mother', Toolghar and Coomba 'The Twins' and Kurrumbah, Budjoo and Coolah 'The Triplets.'
In his journal Cook describes finding 'a parcel of Small Islands laying off the Northern point of the Bay, and, finding a Channel of a Mile broad between the 3 Outermost and those nearer the Shore, we pushed through. While we did this we saw on one of the nearest islands a Number of Natives collected together, who seemed to look very attentively upon the Ship; they were quite naked, and of a very Dark Colour, with short hair.'
These Aborigines called Bedarra 'Biagurra'. Later it would become Allason Island and, reputedly because E. J. Banfield (see Dunk Island) did not hear Biagurra correctly, it became Bedarra.
The island was first settled by Europeans when Captain Henry Allason bought the island from the Queensland Lands Department for £20 in 1913. The island then went through a number of ownership changes until 1957 when Ken and Cynthia Druitt bought the island and subsequently opened a small resort.
Edit This Page
Edit Page Content
Post Comment