Home >
Wheelie Friendly touring ideas
Click on Map Icons to View More Info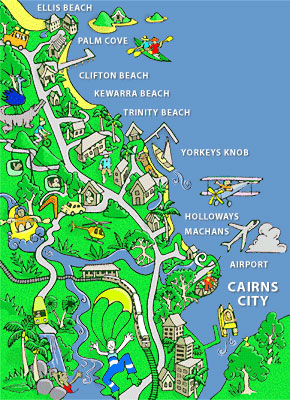 Top 10 Articles
4WD Safaris
Activities for Rainy Days
Amateurs Garden Party
Aqua Aerobics
Atherton Tablelands
Barron Falls
Barron River
Be Cass-o-wary!
Beach Volleyball
Bedarra Island
Cairns Region Guide
Click Images to view gallery for this subject
Wheelie Friendly touring ideas
Updated: 14-Feb-2019
Beach Friendly wheelchair for Palm Cove:
Visitors who have a disability or limited mobility can access the all terrain beach friendly wheelchair for free hire at Palm Cove. There is a Queensland Life Savers station towards the Northern end of Williams Esplanade. Just ask the on-duty lifeguard to issue it to you and fill in the indemnity book. If you want to be sure you could call a few days in advance to make sure it is not already pre-booked. You will also need a carer or friend to assist. We are so pleased all visitors to Palm Cove can now access the beach and enjoy watching all of the activities up and down the beachfront. The all terrain wheelchair is at the Palm Cove Surf Lifesaving Club: 07 40591263 between 10am and 2pm.

Kuranda Train & Skyrail:

Skyrail is suitable for, and caters to, people of all ages and abilities. Skyrail gondola cabins can accommodate most standard type wheelchairs. However, due to size restrictions and loading requirements, some types of wheelchairs can not be carried on the cableway.
The width of the wheelchair can not exceed 630mm.

The length of the wheechair can not exceed 950mm.

Wheelchairs must be capable of being tilted backwards to enable loading into the gondola.

The gentle raising of the front wheels, then gently pushed into the gondola.

The combined weight of the wheelchair occupant and the wheelchair must be of a manageable weight to allow cableway operators to load a wheelchair.

Wheelchairs must have handles to ensure easy lifting into the gondola cabins.
A friendly cableway operator is available at each station to assist you on and off the cableway. Easy embarkation and disembarkation from the gondola cabins; the doors open and close automatically. A ramp assists with loading and unloading from gondola cabins on the cableway.
Ramp access is available to all boardwalks at Red Peak and Barron Falls stations. Red Peak has a 175 metre rainforest boardwalk and there is approximately 400 metres of gentle walkways at Barron Falls Station. Access is also available to the CSIRO Interpretation Centre at Barron Falls Station. Wheelchair accessible restroom facilities are available at all stations.
Skyrail provides the complimentary use of wheelchairs (subject to availability) during a Skyrail experience.
Kuranda the 'Village in the Rainforest' has numerous attractions including a colourful bird aviary, koala park and a diverse range of markets, shops, cafes and restaurants. Depending on your travelling time on Skyrail, we recommend allowing yourself two to three hours in Kuranda which will give you enough time to explore and have some lunch/refreshments.
Kuranda Scenic Rail is suitable for, and caters to, people of all ages and abilities. Some types of wheelchairs can not be carried on the coaches that ferry guests to and from Skyrail and Freshwater Train Station.
Wheelchair access available at all stations.

Wheelchair ramp at Cairns Central Station

Wheelchair lift at Freshwater and Kuranda Stations

Wheelchair access at Barron Falls station is not available.

When booking please advise us that you require wheelchair access, so that we are able to provide appropriate assistance.

Here are travstar.com we confirm tours for wheelchair guests every day. The Kuranda Train and Skyrail daytrip including return hotel transfers is available for wheelchair users. Please contact us at info@travstar.com so that we can make sure the details are correct for your booking. There is no additional cost for this service.

Rainforest Habitat is Australia's leading environmental wildlife park, and boasting over 1600 animals, contains the largest collection in immersion exhibits. Informative guided tours, experiential displays and immersion exhibits provide an experience found nowhere else.
Located at the entrance to Port Douglas, this attraction makes a great half day visit if you incorporate the famous 'Breakfast with the Birds' or 'Lunch with the Lorikeets'. All areas of the park are accessible comprising of boardwalks, gravel paths and flat brick tiles. A wheelchair accessible toilet is also available.
Hartleys Crocodile Adventures:
Hartley's Crocodile Adventures is the best place to see crocodiles and native wildlife in Tropical North Queensland. Hartley's is famous for its exciting and educational wildlife presentations including crocodile shows, wetland wildlife, snake show, cassowary feeding, koala feeding and more.

A series of timber boardwalks provide elevated viewing of wildlife as visitors journey through a range of natural habitats. Ramps are provided to access the boat cruise. The only limited access areas are the Cassowary enclosure and farm animals where the gravel paths may prevent access.
Rainforestation:
At Rainforestation Nature Park you'll get to experience indigenous culture, Australian native wildlife and World Heritage listed rainforest all on one site. Set on 100 acres (40 hectares) in the midst of World Heritage rainforest, this unique tourist attraction is situated five minutes from Kuranda Village, and half an hour drive from Cairns in Tropical North Queensland. All attractions within the park are wheelchair accessible.

Edit This Page
Edit Page Content
Post Comment