Home >
Wheelie Friendly Reef
Click on Map Icons to View More Info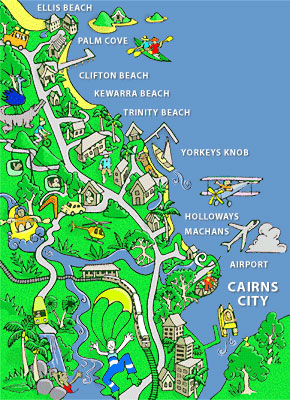 Top 10 Articles
4WD Safaris
Activities for Rainy Days
Amateurs Garden Party
Aqua Aerobics
Atherton Tablelands
Barron Falls
Barron River
Be Cass-o-wary!
Beach Volleyball
Bedarra Island
Cairns Region Guide
Click Images to view gallery for this subject
Wheelie Friendly Reef
Updated: 14-Feb-2019
Great Adventures - Green Island
Green Island is accessible for wheelchairs. While there are a number of different vessels that transfer to Green Island, not all provide wheelchair facilities. Depending on tides and weather conditions, gangways from the vessel to the jetty are sometimes too small for a wheelchair and will at times have a few steps from the end of the gangway to the jetty. The gangways are able to accommodate standard sized wheelchairs, however larger motorised wheelchairs may not be able to be accommodated.
Green Island does have disabled toilet facilities, and paved or wooden board walked pathways that are easy for wheelchairs to access. There are wide paved or timber pathways throughout the island allowing wheelchairs to move around the island and through the island facilities. There is also a boardwalk that takes you directly through the rainforest into the centre of the Island which is easily accessible.
The glass bottom boat is only accessible via a number of steps (and is not able accommodate a wheelchair).
Great Adventures - Outer Barrier Reef
Great Adventures primary vessel, Reef Prince travels to the Norman Reef pontoon and is the most suitable product for wheelchair passengers. There are occasions however when this vessel may not operate and back up vessels are used that do not have wheelchair facilities. This is often not known till 24 hours prior to departure so we recommend reconfirming your booking 24hrs prior to trip departure. Reef Prince is equipped with a motorised chair lift to enable transfer between the upper and lower decks of the vessel. There is a wheelchair accessible toilet onboard.
At the Outer Barrier Reef there are ramp facilities from our vessel to the floating platform. There are no disabled facilities on the platform and the platform does have decking where wheelchair wheels may get stuck. Access to the underwater observatory, swim platforms and the semi-submersible coral viewing vessels is by stairs only.

Quicksilver
Quicksilvers primary vessel Quicksilver VIII is the most suitable vessel for wheelchair passengers including electric wheelchairs. While every attempt is made to ensure these facilities are available due to operational consideration, some facilities may not be available on the desired day of travel. We recommend to reconfirm your booking within 24 hrs of trip departure.
On Quicksilver VIII there is an oversized toilet cubicle available suitable for most wheelchair passengers. This toilet is endorsed "CREW ONLY" to restrict access. At the Outer Barrier Reef there are ramp facilities from the vessel to the floating platform, however access to the underwater observatory, swim platforms and our semi-submersible coral viewing vessels is by stairs only.
A chair lift enables disabled passengers to be lowered into the water to enjoy snorkelling. This is available only on the Agincourt 3 floating platform. (Quicksilver VIII)
The snorkelling platforms are situated right on the waterline and there are bench seats on the snorkelling platform where you can put on your fins, mask and snorkel before entering the water.

Sunlover Cruises:
Sunlover Cruises can accommodate wheelchairs with wide aisles onboard, ramps between the pontoon and boat, wheelchair access to the toilet on the main deck level and access to a reserved table onboard the boat.
There are many activities where you can experience the reef onboard the pontoon such as a touch tank where you can view and hold sea cucumbers and starfish. With a bit of movement it is possible to take part in the glass bottom boat tour subject to the size of the wheelchair and person. There are stairs leading down to the underwater observatory and semi sub tour.

Edit This Page
Edit Page Content
Post Comment