Home >
Extreme Tully River Rafting
Click on Map Icons to View More Info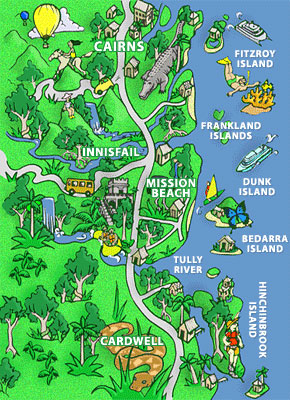 Top 10 Articles
4WD Safaris
Activities for Rainy Days
Amateurs Garden Party
Aqua Aerobics
Atherton Tablelands
Barron Falls
Barron River
Be Cass-o-wary!
Beach Volleyball
Bedarra Island
Cairns Region Guide
Click Images to view gallery for this subject
Extreme Tully River Rafting
Travellers Tale!
Submitted By: Lisa Duncan - Australia
Updated: 03-Jul-2009
It was a rainy wet weekend & we had nothing to do. At around 7pm on Saturday night we booked 3 tickets on the Extreme White Water Rafting on Tully River. Tully is one of the wettest places in Australia so the chances of it raining are pretty high. So the weather was not a problem, if anything it was better because the river was Pumping.
We woke up early Sunday morning to catch the Raging Thunder bus to Tully. I was already so nervous. I wouldn't say I'm the most confident swimmer but I love a good challenge.
Once we arrived at Tully headquarters we able to freshen up with food & drinks & organise wetsuits & water shoe hire if you didn't already have them. Then all of the Extreme crew hoped onto a smaller bus to head up the range. That's when we met "Fish" the bus driver & soon to be River Guide for the day. He was a fun loving Hippy, a real character. We divided into 2 groups of 6 & had a run down of safety instructions etc. I was so excited I couldn't stop grinning the whole way there.
We came to a stop & headed straight for the Mighty Tully. The water was loud & freezing. But it didn't matter my wetsuit kept me warm for the entire day. We got a run down of the things that our Instructor Fish would be saying when approaching a rapid such as "Get Down", "All to the Left", "Back Paddle", "Right Side Only". People have died on the Tully so I was a tad scared but once I found out Fish had been down this river at least 3500 times I felt much better. Especially with all our gear on. My helmet, Life Jacket strapped tight, Ore in hand we began paddling out to begin our adventure down stream.
The first Rapid was powerful & I was saturated straight away but that was nothing compared to what was to come. Around every twist & turn there was another heart pumping ride. Nature's theme park, I loved it. The first part of the day involved a 4km long journey, and then we stopped to refuel with a yummy BBQ on the bank of the lush river. Coffee & tea to warm you up & a toilet stop before climbing back in the rafts for the 9km ride. That was when the real fun began.
We swam a grade 2 Rapid which was exhilarating. Fish dropped us off on the bank & went down first in the raft. We all followed floating on our backs. You pick up so much speed. Massive waves suck you in & spit you out. It was out of control & when it was over we all ran up the bank to do it all over again.
My biggest challenge of the day was when we approached a feirce Rapid. Fish wedged the boat between two rocks & advised anyone with bad ears or that is not used to holding there breath to sit this one out. This waterfall spits you more than 10 Metres underwater in a split second. We were each hung off the side of the raft by our life jackets, when released we were shot straight into this massive speil of heavy water. My ears popped then all I could do was wait for my life jacket to bring me back to surface. Just as I thought I had run out of breathe I emerged full of life, Adrenalin pumping through me. It was Wild. I was so proud of myself for going through with it.

When we wernt battling these awsome rapids we were Rock Jumping or just Peacefully floating down the river enjoying the beautiful rainforest that surrounds you. Butterflies & birds all around.

Our Senic Rollarcoaster ride came to an end but not before surfing one last Rapid. We dropped into it & Fish got the boat spinning 360 for what felt like ages. We were all screaming & having a ball. But the day wasn't over yet. We showered & changed into dry clothes then missioned it back to base where we were able to have a few beers & check out the crazy photos of the day. Which you were also able to purchase. You can probably tell by my smile that it was a truly amazing experience. I felt completely safe the entire day.
Edit Page Content
Post Comment