Click on Map Icons to View More Info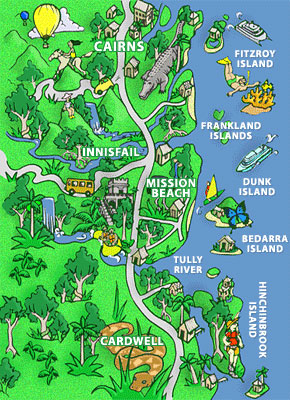 Top 10 Articles
4WD Safaris
Activities for Rainy Days
Amateurs Garden Party
Aqua Aerobics
Atherton Tablelands
Barron Falls
Barron River
Be Cass-o-wary!
Beach Volleyball
Bedarra Island
Cairns Region Guide
Click Images to view gallery for this subject
Behana Gorge
Updated: 24-Feb-2014
Behana Gorge is about 30 minutes drive south of Cairns, and well worth a visit if you have your own transport. Head south from Cairns on the Bruce Highway past Gordonvale. Keep driving along the Bruce Highway and about 5km past the turn-off to the Gillies Highway (there is a BP petrol station at this intersection) turn right onto Behana Gorge Rd. If you go over the Behana Creek Bridge you have gone too far. I just look out for the line of about five coconut trees on the Behana Gorge Rd near the turn-off. This long access road will take you past cane fields and finally into the unsealed carpark at the end. You will see a walking track running along a large water pipe. This is the track.

During the drive you will pass a local mountain called the Pyramid. It is also possible to walk up the Pyramid and we do have an annual run up this mountain however it is not as peaceful as other moutain walks and there is not a beautiful swimming hole reward at the end of this walk. The views, however, are spectacular.

The Behana Gorge walk takes about 45 minutes each way, and you will need to possess moderate fitness to complete some of the hilly climbs. The walk is sealed however is not accessible to vehicles but is a great mountain biking track.

Do not be discouraged, however, as this walk will lead you past swimming holes, breathtaking views over rapidly raging water and finally to a stunning waterfall running into a deep granite gorge.
Behana Gorge actually supplies the town's water and is always running, even in the dry season.

Make sure you bring your swimsuit, as paddling in the crisp cool waters of the waterfall is a must. At the end of the walk there is an ideal area to have lunch and great rocks to jump off.
For those seeking adventure, there is ample opportunity to free climb the granite cliffs and take an exhilarating leap into the frosty waters, or simply take an enjoying slide down one of the more gentle waterfalls (depending on season, good judgement a must). Be very carefull as the water can be strong and dangerous after rain.
During the summer months it is best to start early in the morning to avoid walking in the heat of the day. Walking in the shade is much more pleasant.

As with all National Parks in North Queensland, no dogs are allowed.

We hope you love Behana Creek Gorge. It is a pristine and spectacular day trip and a local secret.


Edit This Page
Edit Page Content
Post Comment