Home >
Reef/Islands with Children
Click on Map Icons to View More Info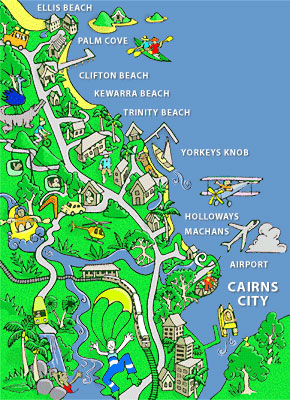 Top 10 Articles
4WD Safaris
Activities for Rainy Days
Amateurs Garden Party
Aqua Aerobics
Atherton Tablelands
Barron Falls
Barron River
Be Cass-o-wary!
Beach Volleyball
Bedarra Island
Cairns Region Guide
Click Images to view gallery for this subject

VISITNG THE REEF IS FUN FOR KIDS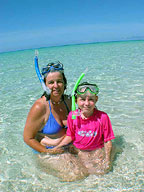 SANDY CAY IS A GREAT OPTION FOR CHILDREN

ABUNDANCE OF ACTIVITIES

FLOATATION DEVICES SUPPLIED

REWARDING FAMILY EXPERIENCE

SEMI SUBMERSIBLE TOUR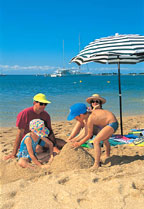 FAMILY EXCURSION TO THE LOW ISLES
Reef/Islands with Children
Updated: 07-Mar-2017
Reef & Islands with Children
Green Island:
Green Island is great for families with young children. Together you can take the glass bottom boat tour, try snorkelling or just wading in the shallow water and enjoy playing on the beach. You can also take a leisurely stroll through the rainforest to the colourful interpretive centre.
There are also some optional activities at an additional cost you might like to try on the island. Marineland Melanesia is a crocodile and marine life habit with a small museum. They have a daily crocodile feeding show - you can even have your photo taken holding a baby crocodile which the kids absolutely love!
Paddling in a canoe (available from Beach Hire) is an activity you may find enjoyable with young children.
Outer Reef Platform
At the Outer Reef, you can visit the large underwater observatory any time throughout the day. Children are often mesmerised watching the different fish and corals, and also the divers descending into the water. The semi-submersible coral viewing tour is another favourite with kids and a great way to see the reef without even getting wet. If you would like to take the children into the water, there are buoyancy vests to assist with floatation and they are available in smaller sizes. They are also available in adult sizes which makes it easier for you too so you don't get dragged down by the kids! Snorkelling equipment is available in child sizes. Sometimes it's best to give them the mask first so they get used to viewing the corals and fish underwater, then if they would like to try with the snorkel it's available to use. Sometimes children prefer not to use the snorkel as it's a little different for them to get used to breathing through a snorkel. There are age limits for some activities.
The minimum age for diving, Scuba Doo and Seawalker is 12 years old.
Prams on the boat/platform/island

Vessels, platforms and Green Island are pram friendly with room on the boat and on the platform.

The beach at Green Island has quite soft sand and it is not practical for prams to be taken onto the beach area. There are wooden boardwalks that take you through the island's rainforest which are suitable for prams.
Is it safe for babies or children?
Children need to be supervised and accompanied by a responsible adult at all times. For anyone wishing to take their children into the water, we recommend that a buoyancy device is used. Buoyancy vests are available for hire at Green Island from the Dive Shop. If you are travelling to the Outer Reef, these are included in the cruise and can be collected with the rest of your snorkelling equipment.
Family Rates:
The family discount is only applicable if there are 2 Adults and 2 Children aged 4-14 years from the same family travelling together. If your child is older than 14 years, they would be classed as an adult and would pay the normal adult fare. Pontoon based reef trips are ideal for families with young children. A pontoon is a stable platform and families love them because they're roomy, there's handy facilities on-board, and there are many activities to keep the kids amused for hours.
All pontoons feature an underwater observatory built into the structure, which is a little like being in an aquarium but seeing the fish and coral in their natural habitat.
Younger children will love the kids swim area which is fully enclosed and safe. Other activities to keep you busy include semi submersible tours, glass bottom boat tours, touch tank, introductory diving, sea walker helmet diving, helicopter flights and much more.
Fantasea Cruises in the Whitsundays even offer the first floating child care service available on the Great Barrier Reef. Club Seahorse ensures your kids (from 6 months to 14 yrs) have a great time - while you have a great time! Face painting; activity books; board games and movies make the kids' visit a fun filled day to remember.
You can also expect all islands and cays to have ample facilities for children, lots of sand to play with and in some cases an abundance of extra activities and attractions. Green Island is an easy day trip from Cairns and offers the flexibility of frequent ferry transfers. Once on the island the day is yours to do as much or as little as you like.
Most Outer Great Barrier Reef tour operators visit two or more reef locations and all water activities take place directly from the boat, either snorkeling or scuba diving. Because Outer Great Barrier Reef trips without a pontoon do not visit dry land during the day, these trips may be unsuitable for some children under 12. There are no child minding facilities onboard, so parents may find it tough keeping younger children entertained.
Families with older children however will love the Outer Reef as the snorkelling is fantastic and the variety of marine life is unsurpassed.
Visiting the reef for the day is an exciting excursion for kids, and in turn very rewarding for parents to watch their children interact and gain knowledge of this truly educational experience.

Pontoon Trips:

Quicksilver (Departs Cairns & Port Douglas)
Great Adventures (Cairns)
Reef Magic (Cairns)
Sunlover Cruises (Cairns)
Fantasea Cruises (Whitsundays)

Islands:

Low Isles (Departs Cairns & Port Douglas)
Green Island (Cairns)
Fitzroy Island (Cairns)
Magnetic Island (Townsville)
Hamilton Island (Whitsundays)
Daydream Island (Whitsundays)
Long Island (Whitsundays)
Heron Island (Gladstone)

Outer Reef Trips without platforms:

Reef Experience (Cairns)
Poseidon - primarily a dive boat for Certified divers (Port Douglas)
Tusa - primarily a dive boat for Certified divers (Cairns)
Passions of Paradise (Cairns)
Ocean Spirit visits a Coral Cay (Cairns)
Wavedancer visits Low Isles Coral Cay ( Port Douglas)
Cruise Whitsundays visits numerous Islands on the Whitsundays


Edit This Page
Edit Page Content
Post Comment