Home >
Sunlover Cruises - Tale
Click on Map Icons to View More Info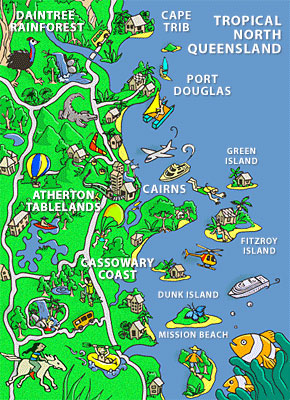 Top 10 Articles
4WD Safaris
Activities for Rainy Days
Amateurs Garden Party
Aqua Aerobics
Atherton Tablelands
Barron Falls
Barron River
Be Cass-o-wary!
Beach Volleyball
Bedarra Island
Cairns Region Guide
Click Images to view gallery for this subject
Sunlover Cruises - Tale
Travellers Tale!
Submitted By: Emma - Australia
Updated: 11-Jan-2018
Since this traveller tale was published, Sunlover Pontoon now offers a slide into the reef which has proven to be popular with young and old.

Sunlover Cruises 13th March '07
I chose to take my 3 year old on Sunlover for the day to give him an exciting and entertaining reef experience. Travelling with just myself and Bailey I felt that the best option would be a pontoon based trip as it is a larger stable boat and the pontoon has many activities to view the reef without having to get in the water. Bailey isn't very confident around water so the activities such as semi submersible, glass bottom boat, underwater observatory and touch tank Sunlover offers were perfect.
The vessel can take up to 350 passengers, however the day we traveled there were just 110 people, luxury! We had a seating booth on the upper deck to ourselves. The weather was perfect; I couldn't have timed it better with beautiful sunshine and flat calm waters. The crew were all very friendly and helpful towards Bailey making it a fun day for him.
When we arrived at the reef I got Bailey all geared up with swimmers and a buoyancy jacket. He first wanted to go into the childrens enclosed swim area which was just right for him. The crew threw in fish pellets which attracted lots of fishies through the cage. We spent some time here before I prized him away to come and have a look at the underwater observatory. Its designed theatre style so we could just sit and watch the underwater world go by.
Lunch was huge with hot and cold salads, noodles, prawns, bread rolls and fruit. The crew even managed to rustle up a sausage for Bailey! It is handy that the lunch service is available for a couple of hours as after an hour of being back in the water Bailey was hungry again, so we had to go back for a second lunch!
The semi sub and glass bottom boat provided plenty of entertainment as we searched for Nemo. The touch tank is also a great concept. Bailey was able to hold a starfish and his friend the sea cucumber (that more resembled his sausage from lunch!).
Three and a half hours at the reef was ample amount of time for my 3 year old to have fun and take in all the activities. It was a rewarding experience to watch Bailey take all this excitement in. I think I was just as tired as him as no sooner were we back onboard the boat and heading back to Cairns that we were both fast asleep!
Edit This Page
Edit Page Content
Post Comment