Click on Map Icons to View More Info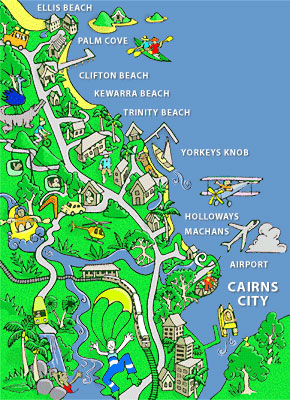 Top 10 Articles
4WD Safaris
Activities for Rainy Days
Amateurs Garden Party
Aqua Aerobics
Atherton Tablelands
Barron Falls
Barron River
Be Cass-o-wary!
Beach Volleyball
Bedarra Island
Cairns Region Guide
Click Images to view gallery for this subject
Outer Reefs
Updated: 14-Oct-2007
The sub seascape on the outer reef sites differ from site to site but expect different diving to the inter reef gardens, with much bigger variations. Some sites are made famous by series of canyons and gorges cutting through and around a series of coral heads to form complex mazes.

Some are more gentle gardens where beautiful Butterflies, Angels, Parrots and Wrasse get on with their daily activities.

Some include huge Clown Fish cities, which have left many a diver motionless as they suspend and watch undoubtedly the biggest colonies of Clown Fish that they have ever come across, (one of those great places for underwater photography).
Dive Locations:
Agincourt Reef , Arlington Reef, Briggs Reef, Coates Reef, Flynn Reef, Gilbey Reef, Hastings Reef, Michaelmas Reef, Milln Reef, Moore Reef, Norman Reef, Opal Reef, Paradise Reef, Pellowe Reef, Saxon Reef, Sudbury Reef, Thetford Reef
Information Courtesy
of GBR Dive
Edit This Page
Edit Page Content
Post Comment