Home >
Cairns Botanic Gardens
Click on Map Icons to View More Info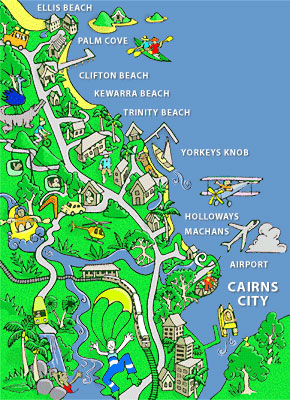 Top 10 Articles
4WD Safaris
Activities for Rainy Days
Amateurs Garden Party
Aqua Aerobics
Atherton Tablelands
Barron Falls
Barron River
Be Cass-o-wary!
Beach Volleyball
Bedarra Island
Cairns Region Guide
Click Images to view gallery for this subject

flecker botanic gardens

no admission fees

timber boardwalk

unusual species

enjoy a picnic at the gardens

located on Collins Street

wander through from centenary lakes

information station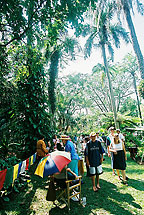 botanic garden fair
Cairns Botanic Gardens
Updated: 30-May-2012
If you have some free time the Cairns Botanic Gardens is located on Collins Avenue 4 km from Cairns CBD. It is a wonderful way to spend a couple of hours admiring the beautifully maintained Gardens which display an excellent variety of tropical plants, both native and exotic.
We also now proudly have the Cairns Botanic Gardens Visitor Centre. This is a gateway to the Cairns Botanic Gardens Precinct, which includes the gardens, nearby centenary lakes, rainforest boardwalks, indigenous plant gardens and Tanks Arts Centre.
Interpretive signage and interactive touchscreens introduce the walking trails and features of the area's landmarks and attractions. There is also a retail store, stocking a diverse collection of locally created arts and crafts: a perfect souvenir from Cairns.
A terrarium houses two large scrub pythons, creating a permanent display which engages the imagination.
Opening Hours
Open to the public, 7 days a week
Hours: Weekdays 9am - 4.30pm, Weekends 10am - 2.30pm
Closed on Christmas Day and Public Holidays
Facilities
Interpretive signage
Interactive touchscreens
Terrarium (sp) with two scrub pythons
Retail store (stocking merchanddise, 70% of which has been sourced from local artisans)
A multi-functional venue room (seats 100) which "breaks out" to a 150 seat outdoor auditorium - available for corporate and public event hire, fully equipped with AV etc
There is a lovely cafe within the Botanical Gardens.

Self-guided Tours
I-Pods are available for rent which will take the visitor on an informative self-guided tour around the various walks including: Cairns Botanic Gardens, Tanks, Gondwana Gardens, Centenary Lakes. A downloadable application is currently in development, to complement the self-guided walks.
Guided Tours
Tuesdays 8.30am - Free guided bird watching tours depart from the visitor centre at 8.30am sharp. No bookings required.
Tuesdays and Thursdays 10am - Free guided tours of the Cairns Botanic Gardens, by Friends of the Botanic Gardens. Tours take between 1-2 hours. No bookings required.
Saturday Events - Series of FREE Saturday events, see the What's On section for details.
There is a fernery, orchid house and a great area showing examples of plants used by Aborigines for bush food and medicine. Botanical Gardens are very important in the preservation and conservation of unique plant species and their cultural significance. The Flecker Botanic Gardens originated as a recreational reserve in 1886, and were later established as Flecker Botanic Gardens in 1971. Today the gardens are managed by the Cairns City Council and encompass an area of 38 hectares which includes a wide variety of native and exotic flora. The Gardens offer a range of walks and attractions including an Aboriginal plant use garden, a rainforest boardwalk, the Gondwanan Heritage Trail, a fernery, an orchid house, fresh and saltwater lakes, and the Red and Blue Arrow walks.

The Aboriginal Plant Use Walk is a short stroll in part of the central main gardens. Grab a brochure to help you learn more about the many food and medicinal plants utilised by Aboriginal people of the Cairns area.
The Flecker Botanical Gardens is open from 7:30am - 5:30pm every day of the year.
There is a cafe located in the heart of this unique paradise that uses pure and natural ingredients and is open daily with champagne breakfasts on Sundays. The cafe is licensed and is open from 7am until 4:30pm with the kitchen closing at 3pm. The cafe is available for private functions.
It is also possible to have a picnic at the gardens. Entry is free although a donation is welcome.
Like the esplanade, the Cairns Botanical Gardens is excellent area for bird watchers. Dedicated birdwathers should plan to stay here for at least a few hours. There is always a chance for some of the more elusive species such as Black Bittern., White-browed Crake and Little Kingfisher, as well as Pygmy-geese.
The boardwalk between the gardens and the lakes leads to a footbridge over a tidal mangrove channel where Common Sandpiper, Mangrove Robin and Large-billed Gerygone are often seen.
Notable species include:-
Orange-footed Scrubfowl
Magpie Goose
Green Pygmy-goose
Black Bittern
Brahminy Kite
Bush-hen
Common Sandpiper
Whiskered Tern
White-winged Black Tern
Double-eyed Fig-Parrot
Gould's Bronze-Cuckoo
Azure Kingfisher
Little Kingfisher
Large billed Gerygone
Helmeted Friarbird
Yellow Honeyeater
Brown-backed Honeyeater
Mangrove Robin
Shining Flycatcher
Varied Triller
Black Butcherbird
Yellow-bellied Sunbird
There is also a very popular walking track entry in this vicinity called the Red Arrow Walk and the Blue Arrow Walk. This gets a little busy in the morning and afternoon when locals use it to tone up and get fit. The closest holiday accommodation to this beautiful area is The Lakes Resort and Spa.

This is also our arts precinct where we have our famous Tanks Arts Centre. This venue is popular for contemporary jazz performances, live music, art exhibitions and community events. We also have an excellent local produce only market here on the last Sunday of every month.

The Centenary Lakes are connected to the Flecker Botanic Gardens by a low lying boardwalk through a pristine swamp forest and melaleuca wetlands.
The Freshwater Lake here has birds, turtles and many waterlillies and the gardens here have a picnic pavillion and facilities making it the perfect spot for a family picnic.
There is also a Saltwater Lake on the other eastern side of the park where you can see mangrove habitats including mud skippers, crabs, saltwater fish and mangrove birds.
You can walk from this side of the Centenary Lakes along the timber boardwalk to the Flecker Botanical Gardens.


Edit This Page
Edit Page Content
Post Comment