Click on Map Icons to View More Info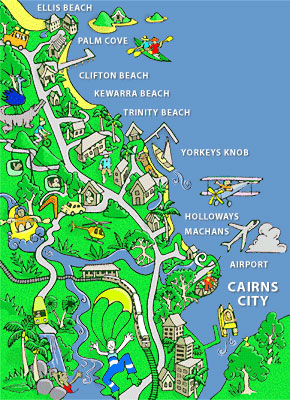 Top 10 Articles
4WD Safaris
Activities for Rainy Days
Amateurs Garden Party
Aqua Aerobics
Atherton Tablelands
Barron Falls
Barron River
Be Cass-o-wary!
Beach Volleyball
Bedarra Island
Cairns Region Guide
Click Images to view gallery for this subject

TANDEM SKYDIVING

60 SECONDS FREEFALL

CAIRNS OR MISSION BEACH JUMPS

SPECTACULAR VIEWS

SAFELY BACK ON EARTH

THRILL OF A LIFETIME!
Tandem Skydiving
Updated: 25-Feb-2008
Tandem Skydiving
Feeling like an adrenalin rush! No experience is necessary for Tandem Skydiving. Accommodation transfers are included. There are 4 freefall heights from 8'000 feet with 15 seconds free fall through to 14'000 feet with 60 seconds free fall!
Your Tandem Skydiving adventure begins with transfers from your accommodation to the Skydiving office in Cairns at either 8am or 1pm. There you will meet your jump master and receive the necessary training you will need to gain the most enjoyment and safety during your jump.
Then all aboard the bus for a 5 minute ride to the Airport. The aircraft flight is an excellent visual experience with incredible views of the rainforest and coast.
About 2000ft before your jump height, your jump master will tighten up your harness. You'll notice your heart rate accelerating but this is nothing compared to when the door opens.
Your freefall depends on how high you go and your parachute will be activated by the jumpmaster at around 5000ft. From there it's a leisurely fly around one of the most beautiful places in the world with the landing being made on grass at the landing area just on the southern outskirts of Cairns.
From there it's reliving the experience with your other comrades in the bus on the way back to the office where you can purchase t-shirts and other exciting stuff to remember your jump. Shortly thereafter you will be transferred back to your accommodation.
You should allow half a day for your jump.
Edit This Page
Edit Page Content
Post Comment