Home >
Cairns Accommodation
Click on Map Icons to View More Info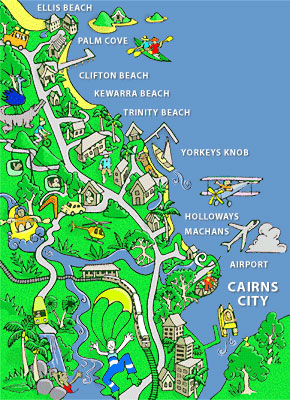 Top 10 Articles
4WD Safaris
Activities for Rainy Days
Amateurs Garden Party
Aqua Aerobics
Atherton Tablelands
Barron Falls
Barron River
Be Cass-o-wary!
Beach Volleyball
Bedarra Island
Cairns Region Guide
Click Images to view gallery for this subject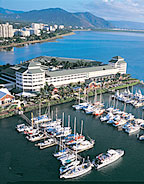 ARIAL VIEW OVER THE MARINA & SHANGRI-LA TO THE CAIRNS ESPLANADE

ROYAL HARBOUR APARTMENT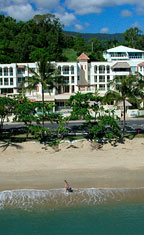 BEACHFRONT APARTMENTS
Cairns Accommodation
Updated: 17-May-2018
Cairns City has a wide range of accommodation with very competitive prices and a high and low season.

The most popular time of year to visit is between April and October, however due to additional International flights and higher visitor numbers overall the high and low season is not as predictable as it once was.

In the city centre you will find International Hotels and Resorts, ocean view holiday apartments, fully self-contained budget apartments and some of the best backpacker resorts & hostels in Australia.
In December, 2017 three cranes graced the Cairns City skyline. Crystalbrook Collection has announced three luxury hotels. Rydges Tradewinds closed in 2017 and has been completely gutted to a shell. This property will rise again as Riley, and is on track to open in August 2018. The Artist impressions of the finished hotel reveal a brand new organic shaped tower where the Kamsler's family home once was. And, a completely rejuvenated resort with a central courtyard with ample pools, facing the beautiful Cairns Esplanade.

Bailey is the second new hotel that Ghassan Aboud plans to open in mid-2019. This property is located on the old Cairns Central State School site, opposite the Cairns City Library and next door to the Novotel Oasis Resort. The location is only one block back from the Cairns Esplanade dining precinct and famous Esplanade swimming lagoon.

Crystalbrook Collection's Bailey will consist of two towers, the first being a 222-room hotel and the second being a 110-room apartment complex. Directly opposite the majestic Cairns City Library. Just North of Cairns, at the Northern Beaches, you will find large, self contained beach front apartments, modern resorts and hotels.
The third property currently being developed for the Crystalbrook Collection combines the old Bellview Motel Esplanade site and Virginia Towers on Abbott St. Both have been demolished to make room for a new 217 room five-star hotel named the Flynn. This waterfront hotel has an anticipated opening in early 2020.

Cairns has a lot to look forward to. Shangri-La is rolling out a refurbishment program starting in March 2018.

A new and welcomed addition to Cairns is the newly built Cairns Aquarium. This is located on the same block as Crystalbrook's Bailey and Novotel Oasis Resort. Opposite Cairns Aquarium is KickArts Contemporary Arts.

From Cairns are a selection of Island resorts ranging from budget beach bungalows at Fitzroy Island to luxurious resort rooms at Green Island Resort and ultimate luxury at Lizard Island. Haggerstone Island is also accessed from Cairns and is an authentic Robinson Crusoe hideaway.

Beaches north of Cairns include Trinity Beach and Palm Cove. Both idyllic tropical paradise destinations with a wide range of accommodation options including resorts, private holiday homes and apartments.

Port Douglas is an hour north of Cairns and boasts the recently refurbished Sheraton Mirage Resort, one of the most luxurious beachfront resorts in Australia.
www.cairnsinfo.com lists a selection of the best properties in the region.
Edit This Page
Edit Page Content
Post Comment