Click on Map Icons to View More Info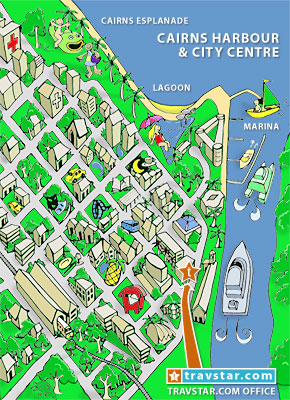 Top 10 Articles
4WD Safaris
Activities for Rainy Days
Amateurs Garden Party
Aqua Aerobics
Atherton Tablelands
Barron Falls
Barron River
Be Cass-o-wary!
Beach Volleyball
Bedarra Island
Cairns Region Guide
Click Images to view gallery for this subject

lion fish

clown fish

green sea turtle

giant clam

mantis shrimp

nudibranch

lion fish

sea anemone

photos courtesy of Brett Goodban
Reef Teach
Updated: 22-Aug-2018
Reef Teach is a unique educational and research centre for one of the Seven Natural Wonders of the World, The Great Barrier Reef.
Through our fun and interactive, family friendly evening show, Reef Teach will have ensure that you get the absolute most out of your time on the reef.
Our team of highly qualified Marine Biologists will take you on a journal from the smallest things on the reef to the biggest and everything in between.
Through fun facts and personal stories, our biologists will give you the most to date and accurate information about the reef, whilst at the same time, keeping it enjoyable.
Our brand new show looks at not only the can top things to see on the reef but also the hidden gems, things that you may have never even knew existed. By looking at different behaviours and tips for identification, a night at Reef Teach will change the way you look at the reef.
We will dispel many of the 'Hollywood' induced fears about visiting the Great Barrier Reef, as well as make you aware of how to avoid some of the real hazards that are out there.
We believe know that after the Reef Teach presentation, you will have seen more than you ever imagined out on the reef as once you know what you are looking at, it is a lot more enjoyable and you will be thrilled to recognise the marine life.
You will really remember your Great Barrier Reef education adventure for many years to come. At Reef Teach, you will learn about Crown of Thorns, Coral Bleaching and other Great Barrier Reef threats. You will also learn how we can minimize these threats and prolong the reef life.
The show will lead you on a rollercoaster ride of emotions. You will hear and see heartbreaking facts about man's disregard for this wonderful paradise, but with practical solutions offered you will leave the show inspired and empowered to change our society for the better.
We want you to have the Greatest Barrier Reef educational experience possible and we assure you that it is our pleasure to educate you of this amazing journey that you are about to take.
We look forward to welcoming you to Reef Teach, Cairns, Far North Queensland soon
Warm regards
The Reef Teach Team

When is Reef Teach?
Tuesday to Saturday, excluding Public Holidays
Where is Reef Teach?
Main St Arcade (Upstairs)
85 Lake St, Cairns, North Queensland, Australia
Time:
6.30 – 8:30 pm
Admission:
Adults - $23AUD
Under 14 years- $14AUD
Included:
• Fish and coral identification sheets
• Tea & coffee

Edit This Page
Edit Page Content
Post Comment