Home >
Mossman to Daintree Village
Click on Map Icons to View More Info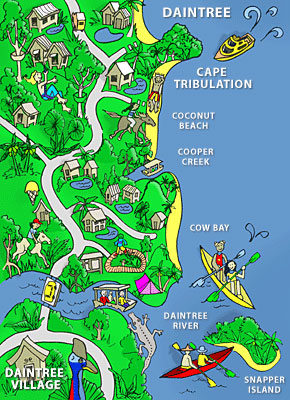 Top 10 Articles
4WD Safaris
Activities for Rainy Days
Amateurs Garden Party
Aqua Aerobics
Atherton Tablelands
Barron Falls
Barron River
Be Cass-o-wary!
Beach Volleyball
Bedarra Island
Cairns Region Guide
Click Images to view gallery for this subject
Mossman to Daintree Village
Travellers Tale!
Submitted By: Daphne Titus-Rees - Australia
Updated: 15-May-2007
Journey through an ever-changing tropical landscape, a patchwork of white sandy palm-fringed beaches, waving cane-fields and jungle clad misty mountains.
See lush rural farmlands bordered by World Heritage listed rainforest and the majestic Daintree River. Heading north from the little sugar town of Mossman the road sweeps through sugar cane farmlands and, next to the picturesque Mossman Golf Club, is the turnoff to beautiful peaceful Newell Beach with it's pristine sands and Coral Sea views.
Further on is the turnoff to beautiful Whyanbeel Valley, home of Diane Cilento's famous open-air playhouse. Diane puts on a number of world-class productions every year.
From Rocky Point a vista opens up of the northern rainforested ranges towards Cape Tribulation. Shortly you pass through rich beef-cattle pastures and soon reach the turnoff to idyllic Wonga Beach, miles of unspoilt sands with no major development - just a tropical beachfront caravan park.
Next in view are a commercial fish farm, beach horse rides, wildlife sanctuary and tropical gardens, then the turnoff to the Daintree ferry and Cape Tribulation. But to reach tiny historic Daintree Village drive straight ahead – here the road winds through the rainforest and soon you catch your first glimpse of the awesome Daintree River, with it's prehistoric inhabitants the salt-water crocodiles.
The final stretch into Daintree Village winds through undulating farmland and luxuriant tropical vegetation with a beautiful mountain backdrop. Daintree was originally a settlement for timber-cutters and, until the road was completed in 1933, only accessible by river.
Today tourism and farming are the main industries and the region hosts every type of accommodation option from budget to 5-star resorts, B&B's and hideaways, wildlife-spotting river cruises, artists'galleries, interpretive walks and restaurants.
Daphne Titus-Rees is the Secretary of the Daintree Village Tourism Association:
www.daintreevillage.asn.au

Edit This Page
Edit Page Content
Post Comment