Home >
Crystals to Lake Morris
Click on Map Icons to View More Info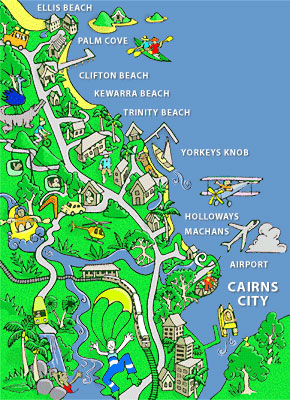 Top 10 Articles
4WD Safaris
Activities for Rainy Days
Amateurs Garden Party
Aqua Aerobics
Atherton Tablelands
Barron Falls
Barron River
Be Cass-o-wary!
Beach Volleyball
Bedarra Island
Cairns Region Guide
Click Images to view gallery for this subject

The track to Lake Morris

Crystal Cascades track

Waterfalls into the Cascades

Swimming holes

Can't swim here!

Exhausted after climb

View over Brinsmead

Gate onto Lake Morris Rd

Map at Lake Morris

Picturesque Lake Morris

Energy bar

Walking back down to Crystals
Crystals to Lake Morris
Travellers Tale!
Submitted By: John & Melanie - Australia
Updated: 14-Feb-2012
The track to Lake Morris is located on the path to Crystal Cascades. Mobile reception is poor once you are on the track, so make sure someone knows where you are. Give yourself around 3 hours minimum for the return trip. And take plenty of water!
The walk to Lake Morris starts just next to the picnic area & toilet block at Crystal Cascades, about 150 metres along the path from the car park.
The scenic path to Crystal Cascades is easy going and has many small waterfalls and a wonderful rainforest environment.
I recommend jumping in for a swim after you tackle the Lake Morris trail. There are many spots to choose from along the path.
The Crystal Cascades waterfall is located at the end of the path. Beyond this point are the water intake pipes, so no swimming is allowed past here.
Some say 45 minutes to the top, but we beg to differ. This track is definitely not moderate. The first half hour is quite steep and then it tapers off. Make sure you have shoes with good grip.
Once you have reached the timber power-pole, there is a nice view over brinsmead valley and towards Yorkeys Knob. From here on the track widens (for vehicle access) and is less steep.
When you reach the yellow gate turn right and walk along Lake Morris Road towards the lake and lakeside Cafe.
Just before you reach Lake Morris there is a sign with a map of the area.
After the walk, I wanted to order everything on the menu. Coffee & Sandwiches were great!
Enjoy the serene views over Lake Morris before some well-earned lunch.
The less strenuous trek down the hill is a good chance to take in some of the surrounding rainforest environment. The track can be a little slippery so take your time & Enjoy!
Edit This Page
Edit Page Content
Post Comment