Home >
Wooroonooran Safaris
Click on Map Icons to View More Info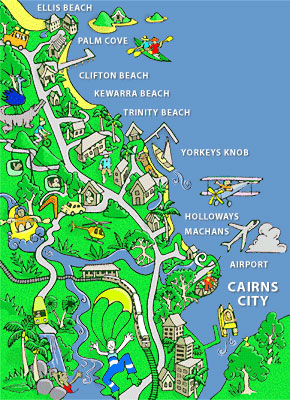 Top 10 Articles
4WD Safaris
Activities for Rainy Days
Amateurs Garden Party
Aqua Aerobics
Atherton Tablelands
Barron Falls
Barron River
Be Cass-o-wary!
Beach Volleyball
Bedarra Island
Cairns Region Guide
Click Images to view gallery for this subject

CRYSTAL CASCADES

BEAUTIFUL RAINFOREST

JOHNSTONE CROC FARM

WATCH A CROC FEED

GET UP CLOSE

CUDDLE A CROC!

HOLD A SNAKE

BABY CROC

EMU
Wooroonooran Safaris
Travellers Tale!
Submitted By: Emma - Cairns Australia
Updated: 03-Jul-2009
What an adventurous day I had with Woonooroonaran Safaris!

The itinerary had been amended somewhat due to Cyclone Larry, however the day was just perfect. Kirsty was our tour guide and with just 7 of us, it was a really nice size group to share the day's adventures with.

We started off with a rainforest walk at Crystal Cascades. This walk took us through lush rainforest where we came to a beautiful waterfall. There had been a lot of rainfall recently so Crystal Cascades was very impressive. The walk certainly worked up a sweat, so it was the perfect opportunity to jump in and have a swim! It was so refreshing, just what we needed and we had the whole place to ourselves.

After Crystals we took a drive up Lake Morris Road to take in panoramic views of the city before heading south to Innisfail. It was an incredible journey as we followed the mountain ranges south. Interesting fact I learnt from Kirsty is that certain areas of the ranges receive more rain than others; this is due to the mountain formations. You could see these areas by the colour of the trees.

As we headed further south we began to see areas that had been affected by the cyclone. It was an interesting talking point for the group, and amazing to see the contrasts of landscapes. Already nature was bouncing back from the cyclone. Within 3 weeks the banana plantations were already shooting up again, the cane fields had bounced back and there were new leaves starting to appear on the trees.

We lunched in Innisfail at Rosoce's, famous for the all you can eat pasta smorgasbord. From here we toured this quintessential sugar town before visiting the Johnstone Croc Farm.

Always entertaining as ever, the crocs put on a display for us at their lunchtime feeding session. Nowhere else will you be able to view crocs as up close as here. With just a wire fence to protect you, it really does make the hair on your back stand up!

The keepers have got some great stories of how each of these crocs came to the farm. At the end of the tour we had the opportunity to hold a croc, which I highly recommend, felt just like holding a warm handbag, however wasn't so keen on the snake slithering around my neck!

Back down the highway we headed to Josephine Falls. Josephine Falls is situated right next to the highest mountain in Queensland - Mount Bartle Frere. Right on time this mountain saved all the rain clouds for us so as soon as we arrived it absolutely hammered it down!

The best time to experience the rainforest is when it's raining and it certainly was an exciting visit. The area had been closed for some days due to cyclone damage however for us we had special permission to visit.

The falls were up 2 metres from the previous day, and you could hear them roaring before you saw it. We stood on the lookout platform and you could feel the spray and the breeze from the falls, it was amazing, and the best part was that we had the entire place to ourselves, very special!
Edit This Page
Edit Page Content
Post Comment