Click on Map Icons to View More Info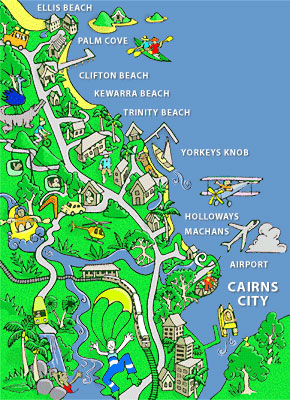 Top 10 Articles
4WD Safaris
Activities for Rainy Days
Amateurs Garden Party
Aqua Aerobics
Atherton Tablelands
Barron Falls
Barron River
Be Cass-o-wary!
Beach Volleyball
Bedarra Island
Cairns Region Guide
Click Images to view gallery for this subject

silverswift

Silverswift departs daily ex Cairns

clown fish

lion fish

snorkelling

Silverswift visits Thetford, Milln and Flynn Reefs

clear waters on the reef

buffet lunch

comfortable interior

intro dive instructor

new vessel
Silver Swift
Travellers Tale!
Submitted By: Francis Wong - Australia
Updated: 20-Oct-2011

Silverswift is the newest swift catamaran to join the distinguished fleet of Quicksilver vessels. This 24-metre luxury catamaran is sleek and shiny, serviced by a fabulous friendly crew, and whisks you away to some of the most spectacular locations on the reef.
I went out to the reef on Silverswift on a Saturday with around 65 other passengers. Although it was a full boat that day, there was plenty of space for everyone onboard, with a very spacious spanking-new interior cabin area and two outside deck areas. The boat is air-conditioned with fresh-water showers and full bar facilities.
As soon as we had been welcomed aboard by the smiling young crew, we were fed a delicious morning tea of home-baked apricot and blueberry muffins, tea and coffee.
The catamaran left Cairns at 8:30am and raced us out over 50 kilometres to the edge of the outer Barrier Reef within 60 minutes. I was pretty impressed by the time we made!
Silverswift is the only day-trip vessel permitted to visit the Thetford, Milln and Flynn Reefs, which are normally only visited by overnight boats. Because so few tourists actually come out this far, the reef here is particularly beautiful, undisturbed by human influence and ecologically diverse. We had the option of snorkelling or scuba diving at the three sites we were taken to. I have never snorkelled or dived before, and decided to try both.
The crew equipped everyone onboard with snorkel and scuba gear – wetsuit, fins, tanks and masks. Aimee, the snorkel guide, gave everyone a briefing on the upper deck teaching us all the know-how about snorkelling the reef. She pointed out the best sites to snorkel, how to breathe through the snorkel, expel water, how to kick your fins, etc. It turned out to be very simple really! You just jump in with your mask on and snorkel in, and it all comes rather naturally! And oh boy, is it amazing! You have never seen so many different types of colourful, vibrant, spotty, glittery and stripey fish! Not to mention to flora – the diversity of the coral is just breath-taking. My personal favourites were the giant purple clams, easily 2 metres in length, which would close together like a giant Venus Fly-trap when you brushed your hands across it.
An hour later, we headed off to the second dive site. On route, Aimee gave an educational "Reef Talk", enlightening us all about the ecology of the reef. Once at the second dive site, lunch was served. It was a hearty feast of prawns, cold cuts, salads, pasta and curry. Just what we needed after our energetic morning of snorkelling!
Instructor Brad then took us patiently and thoroughly through the basics of scuba diving. Brad was to take all the "intro", or novice, divers out underwater in groups of four, holding our hands if necessary, for our first taste of scuba-diving. At the third dive site, we hopped overboard into the water and hung onto a rope with our heads about a foot un
Edit This Page
Edit Page Content
Post Comment