Home >
Raging Thunder Rafting
Click on Map Icons to View More Info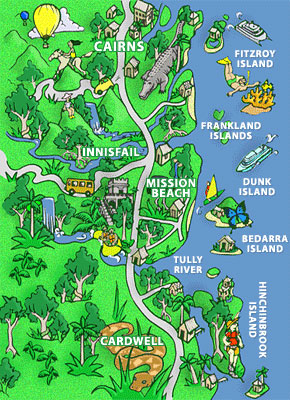 Top 10 Articles
4WD Safaris
Activities for Rainy Days
Amateurs Garden Party
Aqua Aerobics
Atherton Tablelands
Barron Falls
Barron River
Be Cass-o-wary!
Beach Volleyball
Bedarra Island
Cairns Region Guide
Click Images to view gallery for this subject
Raging Thunder Rafting
Travellers Tale!
Submitted By: Melanie & Amy - Melbourne Australia
Updated: 03-Jul-2009
If you're after a fun-filled, adrenaline-inducing day full of laughs, water-water rafting with Raging Thunder on the mighty Tully River is an absolute must! I have never been a fan of water and hence was a little reserved when I booked this trip, but let me tell you, it was definitely the highlight of a fantastic week in Cairns!
It was a fairly early start at 6:30am when a big "Raging Thunder" bus pulled up outside our hotel to whisk Amy and I off to the Tully River, which is 2 hours south of Cairns. There were probably about sixty other excited gung-ho tourists on the bus. On the way, we were introduced to our rafting instructors, and shown a video on rafting safety. Essentially, if you fall in the water (an inevitable event) you must remember to float on your back with your legs up – this is to prevent you from getting stuck should your foot become snagged on a rock. The instructors are highly trained in plucking people back out of the water, so all you should do if you are expelled from the raft is to float until you are rescued. Pretty simple stuff, really.
On our journey down south, we stopped off at the Raging Thunder Café, where we purchased our breakfast of toasted sandwiches, croissants or meat pies. For those who are not in the appropriate garb, like myself and Amy, it is possible to hire wetsuit jackets and reef sandals for a small fee. The instructor lads told us that some people turn up in jeans or leather shoes. This is not the suitable gear to wear – you will be getting VERY wet, so a swimsuit and shorts is more like it.
Once fed and dressed, we wound our way up to the top of the Tully River. The Tully River, flowing through the Tully Gorge, is an awesome backdrop to a marvelous day out. Situated in world heritage listed rainforest, it is home to water dragons and vast numbers of exotic birdlife. Magnificent waterfalls cascade down the walls of the gorge, adding water to the already bursting river. It was truly wondrous being here in such a beautiful setting.
The Tully River is also acclaimed as the best river for rafting in all of Australia and New Zealand. Rapids are classed from Grade 1 to 7, 7 being extremely dangerous and almost impossible to negotiate. Most of the rapids at the Tully are Grade 4, with can be negotiated with lots of teamwork and a bit of help from the instructor. There are also a couple of Grade 5 to 6 rapids, which we are not allowed to go near. But, believe me, Grade 4 rapids are more than enough to get the heart racing! Falling out of a raft in the middle of a Grade 4 rapid is pretty damn hairy!
After being dressed in helmets and life jackets, we were divided into groups of seven, with eight in a raft including the instructor. The instructor sits at the back of the raft calling out instructions. Rafting is more than anything a TEAM SPORT. If you do not row as a team, the raft will not go over a rapid in the right way, compromising the safety of everyone onboard. It is thus essential that everyone is responsive to the instructor and follows his directions. We were taught how to respond to commands like "row back!" or "over left!" or "hold on!" Heaps of fun, really!
Finally, we were ready to take off. Down the mighty Tully we headed. A couple of English girls sat at the front of our raft, two Japanese boys in the middle, Amy and I in the next row, and Rob the Instructor in the back. All seven rafts took off in sequence. Only 50 metres or so downstream, we encountered our first Grade 4 rapid. Rob told us it was called "Alarm Clock". Boy, did it look scary! Huge boulders jutting out everywhere and water gushing in every which way to form big torrents, churning whirlpools and rocky waterslides. We had to somehow negotiate all this and try not to fall out of the raft during any of it. Amy and I looked at each other wondering just how wet we were going to get. There was a photographer waiting at the bottom of the rapid
Edit This Page
Edit Page Content
Post Comment