Home >
Cape Trib 4WD Safari
Click on Map Icons to View More Info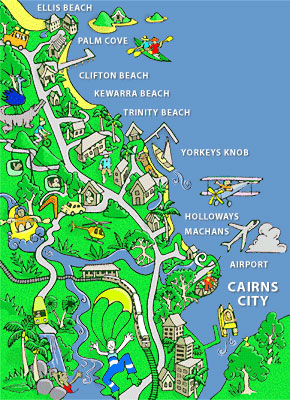 Top 10 Articles
4WD Safaris
Activities for Rainy Days
Amateurs Garden Party
Aqua Aerobics
Atherton Tablelands
Barron Falls
Barron River
Be Cass-o-wary!
Beach Volleyball
Bedarra Island
Cairns Region Guide
Click Images to view gallery for this subject

ADVENTURE COMPANY 4WD VEHICLE

RAINFOREST HABITAT

LARGE CROCODILE AT THE RAINFOREST HABITAT

DAINTREE RIVER CRUISE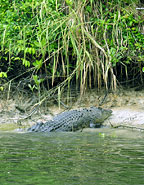 LARGE CROC ON THE BANKS OF THE DAINTREE

CAPE TRIB LOOKOUT

CAPE TRIBULATION

MONITOR LIZARD

RAINFOREST BOARDWALK
Cape Trib 4WD Safari
Travellers Tale!
Submitted By: Emma - Australia
Updated: 21-Oct-2009
Our day started with collection from our accommodation by our friendly guide 'Bradley but you can call me Brad today'. Brad was a very informative guide. As we travelled north up the Captain Cook Highway he explained the history behind the region, the sugar cane fields, and the marine biology of the Great Barrier Reef. It was really interesting.

The coastal drive up to Port Douglas is stunning and one of my favourite journeys. We ventured into the Port Douglas Village for a brief tour before arriving at the Rainforest Habitat Wildlife Sanctuary. Brad guided us within the attraction to the crocodiles, giving us a great talk about these historic reptile creatures. We then had free time to feed and pat the kangaroos, wander around and explore the wetlands area before returning to the bus.

Brad gave us more information about the region as we journeyed to the Daintree River. Morning tea was provided on our 1-hour boat cruise. Our group had the boat to ourselves and the guide provided a very informative talk of the mangroves and wildlife species with a bit of humour thrown in!
We spotted a baby crocodile just days old, sat sunning itself on a log. There is an abundance of birdlife and it really gives you an understanding of how important the mangroves are for the environment and nature.

After the boat cruise we met Brad on the other side of the river and we journied up the very scenic Alexander Range to the Coconut Beach Restaurant & Bar for Lunch. The Coconut Restaurant is just stunning! Blended into the rainforest, a short boardwalk leads to the large timber restaurant which fronts onto the beautiful Coconut Beach. The buffet lunch was yum, and afterwards there was enough time to have a stroll on the beach and take photos.

Great timing we burnt off lunch with a walk to the Cape Trib Lookout at Cape Tribulation Beach. This is where Captain Cook first landed the Endeavour and where the reef literally meets the rainforest! Stunning views were had from here of the coastline and mountains.
We even encountered one of the locals on our way back down, a large Monitor Lizard!

The weather was perfect during the course of the day and perfect timing for it to rain during our rainforest boardwalk. It's a great way to view the rainforest when raining as it really comes to life!

We had one last stop on the way home to try some local homemade tropical icecream - I recommend the passionfruit! before our journey back to Cairns.

Edit This Page
Edit Page Content
Post Comment