Home >
Norseman Fishing Trip
Click on Map Icons to View More Info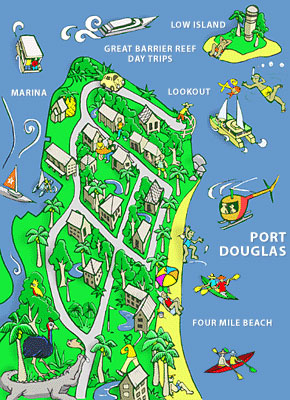 Top 10 Articles
4WD Safaris
Activities for Rainy Days
Amateurs Garden Party
Aqua Aerobics
Atherton Tablelands
Barron Falls
Barron River
Be Cass-o-wary!
Beach Volleyball
Bedarra Island
Cairns Region Guide
Click Images to view gallery for this subject
Norseman Fishing Trip
Travellers Tale!
Submitted By: Emma - Cairns Australia
Updated: 09-Apr-2008
I was dead excited about my first reef fishing experience, and had high expectations of catching something huge!

We left early from Cairns for a drive up to Port Douglas where the Norseman departs from. The drive up the coastal road early morning was just stunning with the sunrise, and calm blue waters. We had picked the perfect day.

We arrived at the Port Douglas Yacht club where Norseman is moored for an 8:00am boarding. Steve the Skipper welcomed us on board and we then made ourselves comfortable in the saloon with tea and biscuits before departure. Norseman is a brand new specially designed fishing vessel. The saloon was very comfortable, and there was a flat screen tv playing footage of previous trips and mega catches! This entertained everyone and built up the excitement and expectations of the day to come.

It was a 90 minute journey out to the reef. Steve has all the latest fish finding gear in the wheelhouse to track down the best places to fish that day. We were given handlines each to use, as they are easier for catching those bottom dwelling fish. The handlines have a 75lb line compared to a 35lb line on the rods, however rods were available for those who wanted to have more of a challenge.

Its pretty simple using the handlines, even I could do it. Just needed to hook the bait on, drop the line over, wait for it to hit the bottom and just hope that you are smarter than the fish! For me that wasn't the case and I spent most of the day feeding the fish rather than being tricky and catching them!

The first catch of the day was pretty instant as soon as everyones lines went in a Nannygai was caught, which I thought was pretty impressive until someone shouted out "shark". It really did look like a shark fighting just under the surface until it was hauled onboard and turned out to be a Cobia. Still pretty impressive as it was just a metre away from me and fighting around uncontrollably. It soon stopped however when it was hit over the head by a wooden batton. All of this was filmed and digital photos taken of the great catch.

I however struggled on to get my one catch of the day whilst Red Emperors, Coral Cod and Nannygai were being caught. We moved location and with the help of the skipper I caught a Nannygai. Bit too small to keep but none the less I pulled it in, had my photo taken of it and threw him back to his friends.

Lunch was included in the day and we then moved closer to the reef to catch some Coral Trout…Yum!

I carried on feeding the fish but it was a great experience watching a number of species being pulled in. We viewed the days action again on the way home, and some people chose to have their photos with their prize catches printed out. The fish caught were washed and packed and handed out on arrival into Port.

Mmm… mmm…fresh cooked fish for dinner!
Edit This Page
Edit Page Content
Post Comment