6 Tours Found
We found 6 tours in the Great Barrier Reef category
Ultimate Scenic Heli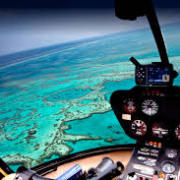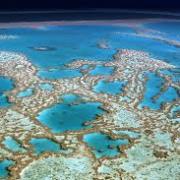 Ultimate Scenic Heli
Quicksilver Pontoon & Heli options
Outer edge of Continental Shelf
Helicopter flight
Great Barrier Reef

The Great Barrier Reef Marine Park is a series of over 2,900 individual reefs, stretching from the tip of Cape York in the north to Lady Elliott Island in the south and covering over 348 000 km2. It comprises of fringing and barrier reefs, continental islands, coral cays and 70 different bio-regions, making it the most ecologically diverse system in the world. Port Douglas and Cooktown is renowned for its beautiful coral cays and islands, and for the close proximity to spectacular outer edge reefs. Accessible to everyone, there are a variety of ways to view the reef; whether you are young and old, swimmer or non-swimmer, everyone has the opportunity to marvel at the magnificence of the Great Barrier Reef.
Agincourt Reef

Agincourt Reef lies 39 nautical miles [72 kilometres] off the coast of Port Douglas on the outer edge of the Great Barrier Reef. This spectacular reef system comprises of a series of many smaller reefs known as the 'ribbon reefs' which run parallel to the Continental Shelf. The Agincourt Reef group is continually flushed by clear oceanic waters from the Coral Sea, which make for the best possible snorkelling and diving opportunities. Coral thrives in this clear water, creating spectacular gardens and a huge variety of marine life. Channels offer interesting swim-throughs and caves, whilst majestic bommies attract pelagic fish where they gather to feed. Agincourt Reef is located 72km NE of Port Douglas, opposite the Daintree Rainforest. Travelling time aboard a wavepiercer catamaran from Port Douglas takes 90 minutes. The warm waters of Tropical North Queensland range in temperature from 22-29 Celsius (75-85 Fahrenheit), which makes for year round comfort for in-water activities.
Snorkelling the Great Barrier Reef

The Great Barrier Reef is easily accessible with many sections rising in rich, colourful beauty to just a few metres below the surface. The tropical waters and protected reefs provide perfect conditions for novice snorkellers. Snorkelling is great fun, easy to learn and accessible to anyone young or old - it's an enjoyable way to get the whole family involved! Snorkelling requires no special training, only the ability to swim and to breathe through the snorkel.
Equipment is provided onboard your reef cruise with most day trips offering full instruction and an included guided tour. You don't have to swim too far to view the coral as in most cases the reef is right there as soon as you push off into the water. Sometimes large resting buoys are placed short distances from each other so you can snorkel from float to float and rest when you need to. Or if you are still a little apprehensive, some companies offer life jackets and 'noodle' floats designed to give you extra buoyancy, then all you have to do is kick and gaze at the underwater world. You will witness just as much snorkelling as you would scuba diving, with spectacular shallow coral gardens hiding just under the surface.
Find out more:
Calypso Pure Snorkel
Quicksilver Pontoon - Outer Reef Cruise
Swimming with Minke Whales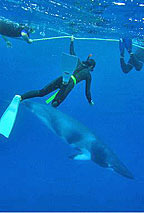 Dwarf minke whales visit the northern Great Barrier Reef each Australian winter. There are only a few Great Barrier Reef operators with permits allowing guests to swim with dwarf minke whales – so this is a truly special experience. July to September is the peak season to encounter these inquisitive creatures as they frequent the Agincourt Ribbon Reefs.
Minke whales are one of the smallest species of baleen whales and grow to nearly 9 metres long and about 10 tonnes in weight. These curious and friendly whales have attracted attention because they are naturally inquisitive, and often approach boats, divers and snorkellers closely, sometimes interacting for extended periods. These encounters, whilst never guaranteed, are frequent during our winter months. Swimmers in groups of ten are sent out along a floating line once whales have been seen near the boat. No weight belts, scuba gear or flash photography is permitted. By following this passive approach, invariably the whales swim close to the swimmers to satisfy their own curiosity, often staying close by for over an hour until the boat finally has to move on to the next site.
The voluntary approach to the vessel and swimmers by minke whales creates a magical and safe encounter, whereby the whales are in actually control as they decide how long and close they interact and swim with guests.
Find out more:
Poseidon Cruises - swim with Dwarf minke whales
Silversonic - Minke whale encounters
Scuba Diving the Great Barrier Reef

Scuba Diving offers an awesome oppotunity to explore further into an underwater world teeming with exotic marinelife, bommies, coral canyons, walls and much more. From the novice to the most experienced diver, there are reef trips that will accommodate your level of experience. Choose from a one day outer reef adventure or take part in an extended dive expedition.
Find out more:
Silversonic Outer Reef Cruise
Poseidon Cruises - Oure Reef Adventure
Calypso Snorkel & Dive
Introductory Diving

Introductory Diving allows you the opportunity to try a dive without any previous scuba experience. Conducted in small groups under the supervision of an experienced Dive Instructor, introductory diving gives beginners an unforgettable Great Barrier Reef experience. It is a fun, easy, and provides an amazing introduction into the underwater world. The only requirements are that you are over 12 years, pass the on-board medical questionnaire and participate in a 30 minute dive brief. A highly skilled dive instructor will take you step by step through the whole experience, from the dive briefing lecture, the equipment and the dive, to ensure a safe, comfortable and memorable experience. Your dive experience will generally last around 30 minutes underwater and on completion you will receive a certificate as a memento of your underwater adventure.
Find out more:
Quicksilver Outer Reef Cruise
Poseidon Outer Barrier Reef Cruise
Silversonic Outer Reef Cruise
Certified Diving

Certified Divers will be excited by the range of experiences and magnificent Great Barrier Reef locations to choose from, no two dives are ever the same. Drift and wall dives, bommie and pinnacle, coral gardens and swim throughs are just some of the amazing experiences to expect.
The outer reefs are great for beginner divers. The maximum depth is generally 20 metres. Some of the best dives on the Great Barrier Reef are in less then 18 metres of water. This tends to be where the reef is at its most colourful and full of life. Most day trips offer the opportunity to explore up to 3 reef locations in a day, each site offers a new experience, selected for its unique variety of marine life and corals. All diving is guided by qualified Dive Masters/Instructors, in small groups so you can gain the best experience. Certified dives last approximately 40 minutes or more. With visibility between 15m to 30m and water temperatures of 24C to 30C, it makes for great diving conditions all year round.
Find out more:
Silversonic Outer Reef Trip
Calypso Dive & Snorkel
Poseidon Outer Reef Adventure


Pontoon Trips

A pontoon is a large stable platform situated at the reef, where a whole multitude of reef activities and adventures take place from. Ideal for swimmers and non-swimmers, families with young children and people prone to sea sickness, as they provide comfort and stability for all wind and weather conditions.
Situated on the very edge of the Great Barrier Reef at Agincourt Reef, Quicksilvers' spacious floating platform is where all the reef activities begin. This dual level platform provides the ultimate in facilities for reef viewing and relaxation. Facilities on the platform include undercover tables and seating, change rooms and freshwater showers, buffet servery, underwater observatory, semi-submersibles, snorkelling platforms, specially designed introductory dive areas and a carpeted sundeck. This is especially handy for families with young children, non-swimmers and disabled passengers as no matter your age or ability, there is an opportunity for everyone to experience the reef in some way. The snorkel platforms provide easy entry into the water, and with fish and corals located directly below, you don't need to swim too far to experience the Great Barrier Reef. All equipment is supplied including lifevests and floatation devices, there are also snorkel rest stations so you can hold on, rest and enjoy the magic of the underwater world.
Find out more:
Quicksilver Pontoon - Outer Barrier Reef Cruise
Fast Catamaran

To maximise your day and reef experience hop onboard a fast catamaran where you'll wizz out to the reef in less than 90 minutes. This means less travel time and more dive/snorkel time. You'll have time to explore three stunning and exclusive reef locations at the renowned Agincourt ribbon reefs. Each ribbon reef is unique in diversity, so by visiting three different environments in the one day, will enable three different types of dive and snorkel experiences. To get the most out of your Great Barrier Reef trip all scuba diving is fully guided, meanwhile snorkellers can opt for a guided snorkel tour with a marine biologist.
Find out more:
Silversonic Outer Reef Cruise
Poseidon Snorkel & Dive
Calypso Cruises
Sailing Trips

Take life at a slower pace on a luxury sailing cruise. Reef sailing cruises allow for plenty of in water activities as well as time for relaxation. Passenger numbers range from small intimate groups of 12 people up to 150 depending on the trip you choose. Generally the inner reefs and Low Isles are visited which makes for a calm and comfortable experience. The Low Isles is a popular sailing destination, situated 15km north-east of Port Douglas, this 4 acre coral cay is surrounded by 55 acres of reef. The corals are very close to the island, which makes snorkelling an easy and enjoyable experience, especially for beginners where you can snorkel directly off the beach. The calm lagoon waters are a popular hang out for turtles, and are a regular sight on the glass bottom boat tours.
Wavedancer, Sailaway and Aquarius offer daily trips to the Low Isles. Wavedancer is more suited to families with spacious decks and a variety of activities included in the day. Aquarius and Sailaway offer intimate trips carrying a maximum of 23-33 passengers, to provide you with a personalised reef experience. Meanwhile Synergy offers the ultimate in luxury carrying a maximum of twelve pampered guests to one of two sites at Tongue Reef, located approximately 20 nautical miles from Port Douglas. This trip is ideal for couples, honeymooners and those wanting an extra special reef experience.
Find out more:
Sailaway Low Isles
Quicksilver Wavedancer Low Isles
Helicopter Tours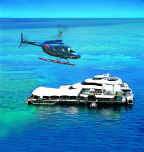 To really get a complete grasp of the sheer magnitude of the Great Barrier Reef, there's only one way to see it and that's by helicopter. Combine a heli flight with an outer reef cruise and view the reef from above and below in a day, or whilst at the reef, take a scenic helicopter flight and marvel at the beauty and expanse of the turquoise coloured reefs right before your eyes. A ten minute heli flight whilst at the Great Barrier Reef is exciting, you will find yourself immediately immersed in the wonderful sights that appear in every direction as soon as you take off and climb up and away. Look out for turtles, sharks, manta rays and during the months of July to September you might even catch a sighting of humpback whales as they migrate to the Reef's warmer waters. A ten minute helicopter flight is available from Quicksilvers' reef activity platform moored at Agincourt Reef.
Find out more:
Quicksilver - Scenic Flights & Fly/Cruise Options
Island Day Trips

The Low Isles was discovered by Captain Cook in 1770 and was scribed in his log as a 'small low island'. Situated approximately 8 nautical miles north-east of Port Douglas, the Low Isles is approximately 4 acres in size, and is protected by the Great Barrier Reef Marine Park Authority. Low and Woody Islands make up Low Isles which forms a protected lagoon area in between the two islands. Surrounded by coral reef, the calm lagoon area provides a safe and protected snorkelling site, ideal for beginners and children. The calm waters also attract an abundance of marine life including fusiliers, sweet-lip, angelfish and turtles. Day trips are regularly available to the Low Isles catering for couples, families and those looking for a relaxed reef experience. Apart from snorkelling, a variety of activites take place on the island including a guided tour through the 'Heritage Walk', glass bottom boat tours and guided beach walks. There are no facilities on the island - change rooms, toilets and a licenced bar is available onboard your sailing vessel, however there is shade provided by trees and the large thatched umbrellas that line the beach.
Find out more:
Sailaway Low Isles
Quicksilver Wavedancer - Low Isles
Glass Bottom Boat Tours

Don't feel like you have to miss out if getting wet is not your thing, there are a variety of ways to still view the reef up close without getting wet, including glass bottom boat tours. Glass Bottom Boat tours are ideal for non-swimmers, families with young children and those who would like to see the reef from another perspective. It provides a similar experience to snorkelling as you hover over beautiful coral gardens, giant clams, and schools of colourful reef fish. Glass bottom boat tours are fully guided by a marine biologist to give you the best reef experience. Common things you'll see are sea turtles, star fish, giant clams, hard and soft varieties of coral, small reef sharks, and all manner of strange and exotic creatures.
Find out more:
Sailaway Low Isles
Quicksilver Wavedancer


Semi Sub Tours

A semi submersible provides similar viewing to a glass bottom boat however guests are seated just one metre underwater allowing them to experience a snorkellers-eye view of the marine life without getting wet. They provide an ideal activity for the non-swimmer. The semi submersible tours cruise slowly through colourful coral gardens; the large viewing windows allow guests to view the spectacular coral formations and masses of brilliantly coloured fish up close. The semi-sub experience takes approximately 25 minutes and generally includes an informed commentary on the marine life observed during the journey by a marine naturalist, and an overview of the wonders of the Great Barrier Reef.
Find out more:
Quicksilver Cruises - Outer Barrier Reef
Ocean Walker

The Ocean Walker Helmert Diving is a unique and fun way of viewing the reef up close. This activity is a great options for non-swimmers, children or older people not sure about trying scuba diving or snorkelling. It can even be a great experience for people with minor disabilities. Breathing fresh air delivered from the surface into your helmet, you can even wear your glasses if you wish. As you walk underwater on a reef platform you can enjoy 360 degree unobstructed views of the underwater world and marine life. Please note, a small medical questionnaire is required to be able to participate and some medical restrictions apply. Minimum age is 12 years. After a short briefing and subject to medical conditions, you will be walking amongst the reef fish and corals!
Find out more:
Quicksilver Cruises - Outer Barrier Reef Pontoon Trip
Travelling with Children

Visiting the reef for the day is an exciting excursion for kids, and in turn very rewarding for parents to watch their children interact and gain knowledge of this truly educational experience. Pontoon based reef trips are ideal for families with young children, there are many activities to choose from to keep the kids amused for hours. Quicksilvers' Outer Barrier Reef Cruise provides allows you to travel in comfort. The vessel is spacious and the modern reef activity platform is pram friendly featuring undercover seating upstairs and downstairs, change rooms and freshwater showers, an underwater coral viewing observatory, semi-submersible tours, a snorkelling platform, carpeted sunbaking deck and toilets. Families with older children however will love the Outer Reef as the snorkelling is fantastic and the variety of marine life is unsurpassed, the fast catamaran cruises offer the opportunity to snorkel at three different reef locations in a day. Minimum age for introductory diving is 12 years. The Low Isles provides a family friendly day trip with a wide, sandy beach and clear, calm lagoon waters that are ideal for swimming, snorkelling and playing. Other activities include an island walk and glass bottom boat tours. To assist children to obtain the best experience from their day at the Great Barrier Reef, snorkels, masks and fins are available in child sizes, as well as various flotation aids to suit your child's swimming abilities.
Find out more:
Quicksilver Cruises - Outer Barrier Reef Activity Platform
Poseidon Outer Reef Cruise
Wavedancer Low Isles Sailing
Travelling with a Disability

Having a disability does not restrict access or experiences of the Great Barrier Reef. There are many cruises that can cater for people with limited mobility. The best option is to take a pontoon trip. Generally the catamarans that travel to an outer reef pontoon are larger with wider aisles, have a designated seating area, ramp facilities from vessel to platform, and a wheelchair access toilet. Access to the water, coral viewing vessels, underwater observatory and sundeck may require stairs to be negotiated and a carer to be present. The snorkelling platforms are situated right on the waterline and there are bench seats on the snorkelling platform where you can put on your fins, mask and snorkel before entering the water. For guests confined to a wheelchair, Quicksilvers Agincourt 3 reef platform features a specially designed water powered lift that allows for easy access into the snorkel pool. It is recommended to call and talk through the level of disability so that we can suggest suitability.
Find out more:
Quicksilver Agincourt Reef Activity Platform