4 Tours Found
We found 4 tours in the Adventure Activities category
Adventure

If you are seeking some adventure, looking for some thrills, perhaps something to get the heart started, or in need of some exploration then take a look at our range of adventure tours below. We have everything from white water rafting and Jungle Canopy Surfing to Cooktown Adventures and Hot Air Ballooning. No matter the level of thrill you are seeking, we have adventures for everyone!
White Water Rafting

The Barron River is perfect for anyone who hasn't tried White Water Rafting or for those looking for an afternoon of fun and adventure. Rafting is one of the most fun and exciting ways to discover the pristine rainforest of Tropical North Queensland. The Grade 3 Barron River Half Day Tour is perfect for ages 13 to 99, and all fitness levels. Located 20 minutes from the heart of Cairns, the Barron River has the advantage of departures all year round, tropical water temperatures and ease of access to compliment the breath-taking scenery and rapids. Each raft is controlled by a highly trained river guide, who teaches you the correct techniques during the day, and who will share with you local knowledge about the river and the magnificent landscape which few get to see. The Barron Family Rafting is also a great introduction to white water rafting for children 6 - 11 years, where they can experience the thrills of paddling rapids graded 1 - 2. Coach transfers are available from Port Douglas.
Find out more:
Barron River Rafting
Barron River Family Rafting
Jungle Canopy Surfing

Jungle Canopy Surfing is a unique and exhilarating way to fully experience the heart of the Daintree Rainforest, from the bustling forest floor to the lush canopy above. Comprising of a system of platforms and cables, you can fly through the trees on flying fox ziplines that take you from tree to tree with bird's eye views over the treetops, down to cascading streams and out to the Great Barrier Reef. This fun, educational and fully-guided activity takes around 1.5-2 hours from pick-up to drop off, and you'll spend around 1-1.25 hours up in the trees, with plenty of time on each platform to experience the forest environment. The guides are very knowledgeable and all add to the fun factor. Suitable for all ages and weather conditions, Jungle Canopy Surfing makes for a great family day out.
ATV Quad Bike Adventures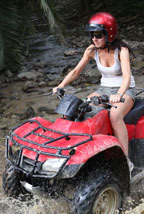 ATV's (All Terrain Vehicles) are 4 wheel motor bikes also called Quad Bikes. They began life as bubble wheeled farm vehicles but have been re-invented as the hottest new outdoor recreation vehicle in the world. Zoom along old logging rainforest tracks with exciting water crossings, open plains, and hill climbs. The station's fleet of muster quad bikes are easy to ride with zippy Honda 250cc and 90cc bikes, suitable for all experience levels. This is a must do for the adrenaline junkie and makes for a fantastic wet weather option - be warned though, it can get a tad muddy if you have really serious fun! These tours currently only operate near Cairns and do not offer Port Douglas hotel transfers.
Horseriding

Horse riding enthusiasts will love the spectacular scenery that goes hand in hand with a horseriding experience in Far North Queensland.
Blazing Saddles Horse-riding tours offer a safe, relaxing way to meander through rainforest pockets, mangrove wetland, sugarcane fields and native bush. With a stable of horses to suit all ages and levels, this is a perfect family adventure. All horses have a friendly, mature nature and will be matched to each riders experience and ability. Draw up on horse-back alongside the 18 acre billabong for a billy tea over a camp fire and the chance to see a croc in the wild! Blazing Saddles is located on a working sugar cane farm in Cairns and the property boasts an 18 acre billabong which is abundant with native birds and amphibious creatures. Suitable from 4 years.
Further afield, Cape Trib Horserides is located in Cape Tribulation approx 1.5 hours from Port Douglas. Suitable for self drivers this tour departs from Cape Trib Beach House and takes you on a spectacular experience through cane paddocks, rainforest and onto Cape Tribulation Beach - where the rainforest meets the reef. Incorporating Beach, Rainforest, Creeks, and mountain views, riders will have the option of slow galloping in selected areas. Advanced riders can select a 3 hour tour which includes lunch at a private swimming hole.
Please visit www.thingstodoincairns.com for Blazing Saddles Horserides
Please visit www.daintreeinfo.com for Cape Trib Horserides
Hot Air Ballooning

Experience the fun and unique sensation of being in a hot air balloon, flying high above the Atherton Tablelands. The Atherton Tablelands provides ideal weather and climate conditions for this gentle activity, and there's no better time than sunrise to marvel at the panoramic views and colours of this unique Australian landscape. The balloon takes off from a chosen location in Mareeba depending on the wind directions at that time, and gently floats along in whichever direction the air current chooses. The pilot cannot directly steer but adjusts the height carefully to utilise the wind currents and sail towards the closest, most appropriate landing site. You will travel with the wind and fly anywhere from 5 to 30 kilometres, depending upon wind speed and flight duration. When the burner is off it is easy to hear sounds drifting up from below you, dogs barking, birds singing etc. Wallabies and other wildlife are often spotted in the bushland and surrounding creeks.
Options are available to combine your hot air ballooning experience with the Kuranda Scenic Rail and Skyrail. Find out more details below.
Find out more:
Hot Air Ballooning - Port Douglas Pick Up or Self Drive