Viewing 1 to 1 of 1 properties
Viewing 1 to 1 of 1 properties
Beach Front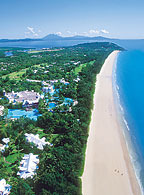 Four Mile Beach is an icon of Port Douglas, and as the name suggests, stretches for four miles from the rocky headland of Flagstaff Hill, to the rocks, reefs and mangroves of the Mowbray River mouth. Development along the beachfront has been restricted to protect the natural vegetation and preserve the visual appeal of this tropical palm fringed coastline. Most resort developments and houses are tucked neatly behind the swaying palms with access tracks down to the coastline. There are however just a handful of beachfront resorts where you can still enjoy the timeless views of this pristine beach, or be within a stones throw via an access track that leads you directly onto the golden sand. The northern end of the beach connects with Macrossan Street, the main hub of the village, and it is here on the Esplanade that you will find a small selection of absolute beachfront holiday accommodation.
Beachfront Holiday Apartments

The Peninsula is the perfect retreat for couples and singles looking for some quality time out. Located beachside and offering the perfect Port Douglas stay in a quiet, peaceful oasis, The Peninsual comprises of 26 contemporary styled one bedroom suites with beach and ocean views over looking Four Mile Beach. All suites open onto a large private balcony or terrace. featuring a spacious open plan living/dining area and discreetly concealed kitchenette with everything you need. With its own beachside restaurant and bar and convenient access to Macrossan Street, The Peninsula makes for a perfect beachside getaway. Further along is Beachfront Terraces and Beaches Apartments. Beachfront Terraces offers budget beachfront accommodation, meanwhile its sister property Beaches, located next door, offers large luxury apartments ideal for families and groups of friends.
Beachfront Resorts

The Sheraton Mirage Port Douglas is Australia's finest beachfront oasis of five star luxury perfectly poised on Four Mile Beach. Simply wander through the manicured gardens, and follow a short footpath leading directly onto the palm fringed Four Mile Beach. The resort itself is expansive with 130 hectares of lush tropical gardens and 2 hectares of magnificent swimmable saltwater lagoons, you will experience the best of resort living here.
The Sea Temple Resort and Spa Port Douglas is located at the southern end of Four Mile Beach, and blends seamlessly into the surrounding natural landscape. There is direct beach access via a short footpath that snakes through the tropical nature reserve and onto the beach in a minute or two; or for the ultimate in beachfront luxury, choose a 3 Bedroom Villa that not only backs directly onto the palm fringed Four Mile Beach, it also includes an exclusive private terrace plus private plunge pool. Designed around a central centering expansive lagoon pool and island bar, the resort offers no less than 5 star features and facilities. The rooms and apartments have been designed with the utmost luxury and relaxation in mind, making for a comfortable and memorable stay.
Nearby Accommodation

Other holiday accommodation within a stones throw of the beach include the Mandalay Apartments, The Portsea Resort and a number of private beach villas. The Mandalay Apartments are located just over the road from Four Mile Beach, with access via a 50 metre walkway. These beautifully furnished apartments are nestled amongst lush tropical gardens and feature all of the facilties that you would expect in your Port Douglas holiday. Ideally situated just a short walk from Macrossan street, this property is perfect for families or groups of friends.
The Portsea Resort is located on Davidson Street and features a public footpath that runs down the back of the resort providing direct access onto the beach. This is a fun, simple resort suited to families and couples.
Private beach villas include Solana On The Beach, Beachfront Mirage, Kai Hai and a number of other beach properties set within the Sheraton Mirage Resort. Kai Hai is a very special villa as it is one of only a very few absolute beachfront properties with clear views and direct beach access to Four Mile Beach. This magnificent four bedroom beach house is certainly worth putting on your short list!
Four Mile Beach runs the entire length of Port Douglas Village so you can be sure that no matter where you stay, the beach is very close by.