Viewing 1 to 1 of 1 properties
Villa 3 Far Pavilions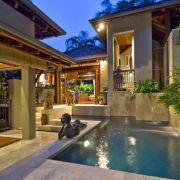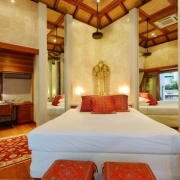 Villa 3 Far Pavilions
Luxury Holiday Villa
2 King Suites | Pool Villa
Tropical Oasis | Fabulous location!
Viewing 1 to 1 of 1 properties
Port Douglas Accommodation

Port Douglas is a fabulous base for a tropical holiday. The village is small enough to enjoy a relaxed pace of life, yet big enough with plenty of activities and things to do to make the most of exploring this fabulous region. Accommodation is varied to cater for all requirements, from budget accommodation to luxury apartments, resorts, hotels and villas. Whether you are after adventures and exploring the region, chilling out by the pool, or simply enjoying some quality time with the family, we have the best of Port Douglas accommodation on our website to tailor make the perfect holiday package for you.
Beach Front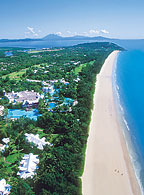 Four Mile Beach, as the name suggests, stretches for four miles from the rocky headland of Flagstaff Hill, to the rocks, reefs and mangroves of the Mowbray River mouth. The coastline is framed by tropical palms and natural vegetation with most resort developments and houses are tucked in neatly behind. There are just a handful of beachfront resorts where you can enjoy uninterrupted beach views and direct access onto the golden sands, these include The Peninsula Port Douglas, Sheraton Mirage, Sea Temple Resort & Spa Port Douglas.
The Peninsula is a boutique hotel that combines the benefits of self catering apartments with the comfort of hotel services. Located at the end of Macrossan Street, The Peninsula provides a perfect blend of luxury, beach life and close proximity to all the action of Macrossan Street.
The Sheraton Mirage Resort and Sea Temple Resort are both located on extensive grounds and offer no less than 5 star features and facilities. This is resort living at its best, with a choice of accommodation ranging from guest rooms to apartments and villas, and services that will allow you to lounge by the pool whilst the rest is taken care of.
Nearby to the beach you will find holiday apartments such as The Mandalay, The Porstea Resort and a number of beach villas including Solana On The Beach, Beachfront Mirage and Kai Hai. Four Mile Beach runs the entire length of Port Douglas Village so you can be sure that no matter where you stay, the beach is very close by.
Find out more:
Port Douglas Beachfront Apartments & Resorts
Budget

On a tight budget? A holiday to Port Douglas does not have to break the bank. There are many budget accommodation options in Port Douglas where you can find your own little piece of luxury, and have the best holiday ever. Budget accommodation has come a long way in terms of style, functionality, value for money and atmosphere. Some budget properties even offer bonus services such as free internet and light continental breakfast.
If location is important to you then we have a whole range of budget properties located right on Macrossan Street and nearby. Port Douglas is an ideal destination for families and we have some fantastic, affordable family-friendly accommodation too, so that everyone can enjoy this tropical paradise. We have compiled our top tips for planning a budget holiday in Port Douglas so you can get the most out of your holiday experience.
Find out more:
Budget Accommodation & Top Tips for planning your budget holiday
Family Friendly

Port Douglas is an ideal holiday destination for families. We have some fantastic, family-friendly accommodation to suit all levels of budget and requirements, so that everyone can enjoy this special piece of tropical paradise. Holiday apartments are ideally suited to families as they are well equipped with a kitchen, lounge and dining area - much like a home away from home. Our pick of family friendly Port Douglas accoommodation includes the Rendezvous Reef Resort, offering the freedom of self-catered accommodation in a full service resort atmosphere. Kids will love the four pools including two large lagoon style pools, playground and sandpit plus 15 acres of lush tropical gardens to explore.
The Mantra Portsea is located just 100m from the beach and has water features and swimming pools galore! There is a toddler's pool, 2 spas, a water slide and waterfalls as well as the main lagoon with a carved crocodile feature.
The Sheraton Mirage is located within 130 hectares of tropical landscaped gardens, and features an 18-hole championship golf course, 2 hectares of magnificent swimmable saltwater lagoons, kids club, games room and direct beach access, plenty to do to keep all the family amused.
Take a look at our package deals, they offer some fabulous savings for families and they take the pressure off holiday planning as all the details have been taken care of. There are some lovely family activites available in and around the village. With a warm, year round tropical climate, it's the perfect destination for the kids to get active, explore nature and enjoy the great outdoors.
Find out more:
Family Friendly Accommodation, Packages & Activities
Holiday Apartments

Holiday apartments provide a home away from home. Fully equipped they come with all you need for a long or short stay.The benefits of booking a holiday apartment include more space and privacy, convenience when travelling with a family, and the savings associated with dining in rather than dining out. Apartments are ideally suited to families, groups, the corporate traveller and for longer stays.
Our top picks are based on price, location, popularity and comfort include Le Cher Du Monde ideally situated right on the main street of Port Douglas. From here you are only minutes walk to any number of outdoor cafes, restaurants, the Marina Mirage, Four Mile Beach and historical landmarks. This property is suited to singles, couples & friends. The Oaks Lagoons features One and Two Bedroom Deluxe, Swim Out and Plunge Pool Apartments, that come fully equipped with kitchen, lounge and dining in a modern style. These apartments offer fabulous value with some great additional features including 6 lagoon pools, 2 cabanas, and wireless internet hotpots. Sea Temple Resort & Spa Port Douglas is located at the southern end of Four Mile Beach, just 5kms from the town centre of Macrossan St. Luxurious One, Two & Three Bredoom Apartments including Penthouses with private rooftop terrace make for an unforgettable stay.
Find out more:
Port Douglas Holiday Apartments
Just For Grown Ups

Everyone needs some time out now and again to a place where you can enjoy peace and tranquility without any distractions. If you're needing a sanctuary to escape the chaos of life then retreat to one of our 'adult only' properties, where you can be assured your stay will be free from little people and 'playground' activity. Rainforest Retreats and Boutique Apartments provide a perfect base where you can kick back, relax and do as much or as little as you please. Whether you're into nature or prefer to have the fun and freedom of all the activity on Macrossan Street, we can certainly find your niche.
Some of our favourites include Silky Oaks Lodge and Thala Beach Lodge, both sanctuaries allowing you to get in tune with nature again. The Meridien Port Douglas and Shantara Resort are both located on Davidson Street, just nearby to Macrossan Street, offering modern, luxury boutique apartments situated around a central lagoon pool and spa.
You can even choose from some exclusive adventures and outdoor activities without the crowds. This is time out for you, however you choose to use it.
Find out more:
Just For Grown Ups - Retreats & Boutique Accommodation
Macrossan Street

Macrossan Street is the long main street of Port Douglas, and the heart and soul of this small seaside village, lined with boutique shops, world-class restaurants, bars, cafes and galleries. Four Mile Beach is located at one end of Macrossan Street, with Anzac Park, the inlet and marina towards the other end. You will find pretty much everything you need along Macrossan Street; from clothing and souvenier boutiques stocking everything from flip flops to resort wear, to designer boutiques featuring all the usual brand labels such as Louis Vuitton, Coogi and Lacoste.
Some of the best dining in Australia can be found along Macrossan Street. With access to local quality seafood all year round, the freshest of local seasonal produce and award winning chefs, you will not be disappointed. Salsa Bar & Grill is one of Port Douglas premier dining restaurants and has been welcoming locals and visitors alike through its doors for over 17 years. Winner of numerous Restaurant and Catering awards including Best Restaurant, Best Alfresco Dining and Best Modern Australian. It's the perfect place for a lazy Lunch, or late night Dinner and Drinks, bookings in advance are highly recommended!
The famous Port Douglas Sunday markets have been a tradition for almost 20 years. Held in Market Park, which adjoins ANZAC Park every Sunday you will find an array of hand crafted goods of every description. It's a great way to spend Sunday morning, followed by a coffee at one of the popular cafes in Macrossan St or at the Marina Mirage.
Popular accommodation on Macrossan Street includes Club Tropical, situated in a prized location right on the corner of Macrossan and Wharf Street, directly opposite Anzac Park where the Sunday Markets take place. This quirky property features water gardens, two hot spa pools concealed behind a waterfall and a variety of Studio, 1, 2 and 3 Bedroom Suites individually decorated from tropical to contemporary style. Mantra Heritage offers premium accommodation fronting Macrossan Street, and Martinique on Macrossan is just a stones throw from Four Mile Beach. A self guided historical walk makes a good introduction to the village precinct.
Find out more:
Macrossan Street - Accommodation, dining, things to do & see
Rainforest

The rainforest is the perfect place to escape the busyness of life; here you will find peace, tranquility and seclusion. Many rainforest retreats have been designed to co-exist with their surroundings, allowing the energy of the rainforest to blend seamlessly with the living space. Silky Oaks Lodge & Healing Waters Spa offers complete privacy within a stunning location, just a short drive from Port Douglas. This luxury boutique hotel lodge and Healing Waters Spa consists accommodates 50 River and Treehouse Cabins set amongst spectacular rainforest and lush natural gardens. Each timber cabin features wide verandahs and luxurious spa baths, ideally suited as a couples getaway.
Private luxury rainforest houses include Janbal and the Port Douglas Valley Retreat. Janbal rests on 27 acres of untouched pristine wilderness, and has been built with a love of nature and luxury. Accommodating up to six people (not suitable for children under 12 years), a short or long stay will give you an understanding and awareness of this precious eco-system, its beauty and challenges. The Port Douglas Valley Retreat is a beautifully designed 'Queenslander' style house featuring wide verandahs, high ceilings and extensive use of local timbers. Comfortably sleeping up to 7 guests, the home is a seamless blend of nature and luxury.
There is plenty to do and explore around this area of our region. For those wanting to get out and enjoy nature you will find a number of walking trails through spectaucular rainforest. The gateway to the Daintree Coast, the Daintree River Ferry, is situated approx 30 minutes drive north whilst just a 20 minute drive will allow you to soak up the village atmosphere of Port Douglas. Activities are endless from Great Barrier Reef Cruises, to rainforest safaris, horseriding, mountain bike riding, Indigenous experiences, kayaking, quad biking, horseriding and more.
Find out more:
Rainforest Hideawys - The Douglas Shires best kept secret is about to be revealed...
Resorts

Resorts are what turns an ordinary holiday into an ultimate destination for relaxation; enjoy the added convenience of having all that you need in one spot, when you need it. No dishes, no cooking or cleaning as all is taken care of within the resort. The only thing you need to concern yourself with is, do you go back to the breakfast bar for a second helping of the buffet and when does the swim up pool bar open?
QT Resort Port Douglas is a new favourite. This oasis of relaxation combines fresh contemporary furnishings with quirky and tropical finishings. Featuring everything you need to relax and unwind, guest facilities include a large lagoon-style pool, swim up bar, al fresco dining day and night, day spa, fully equipped fitness room, super-cute retro QT bikes, tennis courts, room service, moonlight cinema and a modern resort lounge bar where you can chill out and listen to some grooves in one of the luxurious outdoor booths. This resort is the ultimate destination for relaxation in super cool, chic surrounds.
The Sheraton Mirage Resort is situated directly on Four Mile Beach, renowned for its 130 hectares of lush gardens, 2 hectares of magnificent swimmable saltwater lagoons, a championship 18-hole golf course, award winning dining and international cusine. You will experience the best of upmarket resort living here, in space and style. Resort rooms feature either a king or two double beds, spacious living areas, marble bathrooms and views of either lush tropical gardens, the landscaped golf course or sparkling lagoons. Whilst the uniquely furnished Villas are designed for longer stays with friends and family.
The Rendezvous Reef Resort is ideal for families offering full-service resort facilities with the freedom and flexibility of self-catered accommodation. With two lagoon-style pools, a leisure pool plus 25m lap pool, gymnasium, barbeque facilities and free internet access, plus Straits Cafe and Swish Bar, there is no reason to leave!
Find out more:
Resorts - Suitable for couples, honeymoons, families, celebration, relaxation
Romantic

Runaway with your loved one and enjoy some romantic intimate time in exquisite surrounds. Whether you're planning a honeymoon, a romantic getaway or celebrating an anniversary, Port Douglas is the perfect place for some love'd up romance. The Tropical Far North has romantic havens aplenty, from luxury lodges and stylish resorts to boutique apartments and villas; you'll be sure to find a special place to retreat to with your loved one, and experience some quality time together.
Tucked away in the rainforest are some beautiful, luxurious lodges where you can escape the pace of everyday life. Combining wilderness experiences with five-star comforts, these private hideaways allow you to relax, rejuvenate and reconnect. Silky Oaks Lodge & Healing Waters Spa is spectacularly situated on the Mossman River and comprises of 50 contemporary designed River and Treehouse Cabins that connect exquisitely with the natural rainforest surrounds. The Healing Waters Spa is a winner of the World Luxury Spa Awards - 2011. Signature treatments draw inspiration from nature's elements using the healing properties of pure plant botanicals to nurture both body and soul. Thala Beach Lodge is an exclusive luxury haven situated on a private headland just south of Port Douglas. Surrounded by over 2km of private sandy beaches and sheltered coves, with breathtaking views of the surrounding untouched coastline; Thala is the perfect destination for a romantic getaway!
To complement your romantic getaway why not share in some romantic adventures? From a luxury reef cruise and romantic dinner in the rainforest, to the more adventurous hot air ballooning, horseriding and bungy. Whatever you're taste, we're sure to have a range of activities to get your hearts-a-fluttering!
Find out more:
Romantic - Retreats, Boutique Holiday Apartments & Adventures
Villas

Port Douglas has a fine selection of private houses and villas. Some located on Macrossan Street, others nearby or close to the beach. What they all hold is an unsurpassed level of accommodation, with only the very best in luxury living and attention to detail to give your North Queensland holiday the ultimate 'WOW' factor. This exclusive range of Villas and Holiday Homes on our website have been handpicked based on location and quality. Many are architecturally designed and finished to the highest possible standards, with designer furnishings throughout and all the modern day comforts. Ideal for families, couples, friends, honeymooners, wedding groups, or celebrities!
Find out more:
Villas Port Douglas - Live in style, holiday like a celeb!