THINGS TO DO IN PORT DOUGLAS
There are enough activities in and around Port Douglas to keep you busy for Months. Deciding on what to do while your here will be the difficult part.
We have added a few ideas below to help you get started with your holiday itinerary.
3 THINGS TO DO FOR FREE!
1. Port Douglas Sunday Markets

Port Douglas Markets takes place every Sunday at Anzac Park from around 7:30am until mid-afternoon. Wandering around under the palm trees, you'll discover 150 stalls featuring fabulous local arts, hand-made crafts, homeware, clothing, organic beauty products, local practitioners, fresh produce, unique jewellery and more! Treat yourself to a massage or some reflexology, enjoy a freshly squeezed tropical fruit juice, try a skin rejuventaing salt scrub, and wile away a good couple of hours enjoying the music and atmosphere. The market is a regular "must do" for locals and visitors from all over the world.
Try the Sugar Cane juice if you have not tried before. Freshly made, it looks a bit brown but tastes superb and is really good for you containing a range of antioxidants, vitamins, minerals, enzymes and fibre. Also keep an eye out for the local coconut growers, they will drill a hole into a coconut so you can drink the water, then when you're done come back and they will crack it open, grind up the coconut meat, then you can add your choice of a salad or sweet mix and enjoy a meal in a shell!
2. See George the Groper
On The Inlet Restaurant, located on the water front of Dickson Inlet, is home to resident fish 'George the Groper'. George is a Giant Queensland Groper, also known as spotted cod, and weighs in about 250kg!! He is one of the largest reef fish that inhabit our waters. Every afternoon around 5pm George comes out for his daily feed and gives a real show! His favourite delicacy is a tuna frame and he delights the crowd with a feeding frenzy, sometimes he'll bring his mates along for a dinner party too. It's a tradition that has been going on for 30 years and a great entertainer for everyone. On the Inlet is a lovely spot at the end of the day to grab a bucket of prawns and schooner of cold Aussie beer and watch the reef boats come in.
Throw your prawn shells into the water (the restaurant is on decking over the river inlet) and watch the fish go mad for them!
3. Take a walk on the beach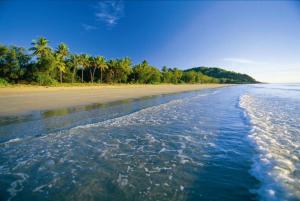 Here's a piece of tropical paradise, lined by coconut palms and golden sand as far as the eye can see. Four Mile Beach is the premier beach of Port Douglas. This naturally beautiful beach is free from development with all resorts and buildings tucked away behind the vegetation. Beginning at the northern rocky headland, Four Mile Beach stretches for - yep you've guessed it - 4 miles! and ends amongst the rocks, reefs and mangroves of the Mowbray River mouth.
For the most part the beach is very low, flat, and the sand is compact making it a great option for bike rides too. Kitesurfing is popular at the southern end of Four Mile Beach, particularly during the winter months when the trade winds blow from the South.
Four Mile Beach can be accessed from the end of Macrossan Street, and also along a public footpath that is located beside The Portsea Resort. Guests staying at the Sheraton Mirage have direct beach access from the resort, there is also a beach access footpath for guests at the Sea Temple Resort.
This beach is a great place to see incredible sunrises. For the best view drive, ride or walk up to Flagstaff Hill to see Four Mile Beach in all its glory.
things to do for under $20
1. Cane Toad Racing
The Iron Bar is renowned for the best cane toad races in the country! Totally unique and utterly hilarious, they have been racing cane toads for nearly 16 years now. Tickets to get in cost about $5 each and can be bought as you go in (show starts at 8pm) or purchased earlier in the day, which is the best option during peak times.
There are usually 2 races - the first is a random draw of the entry tickets. If your number is called you are then assigned a toad. Runners include Fat Bastard, Gay Freddie, Pigeon Toad, Shagging Camel Toad, Aussie, Aussie, Aussie and all time favourite Jerry Springer. A quick kiss of the toad for luck and then the fun begins. As the toads are released encouragement is needed, so this is a great opportunity for the whole crowd to get involved with cheers and screams. For the second race the Toads are auctioned off. If you miss out in the first round, make sure you bid and buy one for the second round, and be prepared for lots of laughs!
This is a must do if you have a free evening in Port Douglas, the guy who hosts the races is really funny and engaging. So grab yourself a beer or a wine, come with an open mind and have a ball.
Don't wait to bid on the last Toad as it is normally the most expensive. Buy one of the earlier ones or buy the winner of the previous race.
Where: IronBar Port Douglas, 5 Macrossan Street.
When: Monday to Saturday nights from 8pm.
2. Swim & Bushwalk at Mossman Gorge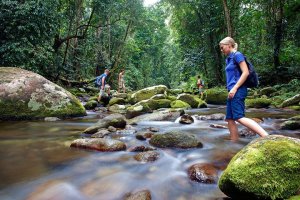 A short scenic drive 15 minutes north of Port Douglas will bring you to the town of Mossman. From here turn left and follow the bright green fields of sugar cane towards the mountains, and you will discover a hidden gem that is Mossman Gorge. Situated in a stunning section of the World Heritage listed Daintree National Park, Mossman Gorge is one of the most visited spots in the Wet Tropics. Huge granite boulders line the gorge, with crystal clear water cascading into freshwater swimming holes. Lush rainforest cloaks the steep mountainsides where you can embark on your own adventure through the Gorge.
There are two circuit tracks. A short, 400m track provides access to lookouts over the Mossman River, or follow the suspension bridge across the river to explore the 2.7 kilometre rainforest loop trail. These can be self-guided. Afterwards take a refreshing and invigorating dip in the cool freshwater streams.
Getting There: To access Mossman Gorge you will need to park at the Mossman Gorge Centre. From here you can either walk the final 2km into the park or for around $8 per person take the shuttle bus. Shuttle buses depart every 15 mins from the Mossman Gorge Centre.
Don't forget to bring water and insect repellant. Swimming in Mossman Gorge can be dangerous so before entering the water assess the conditions based on your skill level and use caution.
3. Ride the Ballyhooley Steam Train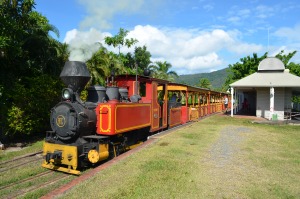 The Bally Hooley Steam Railway is a small passenger train that operates between the Marina Mirage, Sheraton Country Club and St.Crispins Station. This gorgeous little steam train was originally owned and operated by the Mossman Sugar Mill, used for hauling sugar cane from the fields to the region's mill. Today the railway is operated by a dedicated small group of passionate volunteers. Running every Sunday, the journey takes a bit under one hour for the return trip from the Marina Mirage Station. Tickets can be purchased on the train, and all moneys collected go towards the cost of coal, insurance and maintenance.
St.Crispins Station is the final stop where everyone hops off and has the opportunity to watch the drivers push the engine around on a large historic turntable, to reconnect with the train for the return journey. St. Crispins is located right alongside a tidal lake and sometimes a couple of resident crocodiles can be seen.
Locals Tip: This is great little trip to do with the kids. Operating on a Sunday which is also the day the markets are on, so it makes for a good day out.
things to do for under $60
1. Sunset Sailing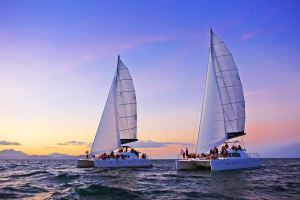 For a perfect way to finish off your day, take relaxing sunset cruise. Departing from the Marina Mirage in Port Douglas daily at 5:00pm, the sunset cruise allows adults to relax, unwind and enjoy the peace and serenity of pure sailing. A welcome drink of wine, sparkling wine, beer or spirit mixers sets the mood as you settle in on the deck of the yacht and enjoy the warm breeze. Cruising from Dickson Inlet and out over the Coral Sea you will get to enjoy a tropical sunset with spectacular mountain views. A selection of delicious hot/cold canapés accompanies this trip, making for an ideal pre-dinner excursion. Sailaway returns at 6:30pm.
Locals Tip: Sailaway is a fully licensed premises, additional drinks can be purchased on board for $6 - cash only.
2. Spot wildlife and crocs onboard the Lady Douglas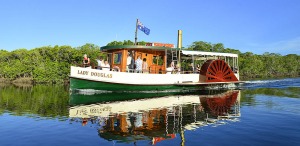 Lady Douglas is a beautiful riverboat that has been taking tours of the Dickson Inlet since 1989. Most Port Douglas locals know this as a gem of a cruise, and many visitors have been coming back for over 25 years! If you're not a hardy sailor then this calm water cruise is an ideal option. taking in the wilderness and scenery of the mangroves, and the coastal and harbour views around the inlet entrance. Lady Douglas has 4 scheduled cruises that depart daily from the Port Douglas Marina. The 1.5hr relaxing cruise travels up the Dickson Inlet in search of wild crocodiles other wildlife in their natural habitat. Enjoy an informative and entertaining commentary by the skipper, accompanied by a cool drink and snacks onboard.
The inlet is very calm and sheltered, perfect for those who tend to suffer with sea sickness but want to get out on the water. We highly recommend the sunset cruise too!
3. Breakfast with the Birds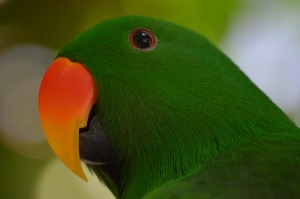 Much loved by both kids and adults, it's a great experience for any age. The breakfast is buffet style with loads of hot/cold food options to chose from and unlimited tea and coffee. The attraction itself is a immersion exhibit, meaning that it is an open environment where guests and animals are free to mingle in a natural setting. So whilst enjoying breakfast you will be entertained as birds fly and roam freely. There are also photo opportunities to hold a parrot or lorikeet.
The park has some lovely open space and grounds where you can hand feed the kangaroos and wallabies. The elevated walkways are great for seeing all the birdlife in just about as close to natural surroundings as you can get. Informative free guided tours are available throughout the day, providing a learning experience about pythons, koalas and crocodiles. For a close encounter there is the opportunity to purchase a souvenier photo holding one of these captivating creatures!
Locals tip: Don't forget to purchase a $2 bag of roo food, makes great photo opportunities and the ducks love it too!
things to do for under $100
1. River Drift Snorkelling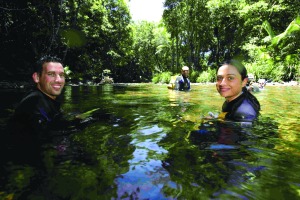 Picture this: the most beautiful, crystal clear rainforest river imaginable, and then see yourself drift snorkeling down with the current. River Drift Snorkelling is a brand new adventure and a cruisy way to really experience the beauty of one of the most ancient rainforests on earth. Spot baby turtles, small fish, eels, brilliant blue Ulysses butterflies and a host of birdlife. Your guide will share a deep and insightful knowledge of the regional environment, geography, flora and fauna.
Fantastic for all ages in the dry season, little ones can use a floatation device to allow them to simply float and enjoy the experience. The pace picks up in the wet season, and is best suited to stronger swimmers. Enjoy this unique experience with a small personalised group (max 6). All wetsuits and snorkeling gear are provided and an experienced instructor accompanies you on this safe and fun journey.
2. Half Day Daintree Safari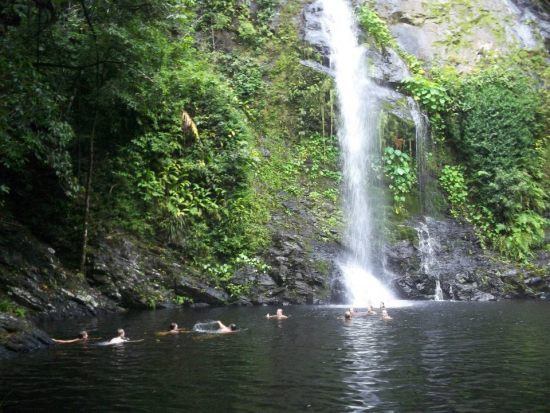 This small personalised tour takes you to one of the best kept secrets in the Daintree! Departing Port Douglas for a morning half day tour, you will travel up to the Daintree River for a 1 hour river cruise croc spotting, and learning all about the history, flora and fauna with your enthusiastic and knowledgeable guide. After a delicious morning tea of scones and jam in the Daintree Village, it's then time to hop onboard a 4x4 Landrover for an exciting 4 wheel drive experience.
Travelling over tracks and creeks at 'River Home' cattle station, it is then just a 200m walk under rainforest canopy to reach your destination - magnificent Cassowary Falls. Daintree Discover Tours has exclusive access to Cassowary Falls where you can jump in, swim, sit under the waterfall and feed the fish and turtles. One of lifes pleasures in the tropics. There's nothing better than cooling down under a private waterfall in the rainforest!
3. Self Drive Kuranda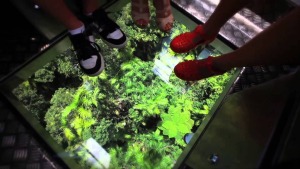 Kuranda self drive with Skyrail allows you to experience the rainforest from above and below, plus gives you the flexibility to spend as much or little time in Kuranda Village as you please. Skyrail Smithfield Terminal is located just 50 minutes from Port Douglas, and is easily accessible with free car parking. Skyrail gondolas leave the station continuously, on embarking you'll glide just metres above the rainforest canopy enjoying panoramic views before descending through the canopy layers and into the heart of the rainforest at Skyrail's two rainforest mid-stations. Explore lush rainforest surroundings including the towering 400 year-old Kauri Pine at Red Peak Station, and enjoy spectacular views of the Barron Gorge, the Rainforest Interpretation Centre and historical displays at Barron Falls Station.
On arrival into Kuranda you will have time to visit the numerous attractions including the Australian Butterfly Sanctuary, Birdworld, Koala Gardens, walking tracks and a diverse range of markets, shops, cafes and restaurants (extra costs). Skyrail operates daily from 9am to 5.15pm. The return Skyrail experience should take approximately 2 ½ hours, this includes spending time at the two rainforest mid-stations.
Upgrade to the glass floor Diamond View Gondola. Not only will you have panoramic views of the tropical landscape and rainforest canopy, but also the unique perspective of looking straight down to the forest floor below.
things to do for under $200
1. Cape Trib Day Tour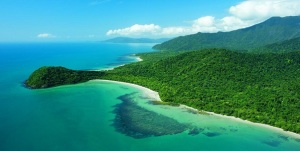 A visit to the Daintree Rainforest is not to be missed! No where in the world will you find two World Heritage Listed sites side by side and so accessible to travellers. The Daintree National Park is an area of great scientific significance and displays some of the highest levels of biodiversity in the world. It is believed to have been the spot where much of the evolution of Australia's flora and fauna took place, and continues even today.
Join this guided tour where you will have a day to explore the beauty of the rainforest, and amazing landscapes of the Cape Tribulation wilderness area. Highlights include a cruise on the Daintree River, delicious tropical lunch in a rainforest setting, a walk on famous Cape Tribulation Beach, afternoon tea at the Mossman Gorge Centre followed by an indigenous presentation by the Kuku Yalanji people. A shuttle bus will transfer you into Mossman Gorge for a guided rainforest walk.
Make sure you walk up to the Kulki Lookout at Cape Tribulation beach, the view and backdrop where the rainforest meets the reef is spectacular!
2. Sail to the Low Isles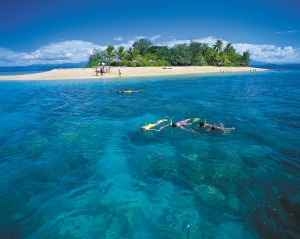 The Low Isles is a lovely little coral cay situated 15km off the coast of Port Douglas. It comprises of a small coral cay (Low Island) and a larger mangrove island (Woody Island). The corals are very close to the island, and the sheltered sandy beach and clear, calm waters make it ideal for beginner snorkellers and families with young children. Included in the day is a range of a range of activities, so whether you are a swimmer or not, everyone has the opportunity to experience the island and Great Barrier Reef in some way. Snorkel, swim, lay on the beach under a thatched umbrella, tour the island with the marine biologist or take a glass bottomed boat tour. Expect to see lots of brightly coloured fish and corals. Look for Nemo and magnificent giant clams.
Look out for turtles! The hook like shape of Low Island provides an ideal sheltered lagoon for a large population of turtles, so get spotting.
3. Daintree Walkabout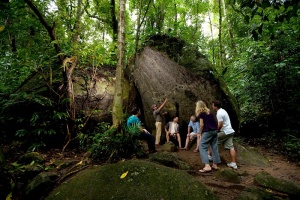 Daintree Walkabout is a unique cultural experience where you will learn dreamtime legends with a local Indigenous guide. Mossman Gorge is home to the Kuku Yalanji people. They are true rainforest people. Here you will be treated to a guided rainforest walk along private, easy graded tracks, visiting special places and culturally significant sites. Your experienced guide will demonstrate traditional plant use, identify bush tucker sources, explain the history of cave paintings and their special relationship with the land. After your 1.5hr walk, enjoy tea, damper and question time with your guide.
Lunch is at the stunning Silky Oaks Lodge, one of Australia's premier luxury lodges. The Tree house restaurant is perched high above the surrounding rainforest overlooking Mossman River. Enjoy a specialty Barramundi lunch overlooking this beautiful oasis. After lunch you will cruise the Daintree River in search of birds, tree snakes, unique plants and the estuarine crocodile. Afternoon tea is included after your cruise.
things to do for under $250
1. Ultimate Great Barrier Reef Cruise
Quicksilver is the ultimate Great Barrier Reef Cruise taking you to Agincourt Reef located on the Outer Barrier Reef. This trip is great for all ages, whether you choose to get in the water or not, everyone will have the opportunity to experience the wonders of the reef. The Quicksilver catamaran can take up to 450 people, but the day is extremely organised, professionally run and great value. On arrival at the reef the catamaran ties up to a fixed platform that is your destination for the day. From here a whole multitude of activities take place including snorkeling, diving, semi-submersible tours, fish feeding and an underwater observatory.
You will have 3 full hours of snorkelling to explore a myriad of fish, bright beautiful corals and amazing marinelife such as turtles and sharks. For those less confident in the water there are ropes attached to buoys to guide you over the reef. The Pontoon gives you a great base to rest, eat, shower or just sit back and enjoy the day. Lunch comprises of a good choice of salad, cold meats, pasta and two hot dishes with steamed rice - hot honey glazed beef and vegetable korma curry. There is lots of information, advice and experiences on offer, brining you a very memorable day!
Tip: If your child has their own swimming goggles at home, bring them along. Most kids are more comfortable with goggles rather than a face mask, and love just 'flopping' around in the water with goggles and no snorkel.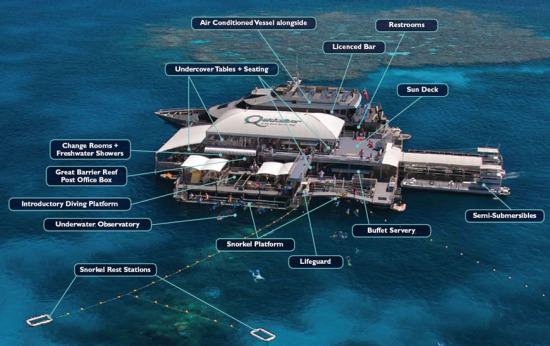 2. Sunrise Hot Air Ballooning
Despite the challenges of an early morning pick up, it's so worth the reward of watching sunrise behind the the glow of balloon burners in an open field on the Atherton Tablelands. Some mornings there are so many colourful balloons, it's such an awesome sight. The size of the balloon basket varies depending on number of people which can be up to 20 persons in a basket. Everywhere in the balloon basket each passenger gets a 360 degree view.
The Atherton Tablelands has one of the best suited climates for ballooning. Mornings are just spectacular and provide the best flying conditions. The flight is very peaceful with stunning panoramic views over the Atherton mountains. Look out for Wallabies and other wildlife in the bushland surrounding creeks. Two balloon flights take place in the morning, whilst the first flight is underway, the second group will go on a cross country balloon chase (the balloon can land anywhere) so it's lots of fun tracking it down. The groups then swap over, and at the very end of the trip join in on the fun and laughs packing the balloon up. It was well worth the early start, always you will find many smiling couples and families exiting the basket at the end of the tour.
3. Rainforest Dining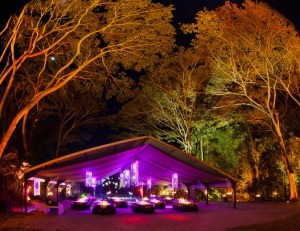 Flames of the Forest Aboriginal Cultural Experience is a must-do for anyone interested in history, Aboriginal culture, the rainforest and great Australian food! The arrival into the forest setting is spectacular. You will follow a guided torch lit path to a clearing highlighted by fairy lights. Noises of the native wildlife in the background and mist add to the mystical ambience...
Enjoy canapés and champagne here before being guided by your Aboriginal host into a large covered seating area where you can relax to the warm glow of Australian hospitality, fabulous food and Australian wines.The food is outstanding with plenty of variety and local flavours. High quality wine and beers are also available to compliment your meal. During the evening your Aboriginal hosts will share dreamtime stories, stories of life in the rainforest and didgeridoo lessons in a funny and entertaining way. It is an intimate evening, highly recommended, especially if you are from overseas as it provides a great insight into Aboriginal culture.