PORT DOUGLAS VILLAGE
Port Douglas is a spectacular one hour drive north of Cairns along one of the most scenic coastal roads in Australia. Offering the distinctive laid back atmosphere of a beachside resort, Port Douglas has quickly transformed from a sleepy fishing village to Australia's premier holiday destination.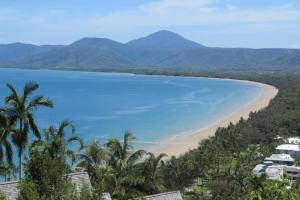 With glorious Four Mile Beach, the world class Marina Mirage, golf courses, fine dining restaurants, 5 star accommodation and the surrounding World Heritage Rainforest, Port Douglas has much to offer visitors to the Tropical North.
The village itself boasts award winning restaurants, sidewalk cafes, boutique shopping and galleries, all framed by tree lined streets and historic North Queesland architecture.
An extensive range of accommodation is available for all budgets from 3 Star to 5 star resorts, family holiday apartments and luxury beachside villas.
Port Douglas is regarded as the most popular base from which to explore the northern areas of the Great Barrier Reef and rainforests of Daintree and Cape Tribulation. There are over 100 tours departing the village daily catering to all ages and tastes and making the most of this unique location.
A tropical old world charm provides the appeal of Port Douglas as a holiday destination that exceeds all expectations. Port Douglas is a Tropical Paradise you may never want to leave.
MACROSSAN STREET
Macrossan Street is the center of the beautiful village of Port Douglas. This vibrant and bustling tree-lined street offers world-class restaurants, bars, cafes, boutiques and galleries.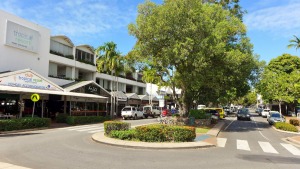 There are no traffic lights, no parking meters and no plans to install them, which together with historic North Queensland architecture, all adds to the casual resort atmosphere and laid back lifestyle of the town.
The shopping on Macrossan Street showcases an eclectic mix of boutiques that can offer something for everyone.
From famous designer clothing and luxury items to locally produced souvenirs, all stores are individual with only a few chain stores in site. Local Indigenous art and crafts are available alongside labels.
Port Douglas also displays the talents of many prominent local and regional artists in the various galleries on Macrossan Street. Art lovers and museum buffs will delight in the unique galleries Port Douglas has to offer.
Combine your experience with a coffee from any of the sidewalks, and an afternoon spent shopping on Macrossan Street, is an afternoon well spent.
There are three main shopping centers in Port Douglas, as well as a number of indepedant supermarkets for all your grocery related needs.
Located in the heart of Port Douglas, The Port Village shopping complex has a broad range of specialty shops ranging from a Coles Supermarket, Macrossan Street Pharmacy, various specialty shops, cafes and medical center
that all cater to the needs of both locals and visitors.
MARINA MIRAGE
The superbly located waterfront retail complex of Marina Mirage Port Douglas combines exclusive shopping and fine dining in true tropical Queensland style. From every day essentials to exclusive fashion indulgence this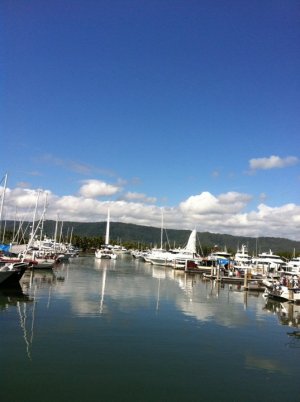 beautiful complex offers the very best in shopping, dining and marina facilities. The 14 metre wide boardwalk offers shoppers alfresco dining and views of the rainforest and ocean.
There are two independent IGA supermarkets in Port Douglas. Martin's IGA is located at the entrance to Port Douglas on the corner of Captain Cook Highway and Port Douglas Road. The second IGA Store is on Davidson Street.