PORT DOUGLAS MARKETS
Port Douglas Markets takes place every Sunday at Anzac Park from around 7:30am until mid-afternoon. Wandering around under the palm trees, you'll discover 150 stalls featuring fabulous local arts, hand-made crafts, homeware, clothing, organic beauty products, local practitioners, fresh produce, unique jewellery and more!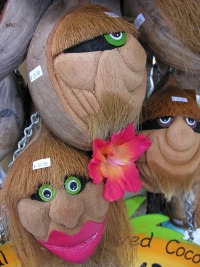 Treat yourself to a massage or some reflexology, enjoy a freshly squeezed tropical fruit juice, try a skin rejuventaing salt scrub, and wile away a good couple of hours enjoying the music and atmosphere. The market is a regular "must do" for locals and visitors from all over the world.
Located in Anzac Park, right on the waterfront overlooking the Coral Sea, the markets are a delightful mix of local art, craft, souvenirs and fresh produce.
The markets are a great place to find scores of interesting items. Locals come from all over the Far North to promote and sell their unique products.
Try the Sugar Cane juice if you have not tried before. Freshly made, it looks a bit brown but tastes superb and is really good for you containing a range of antioxidants, vitamins, minerals, enzymes and fibre. Also keep an eye out for the local coconut growers, they will drill a hole into a coconut so you can drink the water, then when you're done come back and they will crack it open, grind up the coconut meat, then you can add your choice of a salad or sweet mix and enjoy a meal in a shell!
For Market inquiries please call the Market Coordinator on 0459999078