PORT DOUGLAS ATTRACTIONS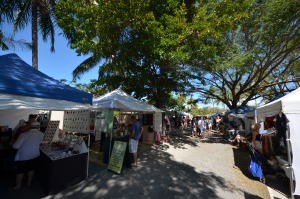 The Great Barrier Reef & Daintree Rainforest provide visitors to Port Douglas a range of accessable natural attractions. Port douglas also offers Walking tracks, Beaches, Golf Courses, Lookouts, Markets, Wildlife Parks, Scenic Cruises and other tourist attractions in the region.
WILDLFE HABITAT
Wildlife Habitat is a unique environmental wildlife park in Port Douglas where visitors can wander through four different and unique environments that depict over 180 species of the surrounding rainforest, wetlands, woodlands and grasslands.
Constructed in 1988 the Rainforest Habitat is situated on eight acres of land that has been recreated to provide a window into our natural environment. With two of the four environments covered by specially designed shade cloth and two open air exhibits, guests fade into the backdrop as observers of the wildlife performance.
Boardwalks intertwine through the canopy and rainforest floor of these environments, providing an exhilarating and educating journey for all.
Regular and informative guided tours are an essential part of the park's focus on biological conservation; experiential displays and immersion exhibits provide an experience found nowhere else.
Today the park is a leading environmental wildlife park and boasting over 1600 animals, contains the largest collection of immersion exhibits.
All these factors have allowed the Rainforest Habitat to gain Advanced Ecotourism Accreditation and become a winner of many major Tourism Awards in both Tropical North Queensland and Queensland.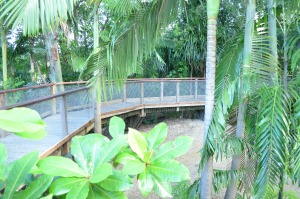 The Rainforest
The Rainforest leads guests through a lush, relaxing environment where native species such as the endemic Boyd's Forest Dragon, Eclectus Parrots and Green Tree Frogs can be viewed in a natural setting. Meandering walkways allow the visitor to experience different levels of the rainforest and the varied microenvironments found within.
At ground level displays of fish and amphibians are illuminated providing a glimpse of these cryptic creatures whilst high in the canopy pigeons and parrots perch amongst the foliage and fruits.
The Wetlands
In the Wetlands an variety of birds can be viewed foraging for fish and crustaceans in waterways that wind beneath boardwalks and beside pathways.
The Wetlands exhibit is considered unique, in that it allows a glimpse of a significant ecosystem to unfold.
This area depicts the amazing diversity of our natural wetlands that are important fringing areas and provide a link to many ecosystems.
The magnificent Southern Cassowary can also be found alongside a host of fruit bats and a whole host of bird species.
The Koala Habitat
The Koala Habitat is an open-air exhibit that provides visitors with an eye level view of this spectacular furry creature. Wondering through this enclosure, guests can watch as they feed, climb and of course, sleep!
For a close encounter, guests can visit the enclosure to touch, feed and photograph these captivating creatures.
Breakfast with the Birds
For the ultimate treat, the original Breakfast with the Birds is a visitor must do. Guests are seated within the Wetlands environment whilst enjoying the sounds and colours of wildlife as they wander freely amongst the guests.
LOW ISLES
Low Isles / Island offers everything you can dream of in a tropical island paradise. From the moment your luxury catamaran moors in the calm waters of the island's picturesque lagoon, a host of reef activities awaits you.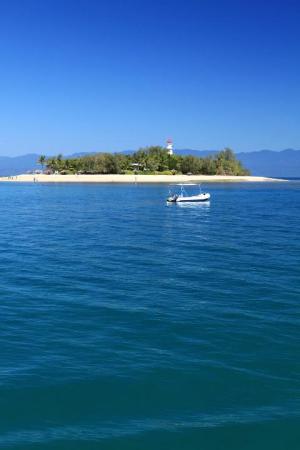 What makes it great?
Idyllic Island without crowds
Turtle haven
Great for first time snorkellers
Expert Marine Biologist advice
Situated 15km north-east of Port Douglas Low Isles is a 4 acre coral cay surrounded by 150 different species of hard corals dominated by 15 species of soft corals. Living amongst the corals is a large variety of fish, molluscs, sea cucumbers and other animals.
Colourful blue, green and purple parrotfish are a common sight as well as angelfish, damselfish, anenomefish (Nemo!), trevally, rabbitfish, sweetlip, moon wrasse and fusilleers, just to name a few!
At least seven species of seagrasses grow on the intertidal sandflats of Low Isles, providing a home and food for such animals as sea cucumbers, the attractive spidershell, as well as rays, green turtles and dugongs.
FOUR MILE BEACH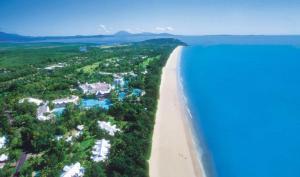 Four Mile Beach runs parelell with Davidson Steet & is in easy walking distance from Macrossan Street. Four Mile Beach is is one of the best known and most popular beaches of northern Australia.
Port Douglas Resorts back on to the beach. Four Mile Beach is very low, flat, and at low tide up to 200 m wide. The northern end of the beach is easily accessed from Macrossan St. It is also the site of the Port Douglas Surf Life Saving Club, founded in 1984, that patrols the beach as well as maintaining a stinger enclosure.
PORT DOUGLAS LOOKOUT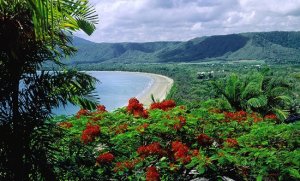 Port Douglas Lookout is located on flagstaff Hill & offers a panoramic views to the Great Barrie Reef, back to Cairns & over Four Mile Beach.
You can access the lookout by car or on foot from Macrossan & Wharf St or by walking track via Four Mile Beach.
Don't forget your camera! The views are spectacular.
SUNDAY MARKETS
Port Douglas Markets are on every Sunday at Anzac Park from 8am to around 1pm.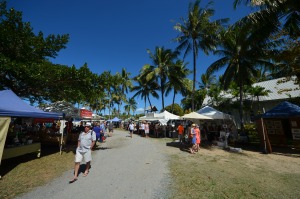 Located in Anzac Park, right on the waterfront overlooking the Coral Sea, the markets are a delightful mix of local art, craft, souvenirs and fresh produce.
The markets are a great place to find scores of interesting items. Locals come from all over the Far North to sell their products to inquisitive tourists and locals alike. Here you'll find original arts and crafts,
jewellery, pottery, tropical clothing, fruit and vegetables, glassware, books, homemade foods, unique Australian goods, souvenirs and more.
Try some fresh suggar cane juice or loacally made ice cream while you browse the stalls.
Port Douglas is a 1 hour scenic drive north of Cairns.
For market inquiries please call the Market Coordinator on 0459999078
GREAT BARRIER REEF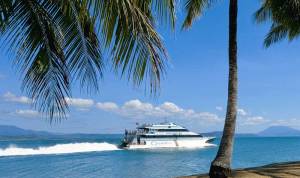 The largest attraction in Port Douglas is the Great Barrier Reef. Port Douglas in close proximity to the Reef and is the starting point for a number of excellent trips to the Outer Barrier Reef. Visitors can choose between exciting day trips or world-class extended liveaboards for the ultimate snorkeling or diving experience.
There are a number of reef sites visited from Port Douglas, all of which are considered to be among the best and most pristine along the Great Barrier Reef. Despite the hundreds of visitors daily, sites like Agincourt Reef or Opal Reef continue to boast an enticing underwater world of diverse marine life and vibrant coral.
Port Douglas is well known for it's style and sophistication and the reef cruise vessels at the Marina Mirage offer no less. Visitors can choose from stunning sailboats or luxury yachts, to the ultimate in high tech marine on the wave piercing catamarans operated by Quicksilver.
Snorkelling is a fantastic, easy way to view the reef; and is available on all reef trips. Free equipment is provided on most tours and guided snorkeling tours are available to maximize your reef experience. A marine naturalist will point out the different corals and marine life and explain their place in such a diverse ecosystem.
Diving is the only way to see the reef up close and personal. From beginner to expert, there is a dive tour to suit all levels, including one day or extended liveaboard expeditions.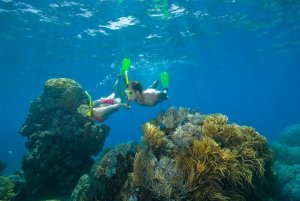 Introductory Dives led by qualified dive instructors are available on many reef tours, with onboard tuition and equipment included. Beginners are briefed on the way out to the reef site to ensure both an exciting and safe first dive.
For the certified diver, the reefs off Port Douglas are home to dramatic drop offs, swim throughs and bommies.
Buddy up with a dive partner, or tag along with a dive guide for a grand tour of all the nooks & cranies.
Liveaboard expeditions are the best option for Certified divers, with tours to the world famous Cod Hole a must see dive spot.
For absolute indulgence, why not charter a vessel for your own private reef experience. Charters are available to groups or independent travelers, for both day trips and overnight expeditions. Follow the set itinerary, or plan your own trip to suit your needs.
Once a year, around full moon in November, the simultaneous mass spawning of corals takes place. This very special event tracks the release of the reef's polyps in an intense reproductive explosion, as billions of tiny eggs & sperm fill the water at the same time. They float to the surface and form a slick cover that may last for days. Coral Spawning is a once in a lifetime experience and highlight of night diving during November and December. Special tours are available to view this annual wonder, if you are lucky enough to get the timing
PORT DOUGLAS GOLF
Sheraton Mirage Country Club Golf Course
Mirage Country Club Port Douglas has everything your body desires - give yourself the ultimate sporting experience or simply give yourself a relaxing break.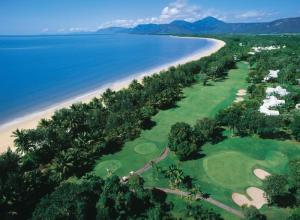 Situated in Port Douglas just under one hour's drive north of Cairns, Mirage Country Club is right by the many award winning attractions of the Sheraton Mirage Port Douglas.
Practice your swing on the aquatic driving range, or volley away on one of 9 floodlit tennis courts (including 2 surfaced in Rebound Ace). Tone up in the gymnasium, unwind in the sauna or cool down in the 25 metre lap pool.
Mirage Country Club Port Douglas is also a golfer's paradise. Rated as one of the world's best resort courses, the 18 hole international standard championship golf course was designed by renowned golf architect Peter Thomson, and contains the usual combination of 6 par 3, 6 par 4 and 6 par 5 holes all within two quite different 9's with the bordering Coral Sea and the panoramic mountain backdrop providing the only distractions to a memorable round.
The golf course also has practice putting green and bunkers, and professional golf instructors, and any equipment that you need is available for sale or hire from the Pro Shop.
The Links Golf Course Port Douglas
Crafted by the internationally acclaimed Thomson, Wolveridge & Perrett, Architects, this championship "links" course provides a special challenge for golfers of all levels. A central rainforest wetland, rich undulating fairways and spectacular mountain views combine to offer a golfing experience like no other.
The Links, Port Douglas has continued the renaissance of authentic "links" courses in Australia. Golf Course Architects, Thomson, Wolveridge & Perrett ("TWP") were specifically chosen for their understanding and appreciation of traditional links architecture.
In Australia TWP have been responsible for some of the country's best resort courses including Hope Island (No.4) and Twin Waters (No. 9).
In the evocative style of a "Grand Old Queenslander", The Links Clubhouse serves as a focal point for The Links Community with pro shop, restaurant and bar facilities.
The Links is managed by Club Corporation of America, the World's largest golf course owner and operator. Founded in 1957 in Dallas, Texas, ClubCorp have grown to operate more than 230 premier golf courses in some 14 countries worldwide.
THE BALLY HOOLEY TRAIN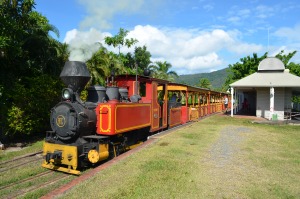 The Bally Hooley Train is a steam engine that runs on most Sundays in Port Douglas between Marina Mirage Station and St Crispin's Station. It was originally operated by Mossman Mill to haul sugar through the cane fields for refining in Mossman. It is now operated by a group of dedicated volunteers.
BALLY HOOLEY....Does that sound Irish to you? Well, you may well be right, as this was the name given to the end of the line up the Mowbray Valley, more than a hundred years ago, possibly by an Irish immigrant.
Nowadays Bally Hooley is the name given to the historic little steam train that operates from the Marina Mirage station in Port Douglas every Sunday.
It is historic because the two coal-fired steam locomotives (Speedy and Bundy) that haul the trains are both over 55 years old, being the very last ones used by the Mossman Sugar Mill before switching to diesel locomotives for hauling the sugar cane from the fields to the region's mill.
It is also historic because the track on which these trains run has been in existence for over a century, and the whole little set-up is much loved by locals and visitors alike. The railway is operated by a dedicated small group of passionate volunteers. All moneys collected go towards the cost of coal and insurance which are both very big "cash consumers". Maintenance costs are extremely high also.
The excursion, which takes a bit under one hour for the return trip from the Marina Station, passes through some attractive areas of mangrove, the Sheraton Country Club, and a couple of resorts to the Station at St. Crispin's which is adjacent to the 12th tee of the Mirage Golf Course. Located right alongside a tidal lake at St.
Crispin's, a couple of resident crocodiles can often be seen. At the terminus of St. Crispin's Station, the locomotive is turned around on the turntable for the start of the return run to the Marina.