getting TO PORT DOUGLAS
Cairns Airport to Port Douglas
The Cairns Domestic or International airport is the arrival point for most visitors to Far North Queensland, providing air links to a range of domestic and international locations. There are direct domestic flights from Brisbane, Gold Coast, Sydney, Melbourne, Perth, Darwin and Townsville as well as to Alice Springs and Ayers Rock (Uluru) and regional centres.
Direct international flights include arrivals from Auckland, Tokyo, Osaka, Hong Kong, Guam, Shanghai, Port Moresby and to Singapore, via Darwin. International airlines include Jetstar, Air New Zealand, Qantas, Cathay Pacific and Air Niugini.
The airport is located 7 kilometres from Cairns CBD. There is not a regular bus service to Port Douglas from Cairns so airport transfers do need to be pre-booked.

Coach Transfer
Exemplar Coaches and Limousines offer direct door to door services for airport transfers to Port Douglas. The trip from Cairns Airport to your Port Douglas accommodation normally takes around 60 minutes in a limousine and around 75 minutes by coach. Exemplar does not have scheduled departure times from the airport, so bookings are essential to ensure there is a coach to meet your flight, and your seat is confirmed. Bookings should be secured at least 24-48 hours prior to departure and flight details are required Your driver will meet you inside the arrivals terminal and will be holding a sign with your name on it.
Vehicle options include a standard seat in a 21 passenger coach, or private vehicle which includes a Holden Statesman, Ford Fairlane, Hyundai iMAX, Ford Fairlane Ghia.If you have booked a private limousine or a sole-charter, your will be on your way as soon as you are ready.

Car Rental
Car rental offices are located at the Cairns Airport in the arrivals terminal at the northern end of T2 (Domestic Terminal) and in the Arrivals Hall of T1 (International Terminal). It is recommend to prebook your vehicle in advance, especially during peak season school holiday times.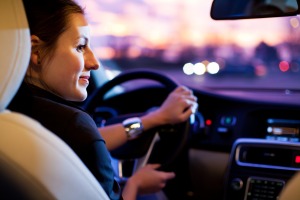 Car Rental companies located at Cairns Airport include:
Thrifty
Budget
Avis
Europcar
Hertz
Redspot
Local Car Rental companies in Port Douglas include:
Paradise Wheels
Port Douglas Car Hire
Port Douglas Motel Car Hire
Port Douglas Taxi

Port Douglas Taxis provide a 24 hour door to door service from Port Douglas to Cairns and nearby surrounds. Wheelchair taxis are also available. Maxi taxis can accommodate from 1 to 9 Passengers plus luggage per Taxi.
Getting Around
Village Shuttle Bus
Sun Palm Bus operates a local shuttle bus service between the Marina Mirage and Wildlife Habitat, with scheduled stops at all major resorts, including the Sheraton Mirage, the Sea Temple Resort & Spa and all golf courses.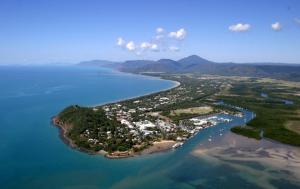 This service runs regularly from 7 am to late every day. A one-way transfer is around $6 per person and multi-day and family passes are also available. Enjoy the freedom to hop-on-and-hop-off as you please, providing the convenience of visiting all the major sights around the village with ease.
Bike Hire
There are two bicycle hire companies in Port Douglas offering an extensive, modern hire fleet.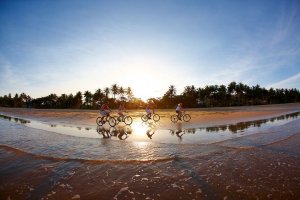 All hire bikes include a Helmet [compulsory in Australia] and lock. Port Douglas Bicycle Centre is located on Warner Street (behind Coles), the team at the Port Douglas Bicycle Centre offers Port's largest, most modern fleet of quality bikes along with an extensive range of helmets, locks, visitor & tour information and cycling advice.
Motorbike Hire
Scooter and Motorbike hire provides a great way to explore not only Port Douglas Village but the region surrounding it including the rainforest, beaches and Tablelands. It's much more fun than a rental car as you feel the wind in your hair and freedom to tour wherever you want. The latest models of motor bikes & scooters available from Port Douglas Motor Bike & Scooter Hire including Red Devil, FIRENZE 300i Scooter, VSTROM 650 Motor Bike, 800 BOULEVARDE. A motor bike licence is required for all bikes over 50cc - Helmets and gloves supplied.