port douglas weather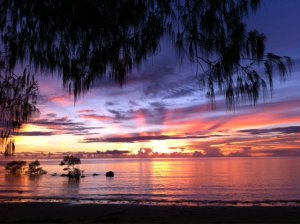 Port Douglas provides a great escape anytime of the year. Boasting a warm tropical climate, Port Douglas lends itself to outdoor living at its best, with a whole host of outdoor activities to choose from. Being in the tropics the region is characterised by two distinct seasons: the 'wet' and the 'dry', or as we like to call it the 'green' and the 'dry' emphasized by our surrounding rainforests. But don't let our 'green season' put you off, there is much beauty to be found at this time of year.
Below are some key features of our seasons that's worth keeping in mind when planning your Port Douglas holiday.
seasonal highlights
'Green Season' - December to May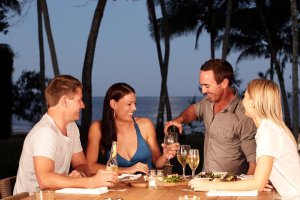 Our summertime is also known at the Green Season, this is the time of year where humidity builds up and then the monsoonal rains arrive bringing some much needed relief. About 75-90% of our annual rainfall happens between January and March, this is essential for providing life to our rainforests. This is an exciting time for nature lovers and photographers when the tropics are at their most beautiful, and our waterfalls are in full flow.
'Dry Season' - June to November
Dry season is from June to November. During this time the days are balmy and the evenings pleasantly cool. This is the peak tourist season, where many visitors choose to escape the colder southern states for a warmer climate. The southern tradewinds tend to occur between June to September, but this is also a great time to visit the Great Barrier Reef as you may be lucky enough to spot humpback whales on their migration up the coast, or swim with inquisitive minke whales.
When is the best time?
est time for Waterfalls
February has the highest rainforest and is the best time for avid photographers to visit the rainforest and capture dramatic and wildly beautiful waterfalls, flora and fauna.
Best time of year for visiting the Great Barrier reef from Port Douglas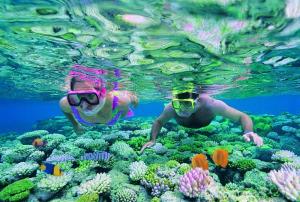 October to December is the best time to visit the reef after the trade winds and before the heat of summer and monsoonal season. Low wind and ideal water clarity provide perfect conditions.
When to spot Whales
The Port Douglas whale watching season is between July and August. Each year over 4000 whales take the three month journey to warmer waters to breed and give birth. Sometimes baby whales can be seen travelling with their mothers on the return journey. These magnificent creatures often give breathtaking displays of breaching and tail slapping.
Marine Stinger Season
From November to the end of May marine stingers inhabit the warm tropical waters along the north Queensland coast. Swimming only within the protected enclosure at Four Mile Beach is recommended.
All reef operators offer the option to wear a lycra stinger suit which is highly recommended, not just to protect from marine stingers, but also the strong sun. These gorgeous, glamourous onesies set the ultimate fashion statement up here in the Far North, no matter what body shape you have, the sleek lycra will have you feeling like a sea god/goddess in no time!