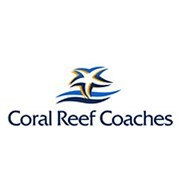 Coral Reef Coaches
Coral Reef Coaches is family business that has been transporting guests in far north Queenland for more than 20 years!
Coral Reef Coaches total fleet exceeds more than 40 vehicles, they are recognized as an industry leader in Far North Queensland.
Coral Reef Coaches aim to provide efficient reliable transportation services to this beautiful region, from the Daintree in the north to Mission Beach in the south, not forgetting Cairns Kuranda and many wonderful places here in the Tropical north of Queensland.
Our Services
Daily transfers between Cairns, Port Douglas, Mossman
Airport transfers from Cairns to the Northern Beaches, Port Douglas and Mossman
Group Booking & Private Coach Charters in Port Douglas, Cairns & other areas
Luxury Port Douglas & Cairns limousines & Cairns Bus Charters
Coral Reef Coaches Drivers
All Coral Reef Coaches chauffeurs and coach captains are locals and pride themselves on the knowledge they can provide passengers.
Listings Found for Coral Reef Coaches