Accommodation Specials!





Reef Club is a perfect location to relax and enjoy your holiday. Mediterranean style semi self-contained great value apartments close to the beach.
FREE NIGHTS - UNIQUE
STAY 7 PAY 5
STAY 4 PAY 3
One bedroom Apt's
from $100 / night
Two bedroom Apt's
from $129 / night


SAVE UP TO $430
UNBEATABLE!

*7 night stay - 1 bedroom apartment
Stay between now and 31/March/2016





Boutique Collection, Sea Temple Centred around an expansive oasis lagoon pool and island bar. Fabulous privately managed holiday apartments and hotel rooms with huge spa!!
FREE NIGHTS
STAY 7 PAY 5
STAY 4 PAY 3

UNBEATABLE VALUE
SAVE $500

*Boutique Collection Hotel Spa Room, 7 nights
*Blackout dates apply
Stay between now and 25/June/2015




PORT GETAWAY PACKAGE tropical short break in the heart of Port Douglas. Feel instantly relaxed as you enjoy Port's laid back village lifestyle at your doorstep. Excellent quality tours to Outer Reef & Cape Tribulation
3 NIGHTS MACROSSAN ST:
-CLUB TROPICAL RESORT
-SILVERSONIC OUTER REEF DAY
-3 BRILLIANT REEF SITES
-LUXURY VESSEL
-CAPE TRIBULATION
-4WD FULL DAY TOUR
-DAY TO RELAX & EXPLORE



UNBEATABLE!
SAVE $283

Stay between now and 31/March/2016





Shantara Resort & Spa is a 400 metres walk to famous Four Mile Beach and to the shops & restaurants of Macrossan St. Studios and fully equipped luxury apartments.
FREE NIGHTS - UNIQUE
STAY 7 PAY 5
STAY 4 PAY 3
- Free Wi-Fi
- Gymnasium
- Temperature cont pool
- Day Spa

COUPLES ESCAPE


*Based on 7 night stay studio

Stay between now and 31/March/2016





Rendezvous Reef Resort fun-filled holiday resort for the whole family. 2 Bedroom Deluxe apartments accommodate 4 comfortably. Rate includes full breakfast for all guests daily.
STAY 5 PAY 4 - UNIQUE TRAVSTAR OFFER!
*2 BEDROOM DELUXE
*FULL BREAKFAST DAILY FOR ALL GUESTS

FAMILY FRIENDLY


* 1 Bedroom apartments only $119/night
* Based on 5 night stay
Stay between now and 18/June/2015





The Escape to Port Package is a value option designed for people who would like to experience luxury tours to Low Isles and the Daintree while based in the heart of Port Douglas.
5 NIGHT PACKAGE
- 5 NIGHTS AT REGAL
- HOTEL STUDIO WITH SPA
- LOW ISLES SAILING DAYTRIP
- DAINTREE DISCOVERY TOUR

ESCAPE TO PORT
SAVE $281

Stay between now and 31/March/2016





Thala Beach Lodge. 10 minutes South of Port Douglas is an exclusive Eco Resort that sits spectacularly atop a headland and is nestled in the rainforest with breathtaking views over the Coral Sea.
STAY 5 PAY 4
-FREE ONSITE NATURE TOURS
-FREE VALET PARKING
-FREE MOCKTAIL ON ARRIVAL
-FREE WI-FI IN LOBBY

save $319

Stay between now and 31/March/2016





1 DAY HOT AIR AND QUICKSILVER Rise early to experience a spectacular 30 minute Hot Air Balloon flight over the Atherton Tablelands, followed by a snorkel over beautiful coral gardens at the Outer Barrier Reef.
BALLOON & REEF
*30 min Hot Air Balloon flight
*Semi Submersible Submarine
*All snorkelling gear
*All hotel transfers
*5 Star experience



Transfers included


*Includes levies
Stay between now and 31/March/2016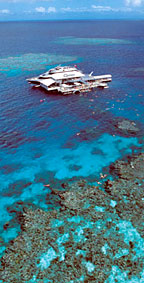 QUICKSILVER MIRAGE ESCAPE 5 days and 4 nights at the Sheraton Mirage Resort Port Douglas including full breakfast daily and a superb Outer Barrier Reef trip with Quicksilver Cruises
-4 NIGHTS SHERATON MIRAGE
-BUFFET BREAKFAST DAILY
-KIDS DINE FREE (4-12 YRS)
-QUICKSILVER OUTER REEF
-SEMI SUBMARINE TOUR
-SNORKELLING GEAR
SAVE $1722

2 Adults & 2 Children 4-12yrs
Stay between now and 31/March/2016





7 WHARF ST is a charming, luxury 4 bedroom Villa featuring the most romantic master bedroom in Port Douglas. Views across the Coral Sea, towards Low Isles, Snapper Island and the Daintree Rainforest Mountains. Only a short stroll to Macrossan St restaurants & boutiques.
180 DEGREE VIEWS!!
PERFECT & PRIVATE!

MOST ROMANTIC!



Stay between now and 31/March/2016
Port Douglas Weather
Current Weather Conditions in Port Douglas
Tuesday
Mostly sunny Low 18 °C High 29 °C

6 Day Forecast
Wednesday
Mostly sunny Low 21 °C High 30 °C

Thursday
Mostly sunny Low 21 °C High 30 °C

Friday
Possible shower Low 21 °C High 30 °C

Saturday
Mostly sunny Low 21 °C High 31 °C

Sunday
Sunny Low 21 °C High 31 °C

Monday
Mostly sunny Low 21 °C High 31 °C

Sunrise/Sunset Times in Port Douglas
Sunrise 6:28am
Sunset 6:01pm

General Climate Information for Port Douglas
Between April and September we enjoy slightly cooler temperatures with lovely clear skies. November and December are hot but perfect for diving with excellent visibility.

The wet season arrives in January but the days are generally clear. Most of the rain falls at night. The rain is like a warm shower..Theories abound about when the Wet Season will start and for how long it will last each year. The old timers generally base their predictions on the mango trees flowering? This is a time of year that the locals look forward to because the gardens and forests get a well needed drink after a hot summer.

Weather in North Queensland follows a fairly consistent pattern each year. April, May, June, July, August, September and October are the most popular times to visit with the school holiday times for Australia and New Zealand being peak times.
While it is cold in Southern Australia we are enjoying warmer weather and July, August, September and October are our driest months.
At this time of the year you can do everything and anything in the tropics. It is perfect!:
* Visit the Great Barrier Reef ( The water is still a warm 25 degrees )
* Splash about in the sunshine
* Take a road trip visiting all of the waterfalls
* Enjoy sea kayaking
* Drive to dazzling beaches
* Enjoy a beach picnic
* Hire a bike and ride through stunning mountain scenery
* Hire a boat
* Rent a bike
* Sun worshipping
* Whale Watching in July and August
* Go Kite Surfing
Between the months of November to May our temperatures are warm to hot with high humidity. Our rainfall peaks in the months of Feb, March and April and at that time nature lovers and photographers can be amazed by the awesome impact that the rainy nights has on our waterfalls and rainforest. During our rainy season visitors have an abundance of experiences to enjoy such as:
* Visit the Great Barrier Reef ( Our days are hot! )
* Plunge into the pool and stay there!
* Splash through another day of backstroking
* Hire a boat and go fishing
* Rent a bike and peddle along the esplanade
* Rent rollerblades
* Stroll the tropical botanic gardens
* Contemplate never leaving....
and if it's raining you can still enjoy excellent activities such as:
* Visiting the rainforest
* Visiting our beautiful waterfalls
* Go White water rafting
* Go ATV riding
* Browse boutiques
* Meet the locals at the brewery
* Take a cooking class
* Do some Yoga
* Go Salsa dancing at Casa de Meze
* Visit Kuranda Markets by Skyrail & Train
* Blissful spa treatments
* Go skiing at the Cable Ski Park
* Go Bungy Jumping
* Take a Food Trail tour
* Have a cocktail on the verandah
* Stay in bed for the day
* Go Jungle surfing
* Take a drive through stunning moutain scenery

See why the tropics are so tropical! and, enjoy a holiday for a fraction of the price. We generally have a late afternoon storm or wet evening but the days are clear. The rain gives us something to smile about as we say goodbye to sticky humidity and welcome the evening downpour.
Whats Hot!
Travel Tools
Whats Hot!