Click on Map Icons to View More Info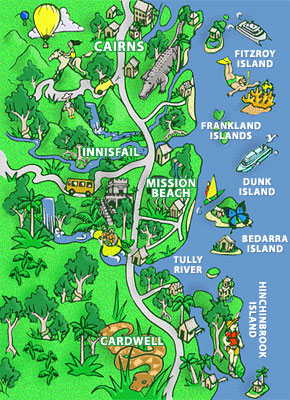 Top 10 Articles
2 Fish Seafood Restaurant
2013 IRONMAN & 70.3
4WD Safaris
Bally Hooley Train
Be Cass-o-wary!
Beaches Cafe
Busy Bees Babysitting
Cairns City
Cassowary Coast Overview
Christmas Celebrations
Port Douglas Region Guide
Click Images to view gallery for this subject
Cassowary Coast Overview
Updated: 22-May-2008
The Cassowary Coast is an amazingly green Australian region, situated south of Cairns, extending to Cardwell. This stretch of the north Queensland coastline is an environmental showcase featuring lush rainforests, thunderous rivers and spectacular beaches.
The Cassowary Coast is surrounded by state forest that is one of the last habitats of the Cassowary, a large, colourful, flightless bird that is the icon of this region. The cassowary is an essential aspect in spreading the seeds of certain rainforest trees, via their fruit, thus ensuring the tropics stay the same way they have for millions of years.
The Cassowary Coast is a must-see for nature lovers, with rivers and streams providing fantastic fishing, amazing birdlife for birdwatchers and pristine wilderness for bushwalkers.
One of the most prominent natural wonders, visible from most places in the area, are Queensland's highest mountains. The peak of Mount Bartle Frere extends to 1622m. Mt Bellenden Ker is the second highest mountain in Queensland, reaching 1592m and between the two mountains rests a valley full of amazing walks. It's here that you'll encounter many of the region's impressive flora and fauna.
Other attractions of the Cassowary Coast include the amazing beaches. Dotted along the Cassowary Coast are your traditional palm-tree lined areas, to beaches that offer rainforest canopy just beyond the sandline.
The 'Jewel' of the Cassowary Coast is Mission Beach, a little hideaway off the main road and enveloped in tropical rainforest. Offshore is the amazing group of islands incorporating the very popular "Dunk Island".
Edit This Page
Edit Page Content
Post Comment