Tour Specials!





Book a Sailaway Low Isles Afternoon Departure 1pm Afternoon departure 3 hrs at Low Isles Snorkelling Glass bottom boat Departs Island at 5pm Canape's & drink
Tropical.. Scenic.. Perfect!
Return hotel transfers, freshly brewed coffee, scones, jam & cream, Sundowner and Canapes

Living the dream!


Travel between now and 31/March/2019





Silversonic Explore 3 outer edge reef locations at Agincourt Ribbon Reef in superb style and comfort. Enjoy over 5 hours exploring the delights of this underwater world.
REEF ADVENTURE!
- Swim with Whales (if encountered)
- Ultra modern Catamaran
- Fastest vessel to the reef
- Super smooth
- 3 of the best reef locations
- 5 hours of actual reef time
- Permit to swim with whales

Silversonic has one of very few permits allowing you to swim with Minke Whales if they are encountered.
Travel between now and 31/March/2019





Barron River Rafting 2 hours of rafting Grade 3 rapids in the Barron Gorge National Park. All tuition provided.
4 People or more special
- Port Douglas hotel transfers
- Pick-up 1:15 pm
- Return 6:30 pm


- Includes National Park Fees
Travel between now and 31/March/2019





Quicksilver Outer Reef combines an unforgettable Outer Reef cruise to Agincourt Ribbon Reef including a thrilling 10 minute Scenic Reef Flight
REEF FROM THE AIR!
- 10 minute Helicopter Flight
- Semi-Submarine
- Underwater Observatory
- Snorkelling
- Lunch

GREAT FUN!


Travel between now and 31/March/2019





Mountain biking at Cape Tribulation is a fun and active way to explore the tropical rainforest. There are plenty of mountain streams to stop, cool off and refresh yourself
You'll get sweaty!
- You'll get dirty!
- You may even get wet!
- But you'll also get hooked!
- All Safety gear is provided

***Min age is 12yrs***
Travel between now and 31/March/2019
Self Drive

Port Douglas is a spectacular one hour drive north of Cairns along one of the most scenic coastal roads in Australia, featuring amazing views of rainforest covered mountains on one side, and the Coral Sea on the other. Rex Lookout is one of many highlights along the way with views along the ranges back towards Cairns. Hiring a car gives you the freedom to explore the region at your own pace and go wherever your heart desires. You can visit all the best attractions at your own leisurely pace, or explore further afield in our surrounding regional areas such as the Atherton Tablelands, Daintree & Cooktown. Most roads are sealed, so unless you are planning to go to Cooktown via the Bloomfield Track, you will not need a 4WD.
Self Drive Kuranda

Kuranda Village is just a 30 minute drive up the Kuranda Range, however if you don't want to miss out on the Train & Skyrail experience then we recommend leaving your car at the Skyrail Caravonica Terminal and transferring by bus to the Freshwater Station for your train departure to Kuranda. After some leisurely time in Kuranda you can then board the Skyrail Cableway for your return journey to the Caravonica Terminal. Skyrail operates continously throughout the day so you can hop on at anytime with 3:30pm being the last departure of the day. Skyrail's Caravonica Terminal is located at the corner of Cairns Western Arterial Road and Cook Highway, Smithfield, just 15 minutes drive north of Cairns city and 50 minutes south of Port Douglas.
Find out more:
Kuranda Train & Skyrail Self Drive
Wildlife Encounters - 4 Park Pass
Self Drive Daintree Rainforest

Journey north from Port Douglas towards the Daintree River and Cape Tribulation. There are many activities in the rainforest to choose from that are focussed on providing a true ecotourism experience, they also make for a magical day out. From Port Douglas it takes approximately 45 minutes to drive north to the Daintree River Ferry which you will need to cross to enter into the Cape Tribulation section of the Daintree Rainforest. Choose from adventure activites such as the Jungle Canopy Surfing. Here you can zip through the rainforest on flying fox ziplines, stopping at 5 tree platforms to take in spectacular bird's eye views over the treetops. It provides a unique and exhilarating way to experience the beauty of the world-renowned Daintree Rainforest. More relaxed scenic self drive options include a Daintree River Cruise onboard the Crocodile Express, a visit to the Daintree Discovery Centre or a guided rainforest wilderness walk with Cooper Creek Wilderness. Experience the grandeur and awe-inspiring beauty in the Daintree's most spectacular fan palm dominated rainforest, on a natural walking trail in a small, exclusive group. Cooper Creek Wilderness welcomes genuine travellers who want to experience the most significant portion of the Daintree Rainforest in the Cape Tribulation section of this World Heritage Area. Rainforest in this area is estimated to be over 170-million years old.
Find out more:
Daintree Discovery Centre
Jungle Canopy Surfing
Cape Trib Horserides
Self Drive Atherton Tablelands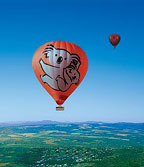 The Atherton Tablelands is located to the west, inland from the coast. A stark contrast to the rainforests and wet tropics surrounding Cairns; the landscapes here comprise of rich soils, rolling hills, plenty of farm land and grazing cattle. Mareeba is a tiny township situated approx 1 hour 15 minutes from Port Douglas via the Mt Molloy Road and Mulligan Highway. Known as the Hot Air Ballooning capital of Australia, Mareeba has the perfect climate and conditions for a spectacular early morning hot air balloon flight. The balloon takes off from a selected private launch site based on the wind directions around the district at the time. It will then travel anywhere from 5 to 30 kilometres, depending on wind speed and flight duration. The Australian sky during the first hour of daylight is always amazing. Enjoy picturesque landscapes as you spend 30 minutes gently floating in your hot air balloon. Return coach transfers from your hotel accommodation are available, however if you prefer you can self drive to the Mareeba Heritage Centre to meet your tour bus. You will leave your vehicle there and go with the pilots and crew in their vehicle, then after ballooning you will be dropped back to your vehicle where you can continue on with your journey, and explore the rest of the Atherton Tablelands.
Find out more:
Sunrise Hot Air Ballooning - Self Drive to Mareeba
Self Drive Cooktown

There are two options to access Cooktown; you can choose the Inland Route via the Mulligan Highway which takes approx 4 hours, or the Coastal Route via the Bloomfield Track which takes approx 5-6 hours. Both provide very different wilderness experiences. The inland route takes you therough lush valleys and sparsely vegetated hillsides, with several lookouts along the way offering expansive vistas. Roadhouses along the way are located at Mt Carbine, Palmer River and Lakeland Downs. Keep an eye out for wildilfe and livestock along the roadsides as some sections are unfenced. The coastal route is sealed until the start of the Bloomfield Track. This famous track takes travellers on an amazing journey hugging the scenic Daintree Coast, through the Aboriginal community of Wujal Wujal and villages of Ayton, Rossville and rural Helenvale to Cooktown. 4WD is essential beyond Emmagen Creek (a popular picnic stop) just north of Cape Tribulation where there are some steep descents through the Donavan and Cowie ranges, and several creek crossings which can be deep. This route often closes during the wet season.
Whats Hot!
Travel Tools
Whats Hot!