Tour Specials!





Book a Sailaway Low Isles Afternoon Departure 1pm Afternoon departure 3 hrs at Low Isles Snorkelling Glass bottom boat Departs Island at 5pm Canape's & drink
Tropical.. Scenic.. Perfect!
Return hotel transfers, freshly brewed coffee, scones, jam & cream, Sundowner and Canapes

Living the dream!


Travel between now and 31/March/2019





Silversonic Explore 3 outer edge reef locations at Agincourt Ribbon Reef in superb style and comfort. Enjoy over 5 hours exploring the delights of this underwater world.
REEF ADVENTURE!
- Swim with Whales (if encountered)
- Ultra modern Catamaran
- Fastest vessel to the reef
- Super smooth
- 3 of the best reef locations
- 5 hours of actual reef time
- Permit to swim with whales

Silversonic has one of very few permits allowing you to swim with Minke Whales if they are encountered.
Travel between now and 31/March/2019





Barron River Rafting 2 hours of rafting Grade 3 rapids in the Barron Gorge National Park. All tuition provided.
4 People or more special
- Port Douglas hotel transfers
- Pick-up 1:15 pm
- Return 6:30 pm


- Includes National Park Fees
Travel between now and 31/March/2019





Quicksilver Outer Reef combines an unforgettable Outer Reef cruise to Agincourt Ribbon Reef including a thrilling 10 minute Scenic Reef Flight
REEF FROM THE AIR!
- 10 minute Helicopter Flight
- Semi-Submarine
- Underwater Observatory
- Snorkelling
- Lunch

GREAT FUN!


Travel between now and 31/March/2019





Mountain biking at Cape Tribulation is a fun and active way to explore the tropical rainforest. There are plenty of mountain streams to stop, cool off and refresh yourself
You'll get sweaty!
- You'll get dirty!
- You may even get wet!
- But you'll also get hooked!
- All Safety gear is provided

***Min age is 12yrs***
Travel between now and 31/March/2019
We found 1 tours in the category
Viewing 1 to 1 of 1 tours
Page 1
Dragon Lady

Game Fishing
Light Tackle & Shark Fishing
8 passengers max
Popularity

Service

Value

Overall

Based on 4 ratings
Dragon Lady
is a locally owned and operated vessel available for share & sole charter all year. She is a 34ft Cairns Custom Craft Game boat, specifically designed and built in Cairns for the purpose of catching and landing game fish of the Great Barrier Reef...
more info
Viewing 1 to 1 of 1 tours
Page 1
Fishing

Port Douglas was once a quaint and quiet little fishing village, now it has grown into the sophistication of a world class holiday destination, however fishing is still a favourite pastime, and the industry is alive and thriving with a multitude of commercial fishing charters and professional fishermen. Port Douglas is highly rated as one of Australia's premier sports fishing and game fishing holiday destinations. This is due to its proximity to the Great Barrier Reef, Coral Sea and the nearby rivers and estuaries. Both reef and estuary fishing trips are widely available, catering from beginners through to the experienced fishing enthusiasts, and each offering unique fishing experiences. If you prefer a day of action then shark fishing, light tackle fishing, popper fishing or the ultimate in sport fishing - heavy tackle, are options too.
Reef Fishing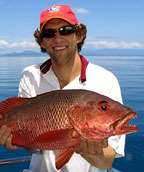 Reef fishing charters offer full day trips out to the reef. Most of the shared charters use hand lines to fish for prized Coral Trout or Red Emperor which is easy to catch on these trips. Other common reef species include Sea Perch (Nannygai), Mackerel, Cobia, Trevally, Cod, Spangled Emperor and Reef Red Bream (Mangrove Jack). All charters supply you with all the equipment you need, so all you need to bring is sun screen and enjoy a wonderful adventure fishing on the waters of Port Douglas. The day fishing boats will even gut and bag your fish for you to take home and enjoy on a BBQ.
The Norseman is a purpose-designed 18m (60ft) and custom-made vessel, fitted with the latest in state-of-the-art fishfinding, navigational and entertainment equipment. The vessel can comfortably accommodate up to 30 passengers on shared daily charters. Offering daily tours that specialise in reef fishing; species are targeted using either handlines or rods with overhead Penn reels, and whenever possible, float lines for the elusive GT (Giant Trevally), Spanish Mackerel, Tuna and Wahoo.
Find out more:
Dragon Lady Fishing Charters
Norseman Reef Fishing Charters
Light & Heavy Tackle Fishing

Heavy Tackle Game Fishing is only available between late September through to late December and is available on a sole charter basis only. Custom built rods and top of the range Duel and Penn International reels are used. (Max 4 persons) This is for the most serious of anglers and some fitness is definitely required to be able to tackle giant Pacific Black Marlin, massive wahoo, dogtooth tuna and spanish mackerel. Light Tackle Game Fishing is available all year round on sole charter basis only, using the latest Shimano tackle for the larger pelagic species such as spanish mackerel, tuna, wahoo, shark and sailfish (Max 6 persons).
Dragon Lady is a purpose built 34ft Cairns Custom Craft Game Boat offering shared reef charters, and private sole charter light and heavy tackle fishing. The Skipper, Steve Adamson, has been fishing these northern waters for the last 30 years. With his knowledge and skill, he is sure to provide an adrealin filled day. Onboard, only the best 50lb and 80lb Duel, Penn and Shimano game reels on custom built bent butt rods are used, to land that giant catch.
Find out more:
Dragon Lady Game Fishing Charters
Estuary Fishing

For those who prefer peace and tranquility, there's nothing better than dropping a line in the calm Port Douglas estuarine waters. Suitable for all the family, and especially suitable for people who can suffer from sea sickness. The inlet is protected by the mangroves so when it's windy on the coast, you can fish comfortably. Choose from a half day or full day fishing charter with a local, knowledgable and experienced guide who will show you the best spots for catching prized Barramundi, Mangrove Jack, Tarpon, Queenfish ato name a few, with well over a 100 different species in total to be caught fishing in and around Port Douglas estuarine waters. A catch and release system is used to ensure fish sustainability for future generations.
Trinity Sportfishing has been operating half and full day fishing charters out of Port Douglas for over 20 years. Bill, your local knowledgable guide is a fishing addict, so you are guaranteed to have some fun and a great experience. With a minimum number of 2 and a maximum number of 6, you can be sure that you will receive personalised service, whether you are a novice or experienced angler, an adult or a child! Quality Shimano tackle is used as well as custom built sportfishing rods.
Find out more:
Trinity Sportsfishing - Half Day Morning/Afternoon Estuary Fishing
Whats Hot!
Travel Tools
Whats Hot!